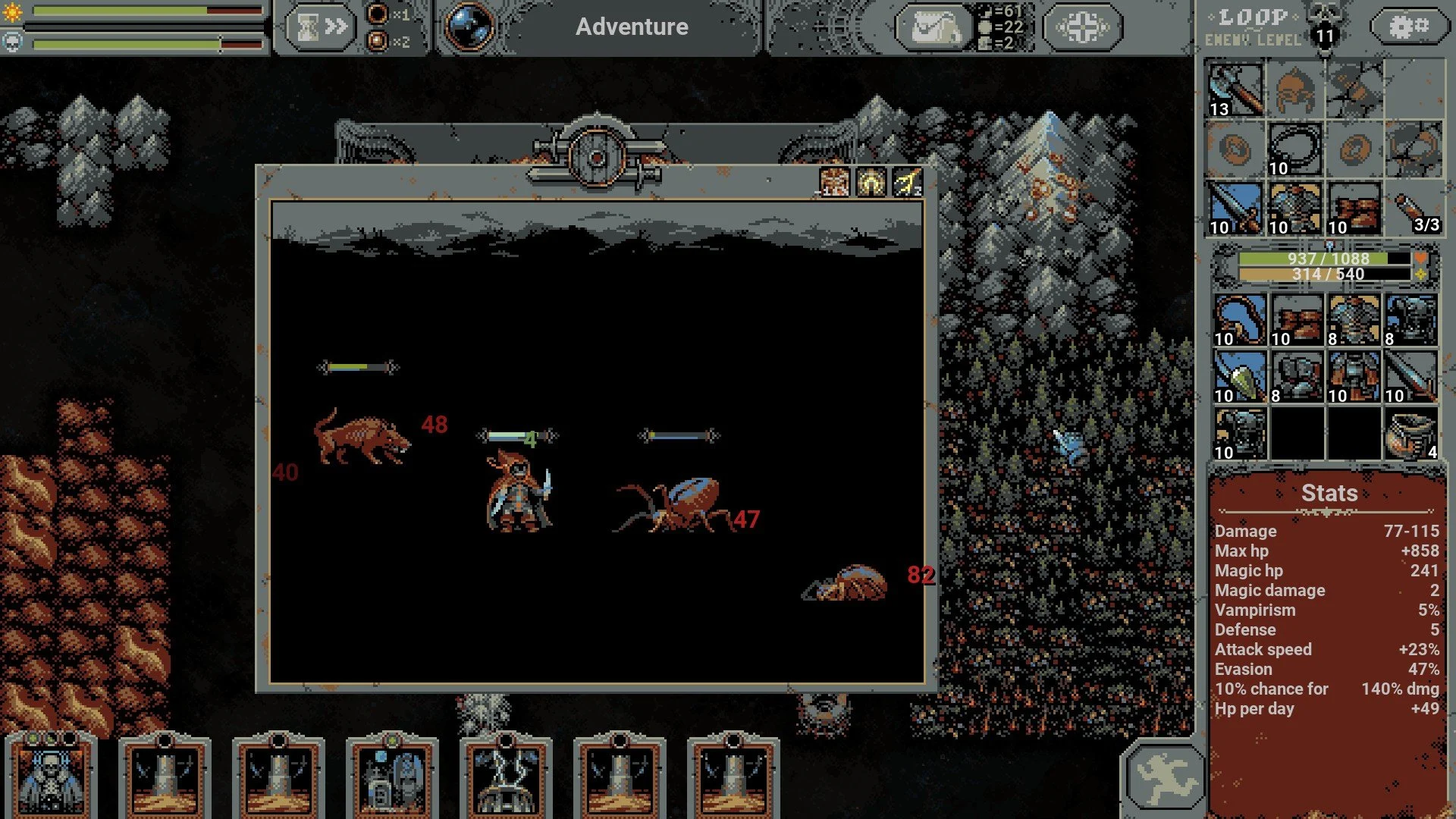 One of the best ways to gets stronger in Loop Hero is by using golden cards, such as the Arsenal card. This is how you start unlocking new equipment for all sorts of new builds and strategies as well. Continue reading below to learn how to get it and what classes it works best with.
What Does the Arsenal Golden Card Do?
Before getting into how you can get the Arsenal card, you may be wondering what it actually does. If you already know, feel free to skip on down to the next section. This card provides a new equipment slot for every class when placed during an expedition. However, it also lowers item quality by 15%, meaning the stats on each item won't be as strong. People have speculated that this also reduces the Necromancers Skeleton Quality stat. We've listed information on each class below.
Warrior – Gains access to a helmet slot unlocking the Retaliation Damage stat. This deals damage to an enemy for each time you're hit. Other stats can be on a helmet as well.
Rogue – Gains access to an amulet slot unlocking the Magic Health stat. This works as a shield on top of your health that recovers completely between fights. Other stats can be on an amulet as well.
Necromancer – Gains access to a shield, similar to the Warrior. However, this can have stats unique to the Necromancer such as increasing Skeleton Level or Max Skeletons.
How to Get the Arsenal Golden Card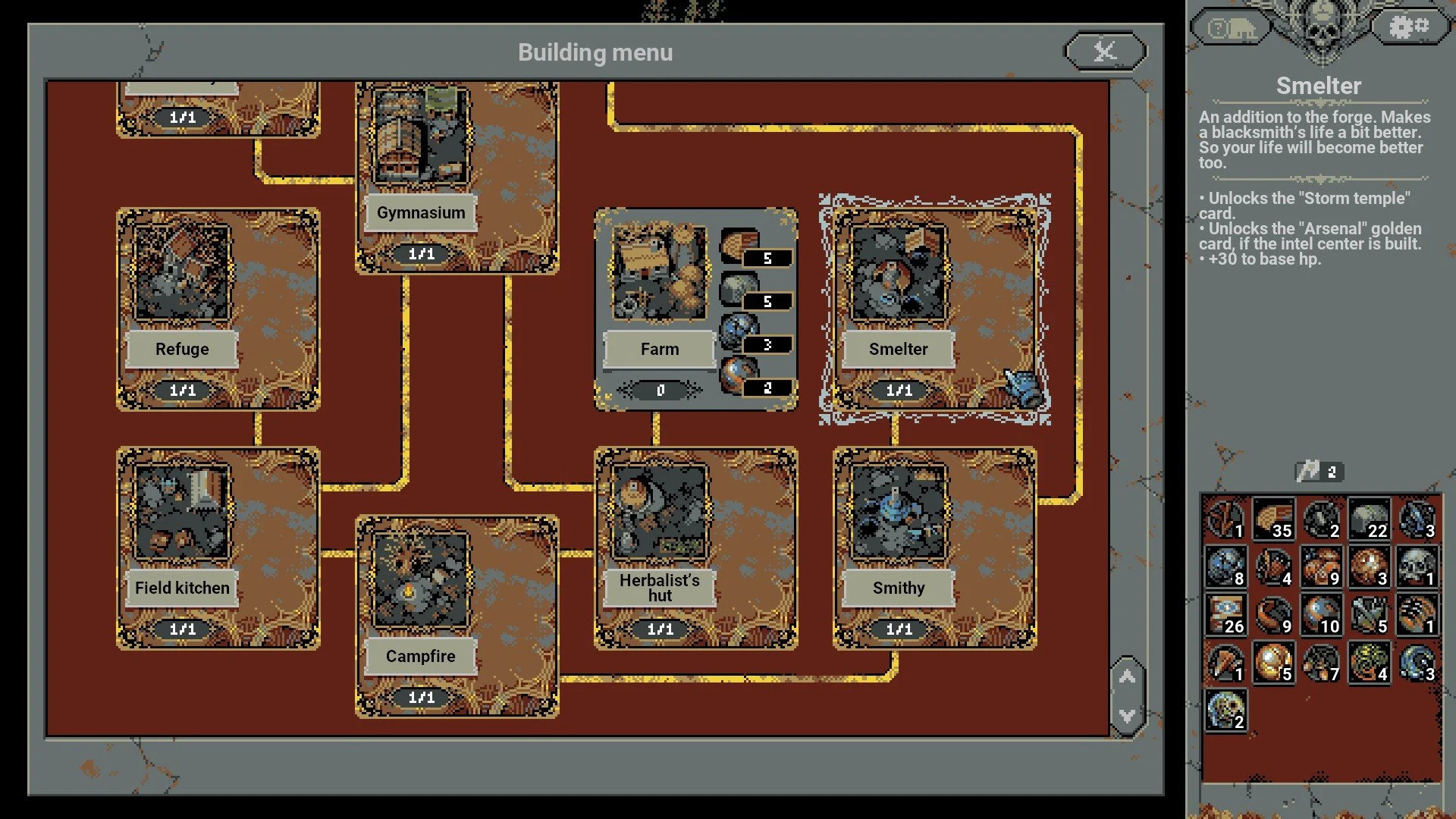 Getting this card isn't reliant on your progress in Loop Hero, but rather the buildings you make at your camp. You'll need to make both the Smelter, and Intel Center much higher in the tree. Until the Intel Center has been made, you won't get golden cards from buildings that give them. The resources for each building are listed below.
| | | |
| --- | --- | --- |
| | Smelter | Intel Center |
| Stable Wood | | 12 |
| Preserved Rock | 5 | |
| Stable Metal | 18 | 15 |
| Food Supply | 3 | 17 |
| Metamorphosis | 1 | 3 |
After you've made both buildings, you can add the Arsenal golden card to your deck on the Expedition screen. Just click the button with a picture of stacked cards above your card icons. The new card will shimmer when you first head to this screen. Arsenal is one of four different golden cards in Loop Hero. Take a look at the next section to learn which class this card synergizes best with.
What Class is Arsenal Best For?
As mentioned in our guide on unlocking equipment slots, every class benefits from the Arsenal card. However, certain classes benefit more and at the same time, there may be better golden cards to choose from. Here are my quick thoughts on which class it's worth using Arsenal on.
Warrior – It's worth getting the extra damage from your Retaliation stat, especially since you're going to take a beating as this class. But you're offsetting it with high defense.
Rogue – This is easily the most popular choice for Arsenal since you get Magic HP. A common strategy is stacking the world with Sand Dunes to lower everyone's health. While keeping your Magic HP high since it's not affected.
Necromancer – While it can be tempting to use, you're much better off with the Ancestral Crypt golden card. You'll get a significant amount of health from killing enemies with souls, as well as an extra life.
If you learned something useful from this guide, be sure to visit our other Loop Hero guides listed below. Or if you'd prefer, see every guide we have to offer at the guide hub here.

Jeff is a journalist with over 10 years of experience writing, streaming, and making content about video games. With an associate degree in journalism, he's a sucker for RPGs, survival games, roguelikes, and more.