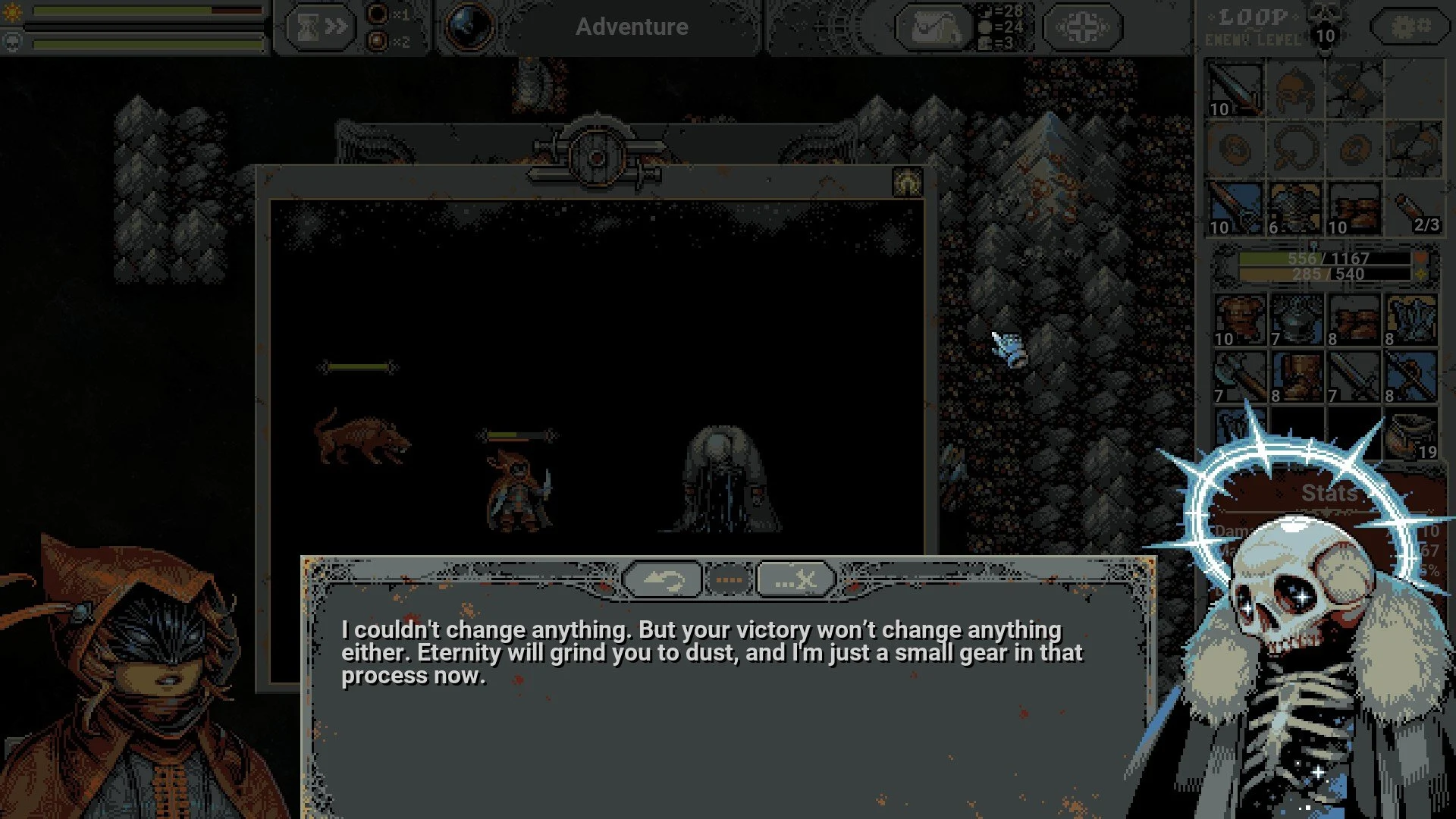 Get in on the latest roguelite hit Loop Hero with the best tips and tricks in this guide. Developer Four Quarters has created a unique roguelite with an idle play style that's still extremely interactive. Not to mention, an interesting world revolving around rebuilding it one tile at a time. Continue reading below for our tips and tricks.
Tip 1 – Design Your Route Efficiently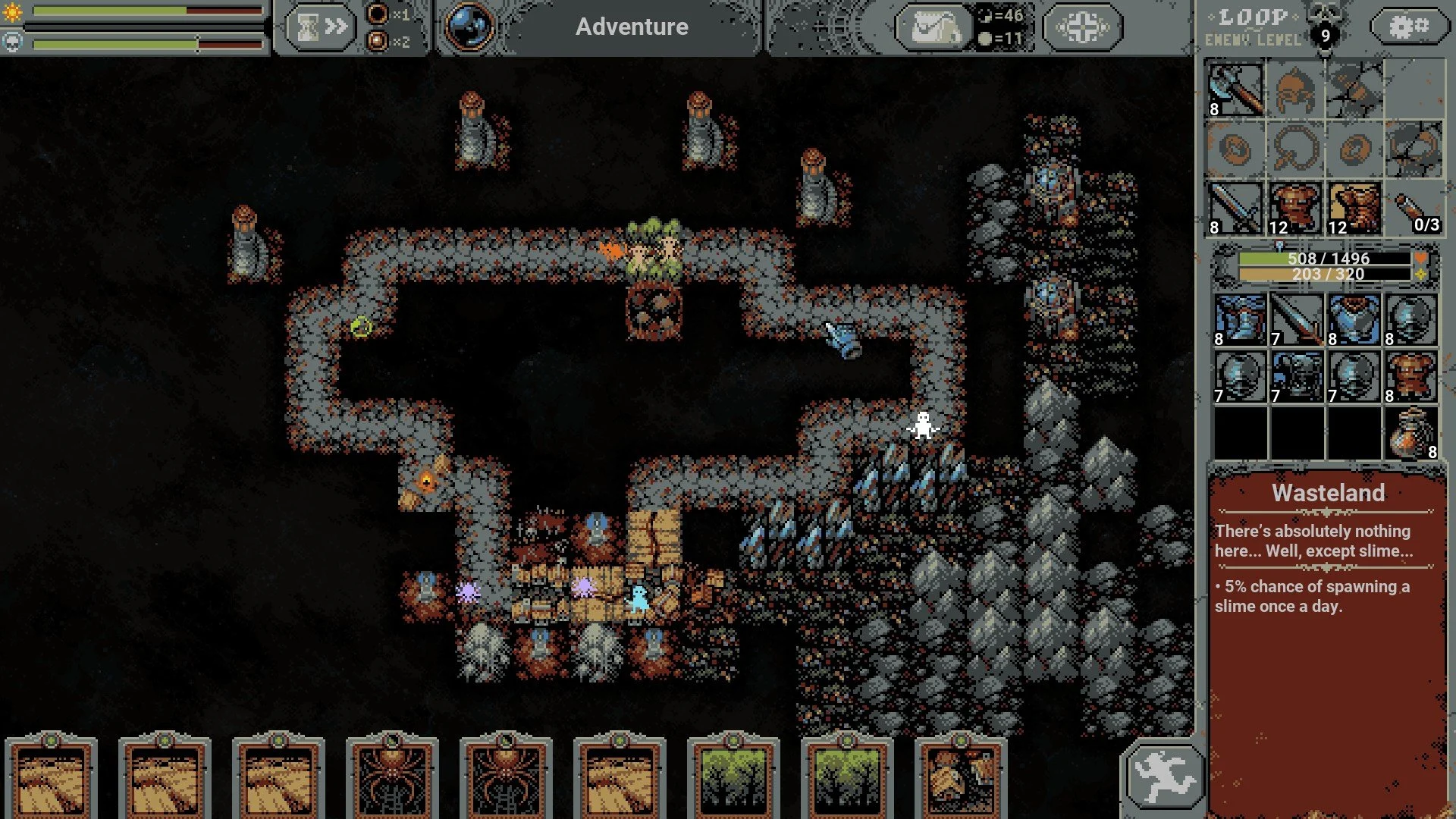 Deciding where to place cards along the Loop Hero route is extremely important. Over time, you'll unlock cards that have potential for new resources and also new ways to die. When you're first starting out, you should keep monster spawners spread out. You don't want to fight multiple enemies at once as you'll get bombarded with hits. Instead, you're better off keeping them spread out so you can regenerate health and have a free moment. Later on, you can experiment with Road Lanterns, Beacons, and even Vampire Mansions for interesting results.
Tip 2 – Know When to Retreat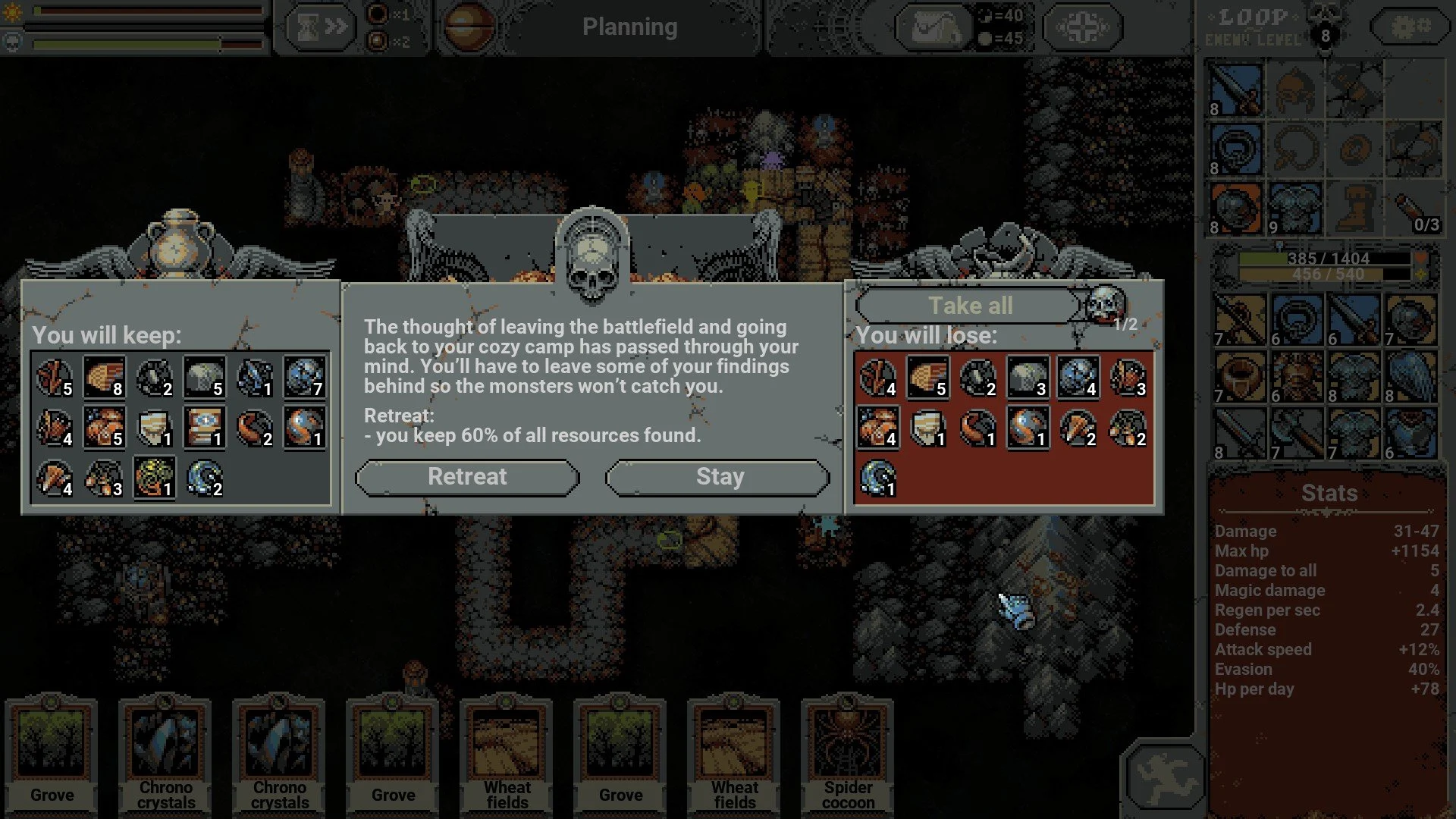 Loop Hero falls into the roguelite category since it has a form of meta progression. As explained further in Tip 7 below, you can return with resources for upgrades. Eventually, you'll unlock new mechanics like potions, powerful traits, and all sorts of useful cards. However, if you die while playing Loop Hero, you'll only be able to bring back 30% of the resources you've gathered from enemies. If you're not having a great run or just started a new chapter, sometimes you're better off retreating instead. If you retreat away from a campfire, you'll return with 60%. Whereas, if you retreat at a campfire or within one tile of it, you'll return with 100%. Make sure you know when the best time is to retreat.
Tip 3 – Understanding Which Cards Combine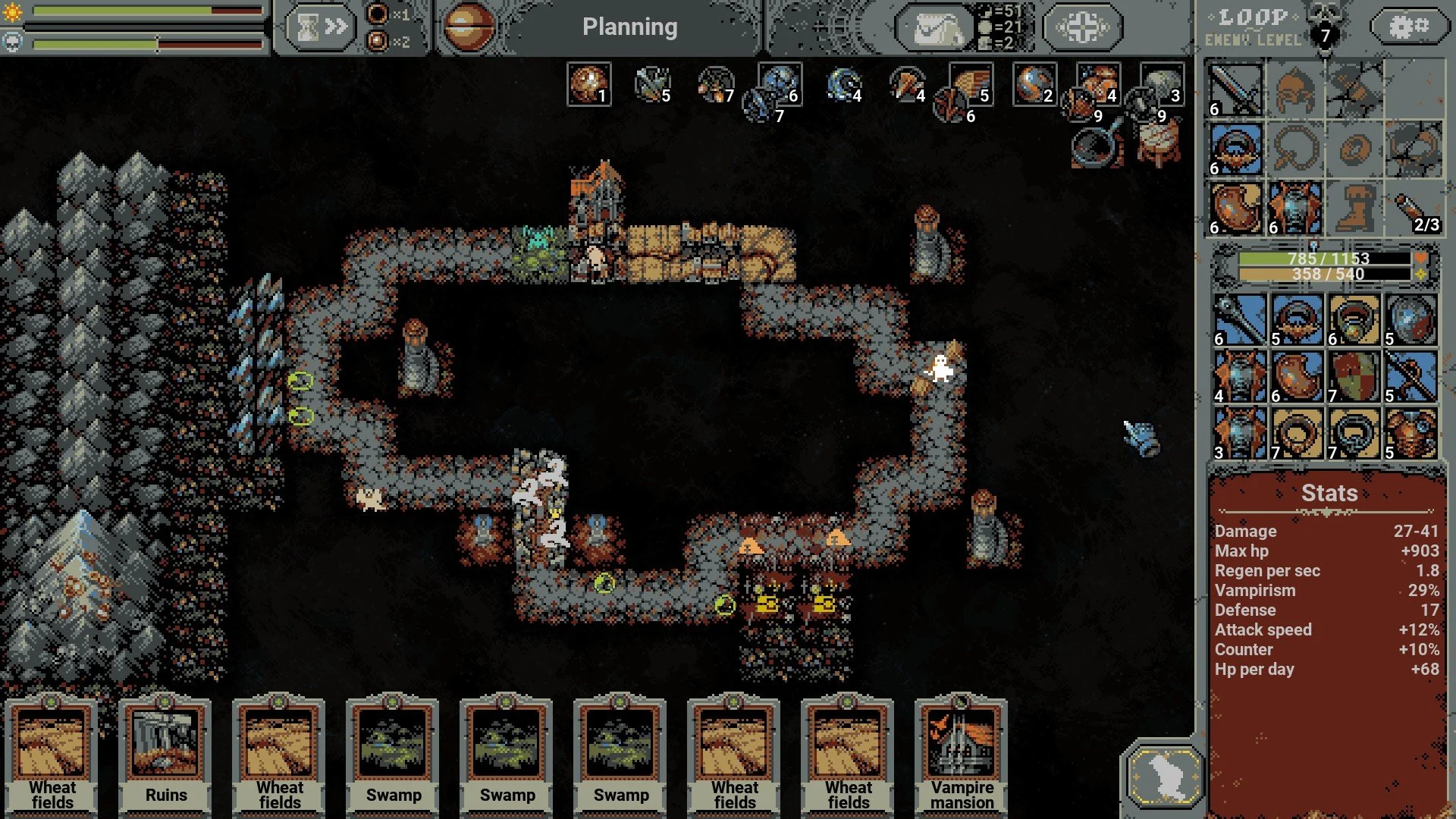 A useful mechanic that you'll likely find by accident is how different cards can combine. For example, placing Meadows next to any other tile will upgrade them from +2 daily hp to +3 as a Blooming Meadow. This is a useful card synergy early on that's great for getting more out of your card placements. There are plenty of similar situations with unique results. Another neat example is placing a Vampire Mansion next to a Village. This creates a Ransacked Village that converts to a Count's Lands tile after three loops.
Learn every card/tile combination using our guide here which shows every synergy.
Tip 4 – You Don't Need to Place Every Card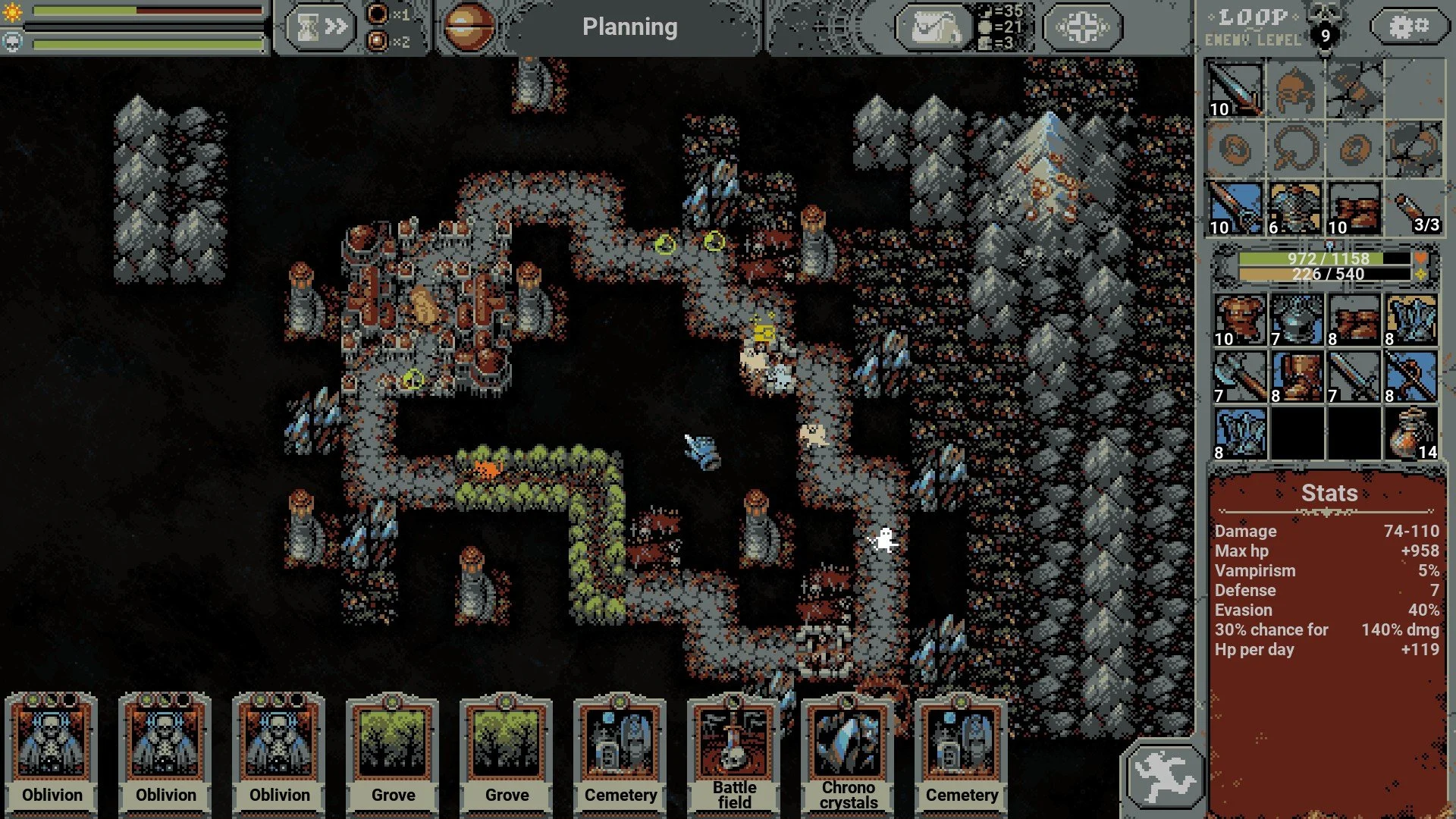 Loop Hero doesn't have traditional difficulty settings. This creates both a unique and customizable experience if you know what you're doing. As you place cards/tiles along the route, you're placing monster spawners, hero buffs, tiles reducing the number of monsters, e.g. Just because you get cards frequently for killing monsters, you don't need to place them all. In fact, you benefit from not doing so, because you get resources when you hit the maximum amount. Sometimes you'll get cards that aren't useful or ones that your character isn't strong enough for. There's no reason to create an impossible dungeon.
Tip 5 – How to Customize Your Deck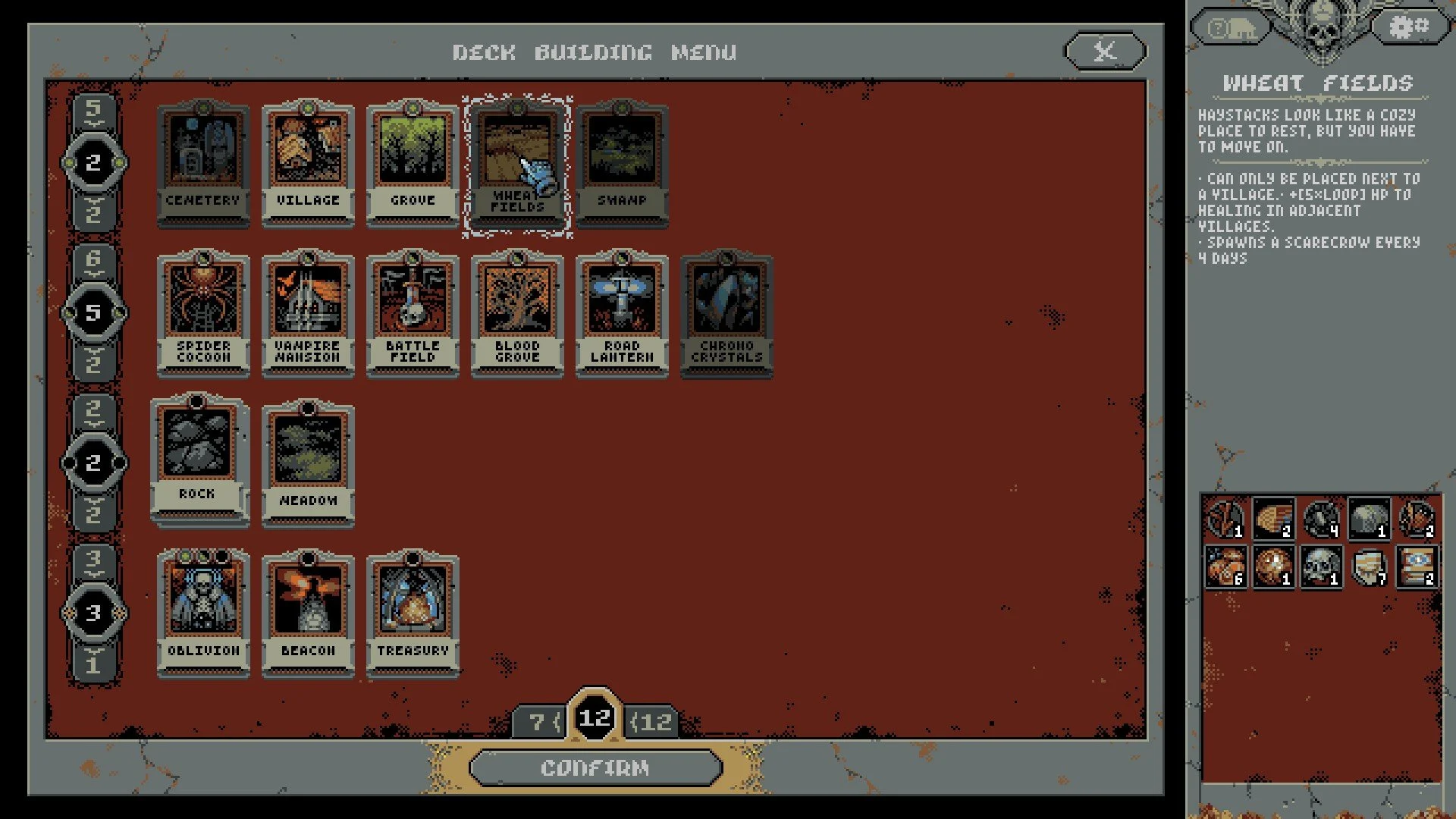 As you get further into Loop Hero, you'll unlock new cards that you may want to add to your deck. This is where you can get creative customizing each run/expedition. In order to do so, click the Expedition button when you're not on a run. Then, click the cards button above your card icons on the left. This will reveal the screenshot above where there are four rows of cards with a minimum and maximum card amount allowed. Each row has a minimum and maximum alongside a total at the bottom. You'll find over time you may want to grind different resources or have certain cards that work better for you.
Tip 6 – Grind Chapters For Resources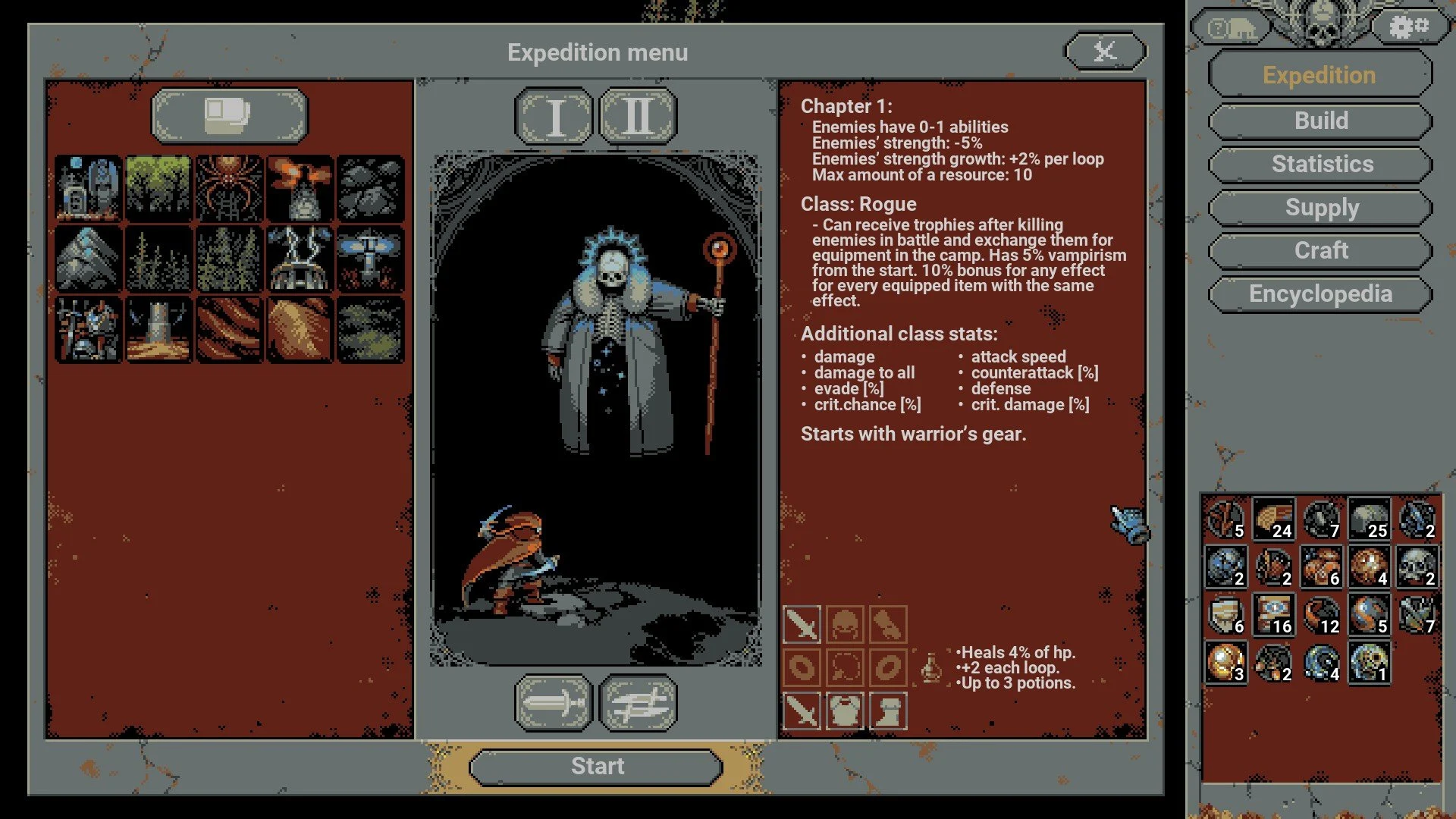 It doesn't matter whether you're on the first chapter or further in, there's nothing wrong with grinding them for resources. As goes with any roguelite that has meta progression, grinding tends to make things easier. Sometimes you're better off grinding resources on an easier chapter so you can upgrade your camp further. This can lead to a stronger character, new classes, new cards, and upgrades overall. Plus, you often get little bits of story with the people at your camp.
Tip 7 – Build Your Camp For Upgrades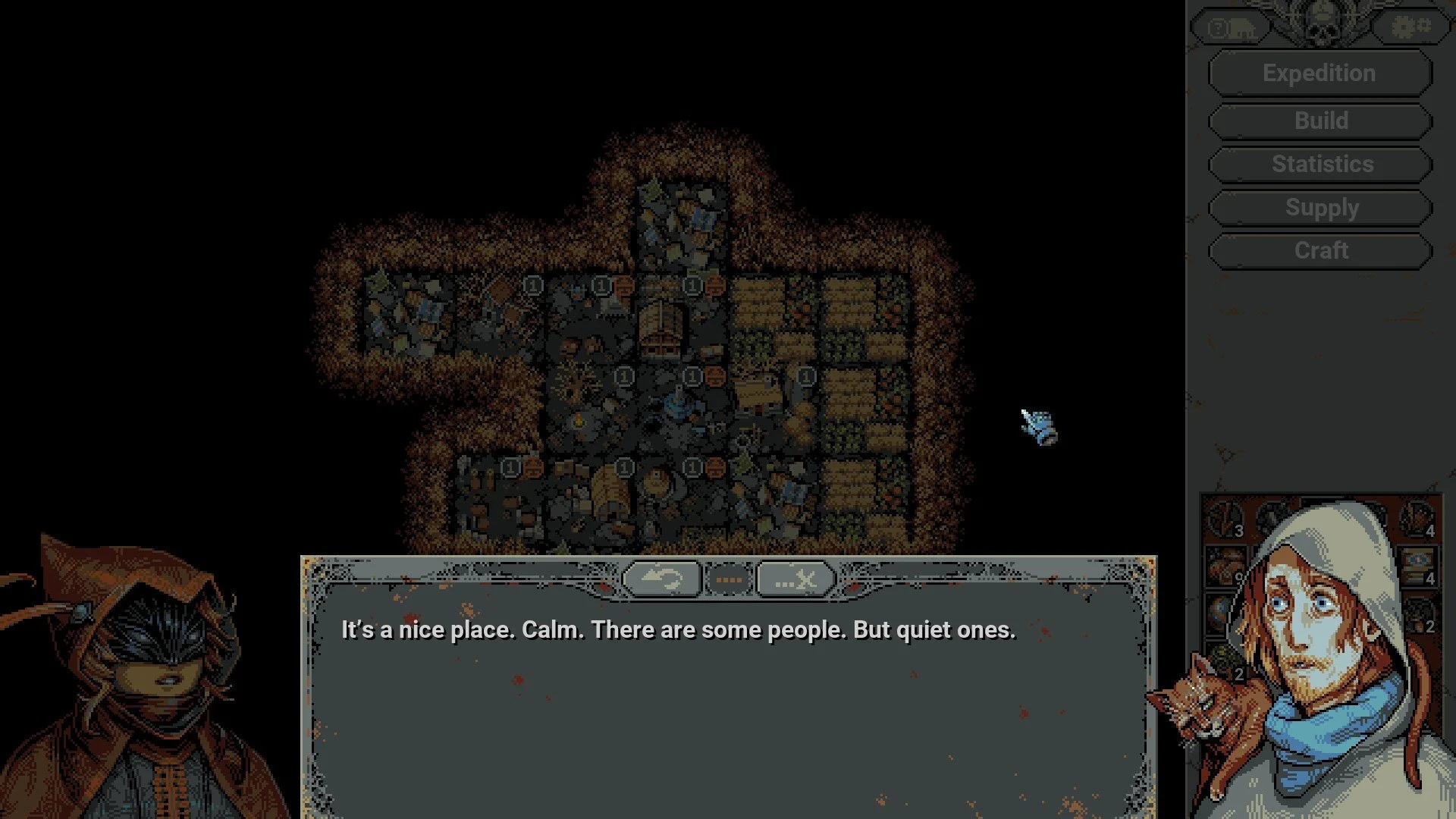 As mentioned in the previous tip, don't forget to work on building and upgrading buildings at your camp. The Herbalist's Hut helps you last longer by unlocking potions that are used when low on health. Whereas the Smithy provides starting gear so you have an immediate advantage. Loop Hero's world continues to open up as you work on your camp, because this is how a lot of content is unlocked. It's not just a form of meta progression making your experience easier. Visit our guide here for what buildings to make first.
Tip 8 – Useful Pause Options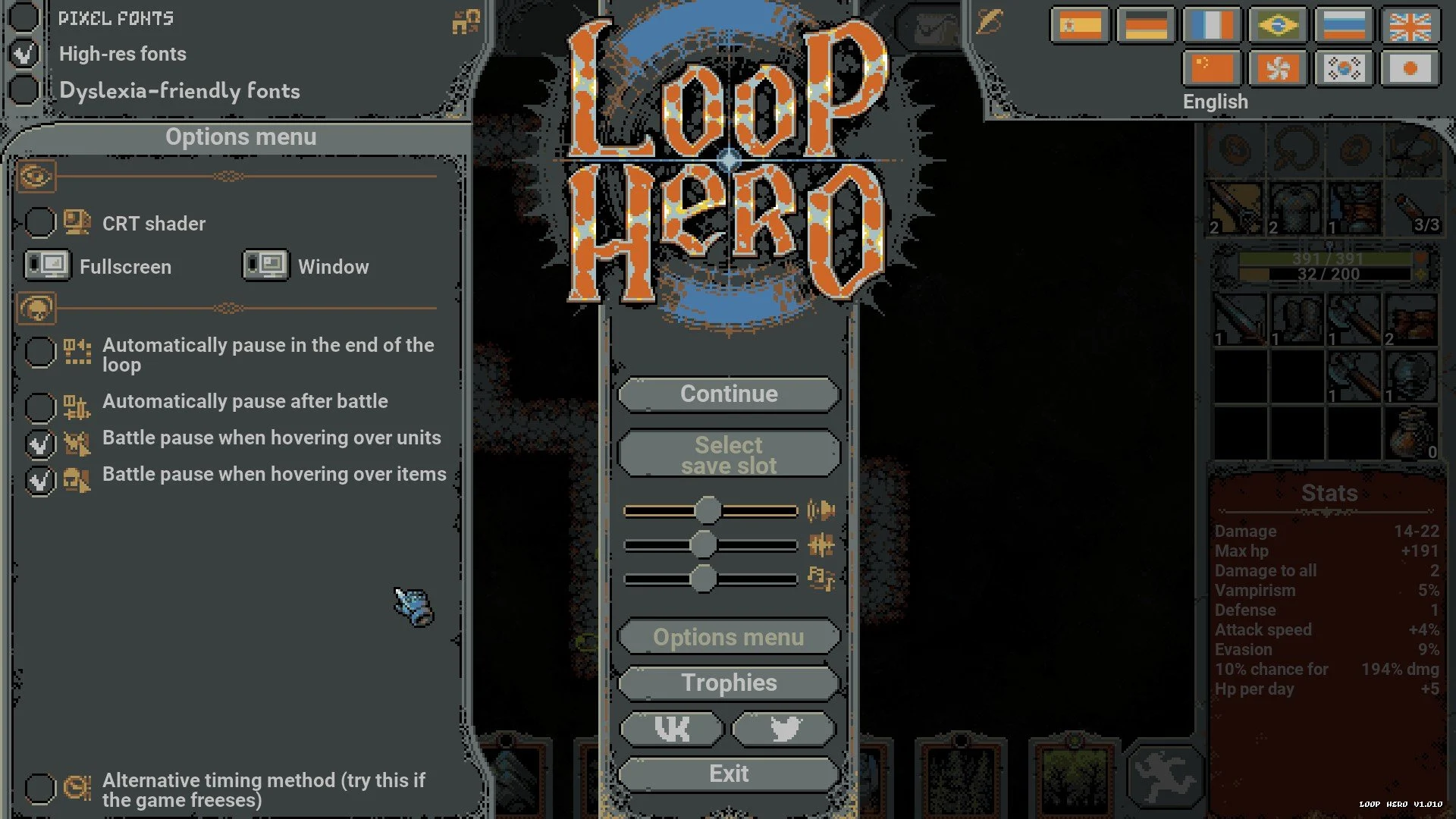 It's worth taking a look at the Loop Hero options menu as there are a few useful settings. By default, battles pause when hovering over units or items so you have a moment to breathe. However, you can also make the game pause after battles or when loops end at the campfire. While it may become tedious having to unpause frequently, some players may appreciate having a moment to equip new items. This is especially useful for the Rogue class as they get all of their items when completing a loop.
Tip 9 – How to Get Traits/Perks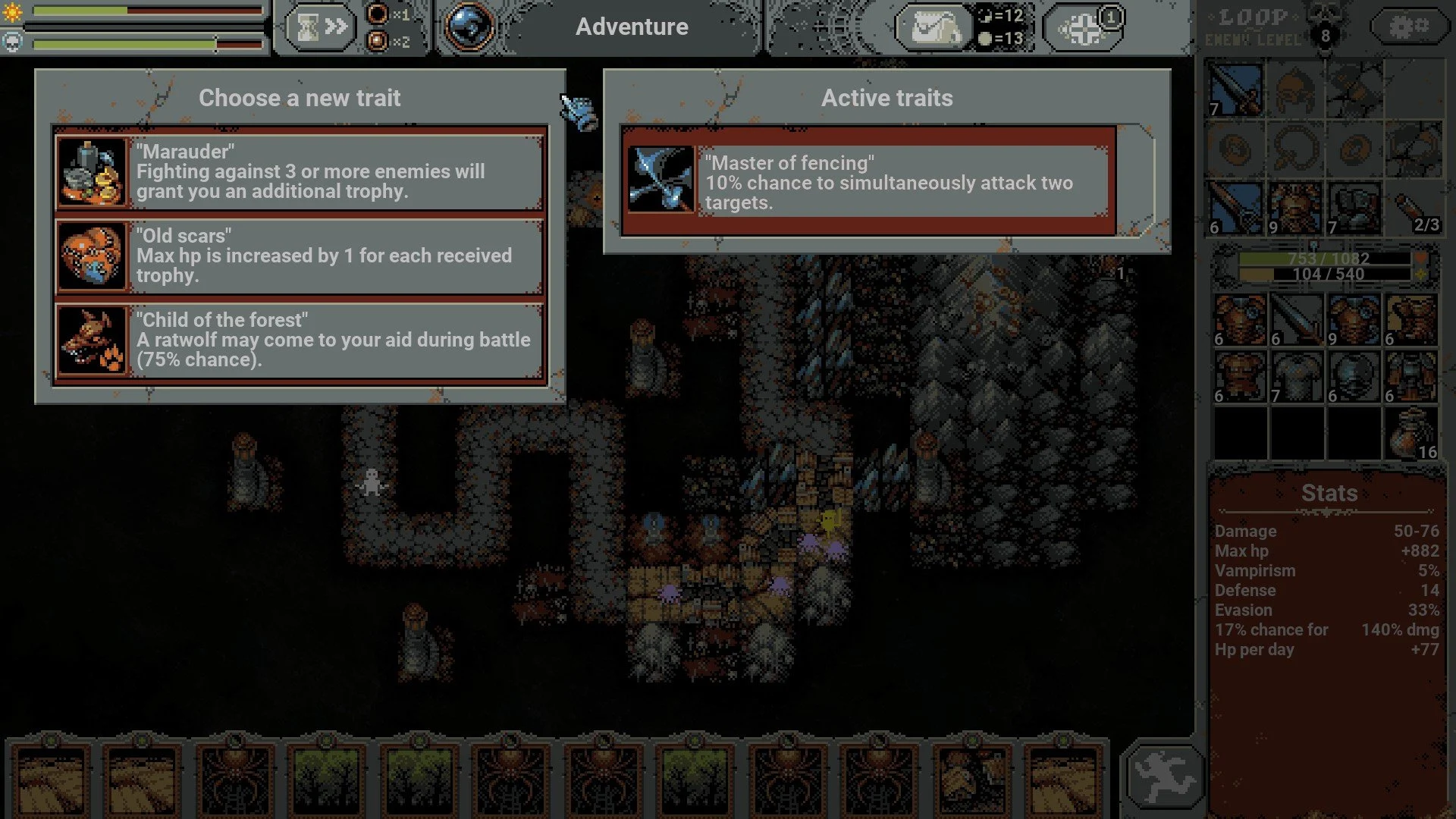 Until you unlock the Gymnasium at your camp, you won't level up and gain special traits. You'll have to unlock the Field Kitchen and Herbalist's Hut before you can build the Gymnasium. After doing so, you'll get experience from killing monsters and then have access to unique class traits. For every time you level up during an expedition, you can pick one of three traits. These are randomly chosen based on your class, and sometimes you'll get a choice to reroll them. Certain traits are unlocked by killing the first boss multiple times.
Tip 10 – Best Loop Hero Stats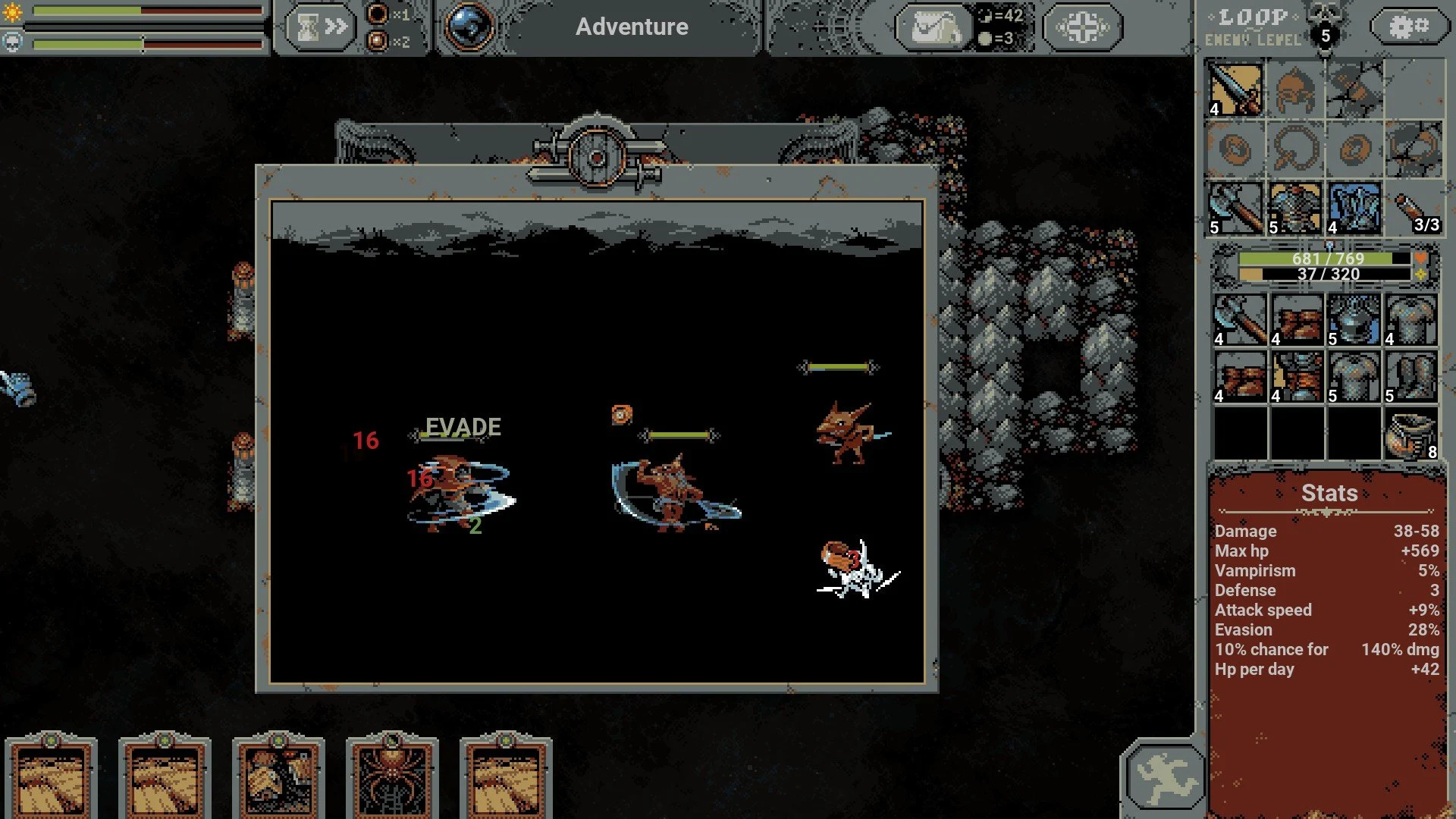 The best Loop Hero stats depend on what class you're playing, especially as certain ones are unique to them. For example, a lot of people recommend focusing max health on the Warrior so you gain the most health at a campfire. Personally, I'm a fan of using regeneration when spreading out monsters so you have plenty of time to heal up. You'll still need to lean heavily into defense and damage, however.
While playing as the Rogue, strong builds revolve around attack speed and evasion. Once you get the Arsenal golden card, the Rogue takes off using Magic HP to stay alive. The Necromancer works well if you upgrade Max Skeleton a couple of times, while focusing on Skeleton Level and Quality. If you don't get your Skeleton Quality up, you'll likely die to not having stronger types like the Skeleton Guard.
I hope these tips and tricks help you understand Loop Hero a bit better and provide a little help too. If you're struggling with something or have a question, ask in the comments to get some help. Visit more useful Loop Hero guides below.
---
Loop Hero released on March 4, 2021 for PC via Steam and GOG.

Jeff is a journalist with over 10 years of experience writing, streaming, and making content about video games. With an associate degree in journalism, he's a sucker for RPGs, survival games, roguelikes, and more.