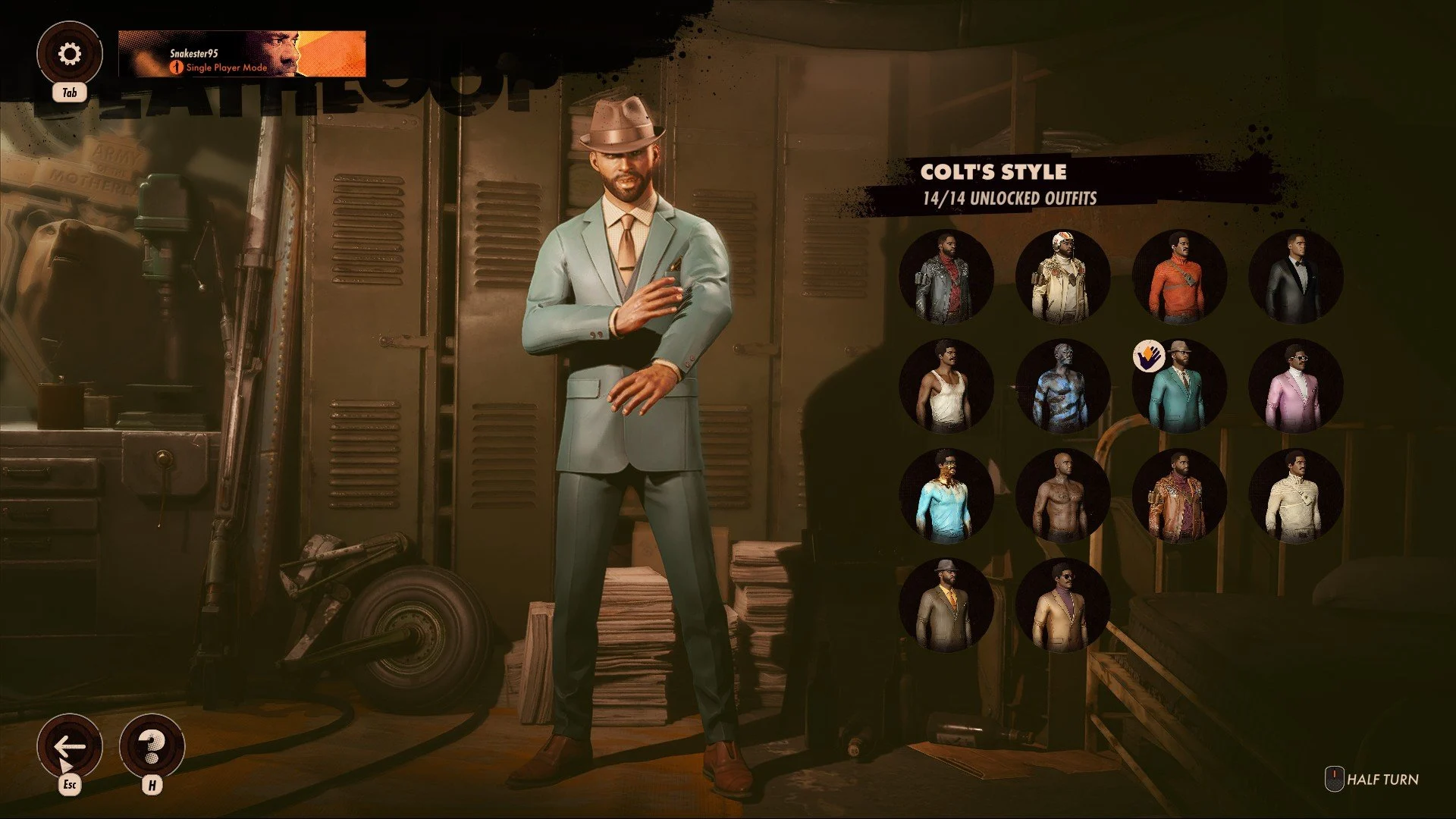 Deathloop's aesthetic is heavily inspired by it being set in the 1960s where you can get all sorts of stylish outfits for Colt and Julianna. Anything from nice turtlenecks and suits to polka dot dresses. Continue reading our guide on how to unlock new outfits below.
How to Unlock Outfits in Deathloop
You'll need to make some progress in the storyline before you can start unlocking new outfits for both characters. Once you've reached the point of being able to invade other players, you can get to work. This is because the only way to get new skins aside from the Deluxe Edition is by playing as Julianna.
Which unfortunately for some of you, this does mean you'll need to hop online and hunt down other players by protecting the loop. As you perform better hunting Colt, you'll gain points for your Hunter Rank leading to rewards and new outfits. Instead of infusing gear to keep as Colt, Julianna unlocks new gear by leveling up.
Oddly enough from what I've read online, the rewards for protecting the loop may be random. I can't confirm whether or not this is the case for outfits or only weapons, trinkets, and slabs. With that said, at the time of writing this article, I'm level 41 Hunter Rank as Julianna and have every Colt outfit. I'm only missing two Julianna outfits.
How to Change Outfits in Deathloop
If you already have an outfit or skin that you want to change to, here's what you need to know. It's essentially the same for both Colt and Julianna. All you need to do is head to the lobby menu screen where you can get to the loadout area. Then, click directly on Colt or Julianna and a new area will appear with every outfit.
While you won't really be able to see locked skins due to them being faded out, they still have names. And you can slightly make out the details. However, if the skins are unlocked randomly, you have no way of knowing when you'll get each one. That aside, at least you don't need to spend money on microtransactions as many games as a service models do today.
That's all there is to this Deathloop guide on how to unlock new outfits. If you have any other questions for me, feel free to comment below. And I'll do my best to help if I can. Otherwise, be sure to visit one of the many guides below answering common questions in the community.
A Deathloop key was provided by a PR agency for the purpose of our coverage.

Jeff is a journalist with over 10 years of experience writing, streaming, and making content about video games. With an associate degree in journalism, he's a sucker for RPGs, survival games, roguelikes, and more.