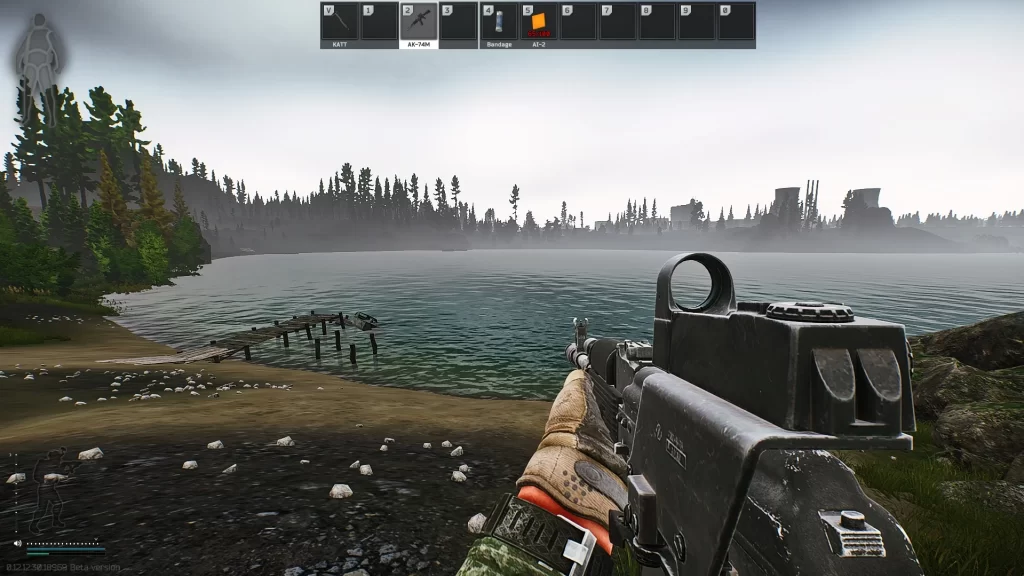 Learn all the different exits and extractions on the Woods map in Escape from Tarkov. This guide explains the requirements for special extractions if you're not sure why one isn't working. I've also included some tips and tricks similar to other map guides to help you out.
Woods can be a difficult map to learn because a lot of it is just filled with trees and no landmarks. That's why I've included some tips on what to look for so you don't accidentally wander into a minefield. The map we've included also contains the location of Jaeger's Camp if you're working on the Introduction task.
Woods – Customs – Factory – Shoreline – Reserve – Lighthouse – Interchange – Streets of Tarkov
Every Woods Extract/Exit in Escape from Tarkov
When learning Woods you'll likely often find yourself using the large pond on the bottom portion of the map. This is common since it's a large landmark as well as near several extraction exits. However, the sawmill above the large pond is dangerous since Shturman is there. Plus, you'll likely run into other players as well.
If you're lucky enough to have a second monitor with the map open or your phone, here are some things to keep an eye out for. Otherwise, you may want to get a compass to figure out what direction you're looking.
The southern large pond
The mini pools of water on the northern side of the map
The power lines are useful as long as you don't follow them into the minefield along the western boundary.
The Mountain Stash SCAV extraction is a large mountain. While you don't need to go to it, this can help you find where you are.
Take advantage of noticing when roads curve or where they are in relation to other landmarks.
SCAV-only exits are marked with an asterisk.
No Special Conditions
| | | | |
| --- | --- | --- | --- |
| *Boat | *Dead Man's Place | *Eastern Rocks | *Mountain Stash |
| *Old Station | *SCAV Bridge | *SCAV Bunker | *SCAV House |
| Northern UN Roadblock | Outskirts | UN Roadblock | |
Has Special Conditions
| | |
| --- | --- |
| Bridge V-Ex | Requires 5,000 Rubles per player and only four players can use it. Disappears after being used. (Video) |
| RUAF Roadblock | Requires a green flare lit in front of the gate to be open. (Video) |
| ZB-014 | Requires a green flare lit inside and the ZB-014 key. (Video) |
| ZB-016 | Requires a green flare lit inside, but no key. (Video) |
| Factory Gate (Co-Op) | Requires a player SCAV and PMC together. (Video) |
Dangerous Areas on Woods in Escape from Tarkov
I already mentioned briefly in the previous section to be careful around the large pond to the south. It's easy to get caught by other players watching along the edge. Otherwise, you need to be careful of the sawmill and the general area around it. This is because there are a lot of SCAV spawns.
The map I linked above for Woods shows yellow circled areas where SCAVs may spawn. Be careful of running into 2-3 SCAVs at least near each one. If you're playing as a SCAV yourself, you may want to head to these areas instead. You'll have a chance to fight with them against PMC players.
Raid Boss Locations on the Woods Map
Gone are the days of just running into Shturman at the sawmill. Now you have to keep an eye out for the three Rogue bosses at the SCAV Bunker extract. You can see it at the northwest/top left corner of the map with an antenna symbol. The three Rogue bosses are Big Pipe, Birdeye, and Knight.
Other than Shturman and the Rogue bosses, you can also find the Cultist Priest on Woods. They can appear near the northern part of the map in the village east of SCAV Bridge. But, they can also appear west of the sawmill.
That's all there is to our quick Woods map guide for Escape from Tarkov. Be sure to visit more of the useful guides we've put together below. Or if you'd prefer you can visit the Escape from Tarkov guide hub for every single one we have.

Jeff is a journalist with over 10 years of experience writing, streaming, and making content about video games. With an associate degree in journalism, he's a sucker for RPGs, survival games, roguelikes, and more.