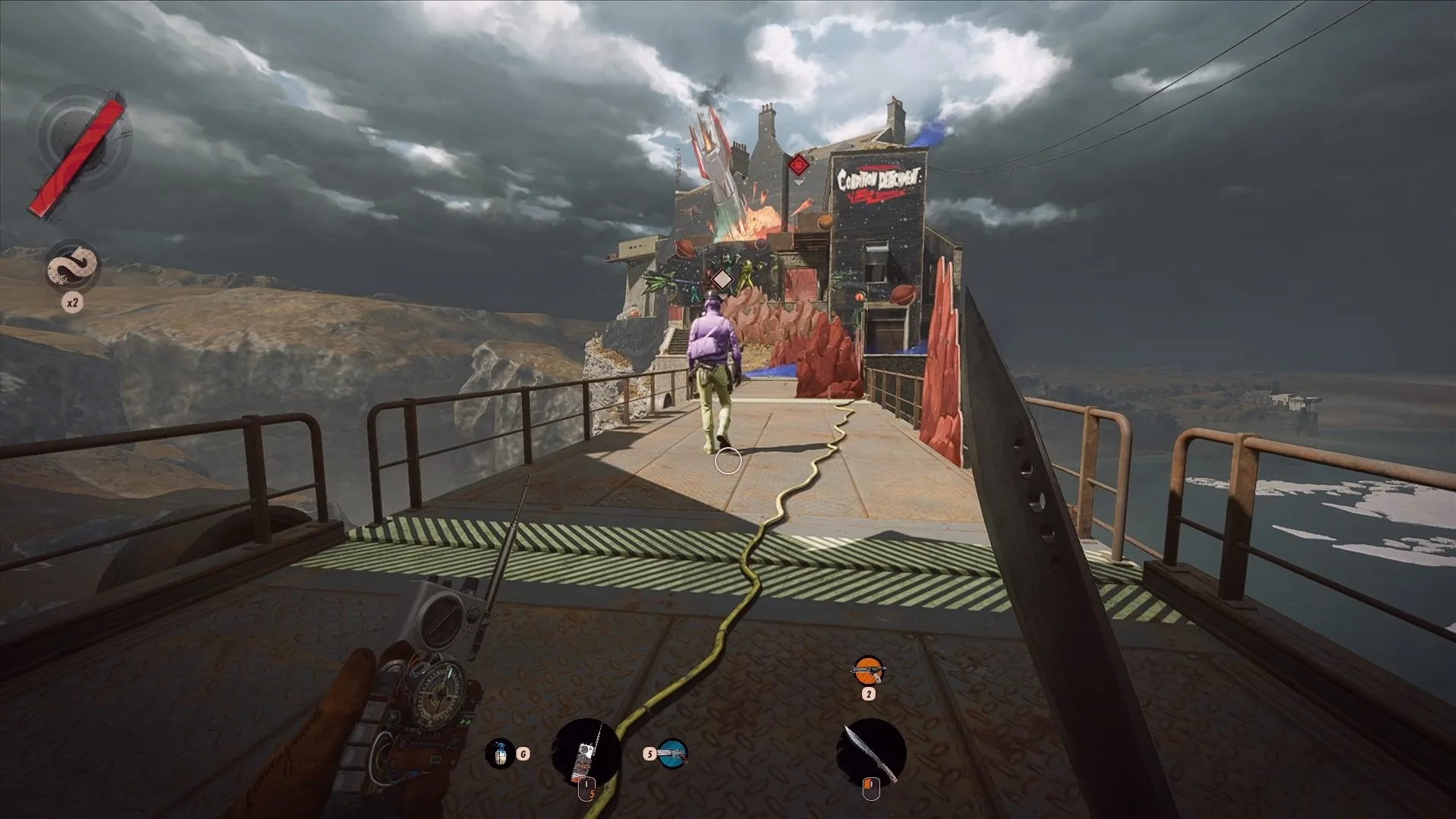 The first slab ability you'll want to track down in Deathloop is Shift because it lets you teleport short distances. This immediately speeds up your flow and provides access to new routes. Such as a second-story window or even just getting away from a bad situation quickly. Continue reading our short guide on how to get Shift.
How to Get Shift in Deathloop
As mentioned in our 10 Best Deathloop Tips and Tricks guide, Shift is a must-have ability. Fortunately, there are two ways to get it with one being random and the other guaranteed. If you get lucky when Julianna raids you for the first time, she can drop it upon beating her. Otherwise, you'll need to track down Charlie Montegue.
If you're still early in the story, the only time you can find Charlie is at noon in Updaam. Later on, you'll have another opportunity based on new Visionary leads you've discovered. To avoid spoilers, for now, we'll prioritize taking out Charlie in his game house. This is across the bridge on Charlie's island separate from Updaam.
Hunting Charlie in Updaam
Assuming you don't have the Shift slab yet since you're here, your paths are a little more limited. However, you can still sneak alongside the bridge to take a quieter route. From here on, you'll need to be careful of Eternalists out front and patrolling the many floors inside. Once the alert triggers, Charlie will immediately jump on the loudspeaker freaking out.
If you're following the Visionary lead objective, there should be a marker for where Charlie is. With that said, once you get close to him, he'll start taking advantage of the Shift slab. This can make it difficult to follow where he is, but he won't go far. If anything, he's more likely to teleport away from you and then back.
It's possible Charlie won't reveal himself until you visit his shack out back on the top floor. This is "Charlie's Sanctuary" where you can find plenty of notes and clues. So make sure to keep an eye out before rushing after him.
Once you've taken out Charlie, he'll drop the Shift slab for you to pick up. If you've already managed to infuse it, he'll drop an upgraded version instead. Unfortunately, you won't be able to use the upgrade until returning back home through the tunnels. But, if this is your first time getting Shift, you can start using it immediately.
Make sure you visit our guide on How to Infuse Gear if you don't already know how. This is how you can permanently keep items across each run. Otherwise, you'll need to run through the whole process all over again to even get the barebones Shift.
That's all there is to this guide on How to Get Shift in Deathloop. If you have any other questions for me, feel free to comment below the article. You can get more fancy abilities by hunting down the other Visionaries as well.
A Deathloop key was provided by a PR agency for the purpose of our coverage.

Jeff is a journalist with over 10 years of experience writing, streaming, and making content about video games. With an associate degree in journalism, he's a sucker for RPGs, survival games, roguelikes, and more.