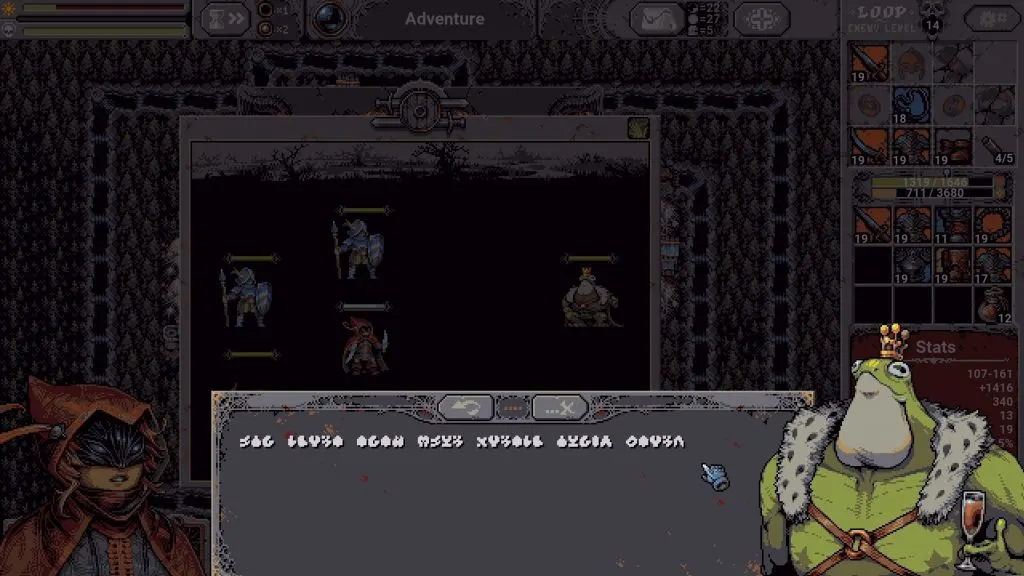 If you're wondering how to spawn the secret Loop Hero Frog King boss, this guide is for you. There seem to be a few secret bosses you can spawn if you set things up properly. Fortunately, this one isn't too difficult, but it will take a little time. Continue reading below to learn how to spawn them and a few tips too.
How to Spawn the Frog King in Loop Hero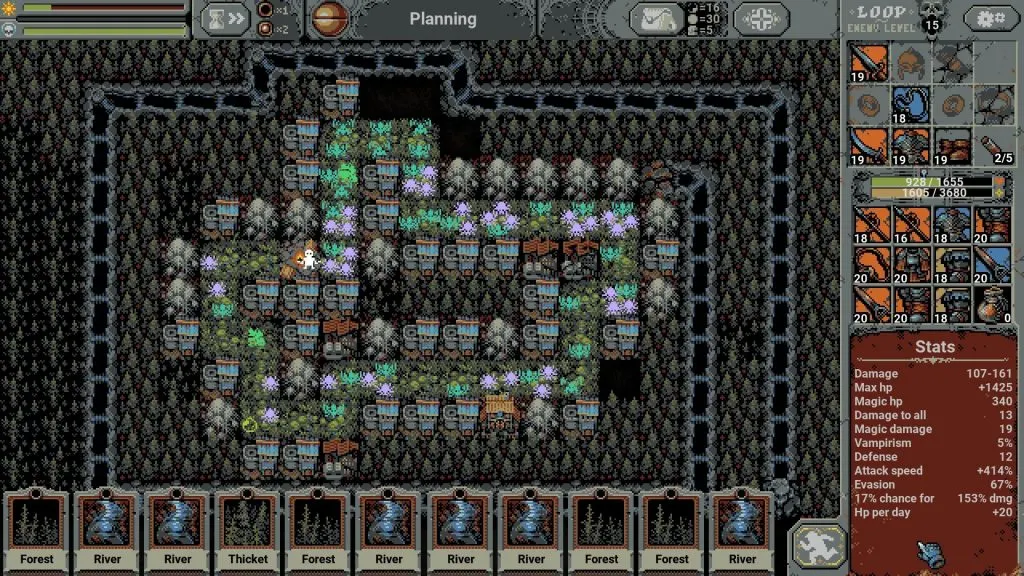 Spawning the Frog King in Loop hero doesn't require doing anything too crazy. All you need to do is cover the entire road/route with Swamp tiles. Once you do so, a tiny little green frog monster will appear above a random Swamp tile. There won't be any sound effects or alerts to let you know it has appeared. Also, you can fight them multiple times by using an Oblivion card to remove a Swamp tile and then replace it. This will immediately spawn another Frog King, regardless of whether one is currently spawned or not.
When you finally reach this secret boss, they'll have cryptic dialogue as shown in the first screenshot. The full conversation has been translated to the following below.
HEROETH

PRY THINE EYES UPON MINETH ROYAL BEING

FORE YOU ARE KING RANA THE VII

BASK IN MINETH GLORY

AND TAKENETH THINE REWARD
Tips For Spawning the Frog King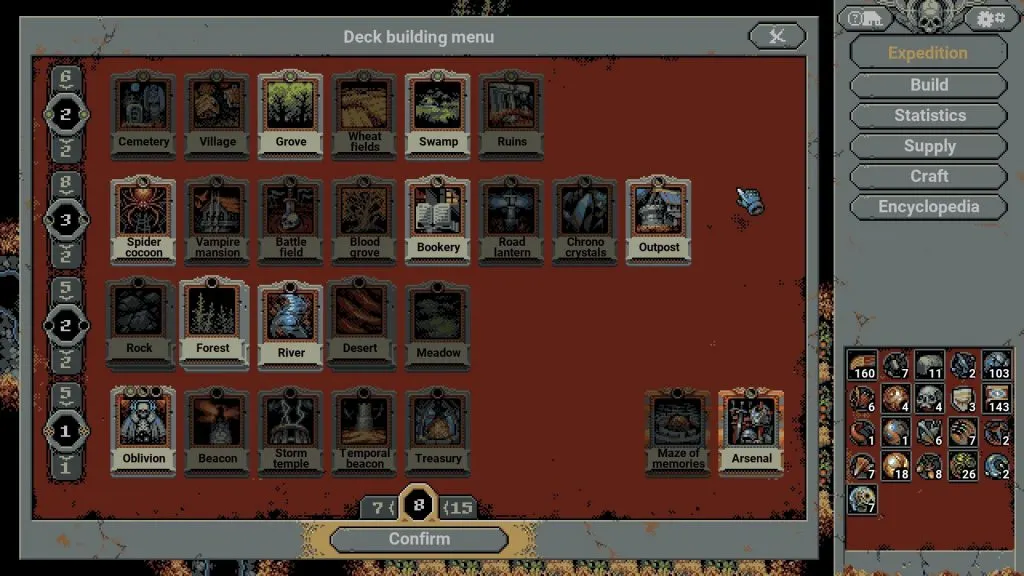 This is the card deck I used for spawning the Frog King in my run. You can swap the Grove card out for anything. It's mainly there to meet the two-card road minimum. The second row has a Spider Cocoon for grinding cards, a Bookery for changing cards, and an Outpost for help fighting enemies. The Outpost is optional and will make things take a little longer if you're trying to do it quickly. The third row has a Forest and River to give the Rogue class a ton of attack speed. I had a little over 400% attack speed near the end of my run.
The final row is the Oblivion card and a golden Arsenal card. We'll use the Oblivion card to remove A Village?, Abandoned Bookery, and Lich Palace tiles. This brings me to another point, you can spawn the Frog King on Chapter 1. So don't make it more difficult for yourself by picking higher chapters. Since Chapter 1 is the easiest, you can get away with any class, but the Rogue works exceptionally well.
Aside from the starting Vampirism on the Rogue, having a high Evasion stat offsets the need for healing. Which you won't want to do much of because the Swamp tiles reverse healing effects to damage. Plus, you'll appreciate having high attack speed when fighting the Frog King. They don't fight back, but they seem to have 99% Evasion according to an unknown trait. Their other trait Steel Flesh reduces all damage to 1 hp. Which means all you need to do is hit them twice.
When the Frog King dies, some quiet audio references a meme from a couple of years ago. You can hear, "Change the world, my final message, goodbye." Then, the fight ends, and unfortunately, you don't get anything special for doing it. You can see the entire battle and hear the audio in our video below.
Video of the Frog King Battle
Head over to our Loop Hero guide hub here for more useful tips and tricks. Or if you'd prefer, we have a few guides listed below that you may be interested in.

Jeff is a journalist with over 10 years of experience writing, streaming, and making content about video games. With an associate degree in journalism, he's a sucker for RPGs, survival games, roguelikes, and more.