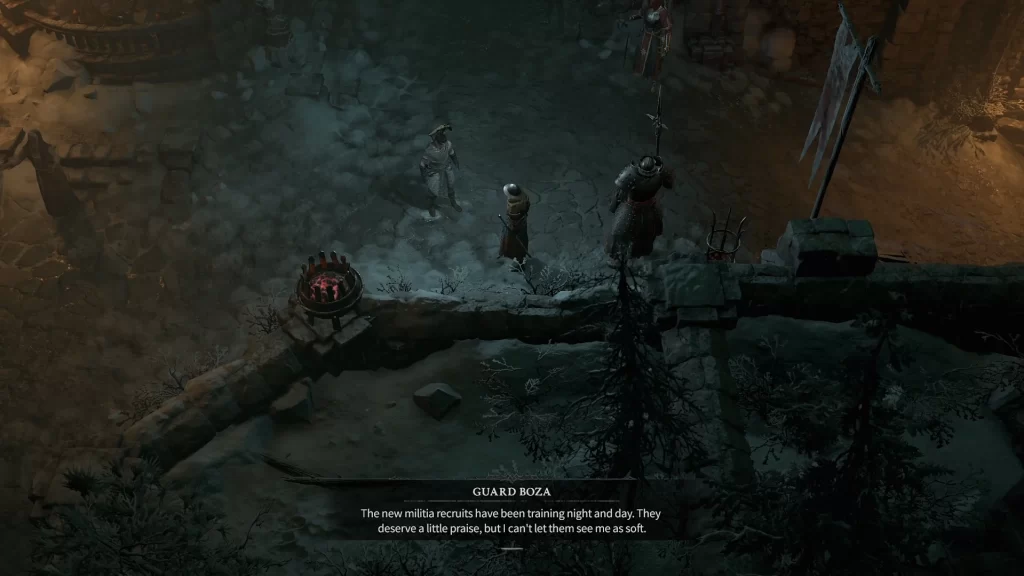 Learning how to cheer or give thanks in Diablo 4 is important if you want to complete a couple of quests. You wouldn't think you'd need to learn how to emote in an action RPG like Diablo 4, but here we are. This seems to be part of the transition to having some MMORPG elements.
At first, it seems like the early Raising Spirits quest is a way to teach players how to use emotes. However, as you work your way through the many side quests, you'll come across more opportunities to use those emotes. So whether you're trying to cheer for a group of soldiers or wave hello to another player, this guide will help you out.
How to Cheer in Diablo 4
Completing the Raising Spirits Quest With Cheer
Using emotes isn't too complicated but it's easy to have absolutely no idea if you're not sure. First, if you're playing on PC with a keyboard, hold the "E" button by default to pop up a radial wheel menu. This will show a few emotes as well as other actions like how to leave a dungeon or even invite a player to your party.
For this situation, we're more concerned with how to cheer and use other important emotes in Diablo 4. However, you won't have the cheer emote on your radial menu yet so you'll need to add it. Fortunately, this isn't too hard to do either but again, it's another added step.
Use your mouse cursor to click the red "Customize" button below the radial menu. This will reveal a new side menu where you can add emotes, consumables, and two other tabs for additional hotkeys. By default, the emotes menu will appear first, so scroll down until you see the cheer emote.
Afterward, click and drag the emote you want to the radial menu below. This will set it to that spot for when you open up the radial menu next time. Once you're happy with the spot it's in, click the Save Changes button and you're good to go.
Completing the Traveler's Prayer Quest With Thanks
Similar to the process explained in the previous section, you'll need to set a new emote for the Traveler's Prayer quest. This can be a confusing quest since the description just says, "Give thanks at the shrine." At first, I kept running around the quest marker looking for the shrine not realizing it was right in front of me.
I expected an interactive prompt to appear so I could give thanks and go collect my reward. However, this is another situation where you have to use an emote to complete a silly quick side quest. For this one, you'll need to set the thanks emote to your radial menu. Fortunately, that's all there really is to it.
Certain other quests require emotes too like the Secret of the Spring riddle. Similar to the other simple solutions above, you just need to use the wait emote for that one. I wouldn't be surprised if there are several other side quests spread throughout Diablo 4 requiring emotes too.
That's all there is to this quick guide on how to cheer in Diablo 4. Feel free to have a little fun with your emotes if you're trying to socialize with other players. Unlike other games in the franchise, you'll randomly run into other players while visiting towns and random events.

Jeff is a journalist with over 10 years of experience writing, streaming, and making content about video games. With an associate degree in journalism, he's a sucker for RPGs, survival games, roguelikes, and more.