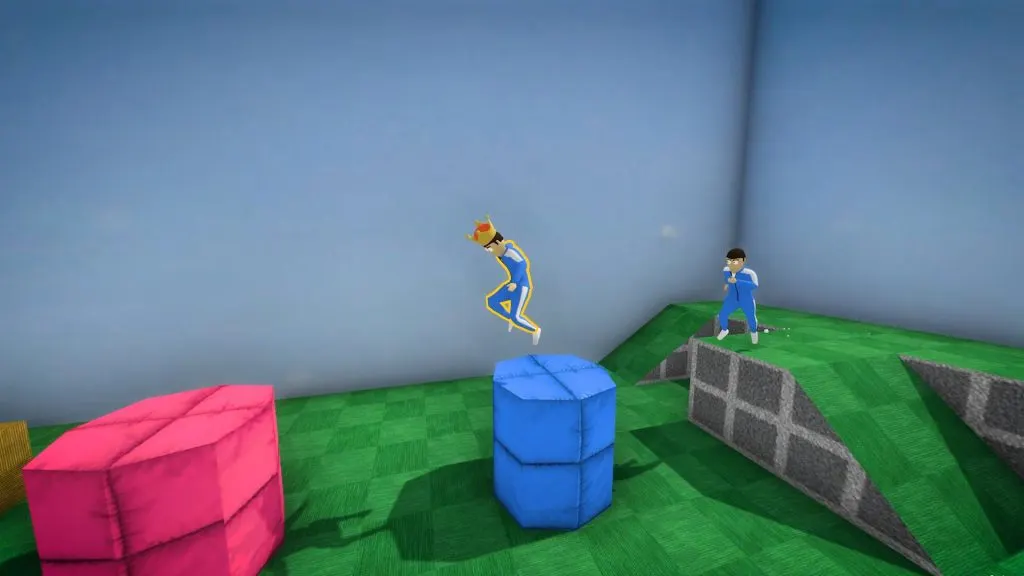 Bunny hopping is a movement trick that's been around for a long time that you may have noticed Crab Game players attempting. The goal is always to increase how fast you can move. However, actual bhopping doesn't seem possible in Crab Game. Even though there is still a useful tip to take advantage of.
How to Bhop in Crab Game
The main issue with trying to bhop in this game is that you can't use another technique known as strafing. This is important for increasing your speed as shown in the Counter-Strike video below. With that said, you can still jump a certain way to increase your speed similar to useful sliding tips too.
If you ever see players refer to bhopping in Crab Game, they're most likely jumping diagonally. This can send you much farther than jumping forward or even slide jumping. As long as you continue to jump when hitting the floor, you can continue taking advantage of this movement method.
However, you don't need to flip your mouse and look left to right rapidly or anything as you normally would when bhopping. So if you watch a video or Twitch stream of someone rapidly looking around while moving in Crab Game, it's not accomplishing anything. That is of course unless the developer changes how movement works in future updates.
The main updates we've seen from Dani so far have been fixes and new content via more maps and modes. Content Update 1 added 9 new maps and two modes as well. While also fixing the well-known issue of player IPs leaking.
With that said, the only time diagonal jumping doesn't work is if you mess up on the timing of each consecutive jump. This is the part that's most similar to bhopping in other games for those familiar with the movement technique. If you mess up the jump timing, you'll stop for a short moment potentially getting caught by another player.
That's all there is to this short guide on how bhopping works in Crab Game. Make sure you combine it with the movement tricks in our guide on How to Slide. Or take a look at any of the common questions answered in the guides below. If you have any other questions, feel free to ask in the comments as well.

Jeff is a journalist with over 10 years of experience writing, streaming, and making content about video games. With an associate degree in journalism, he's a sucker for RPGs, survival games, roguelikes, and more.