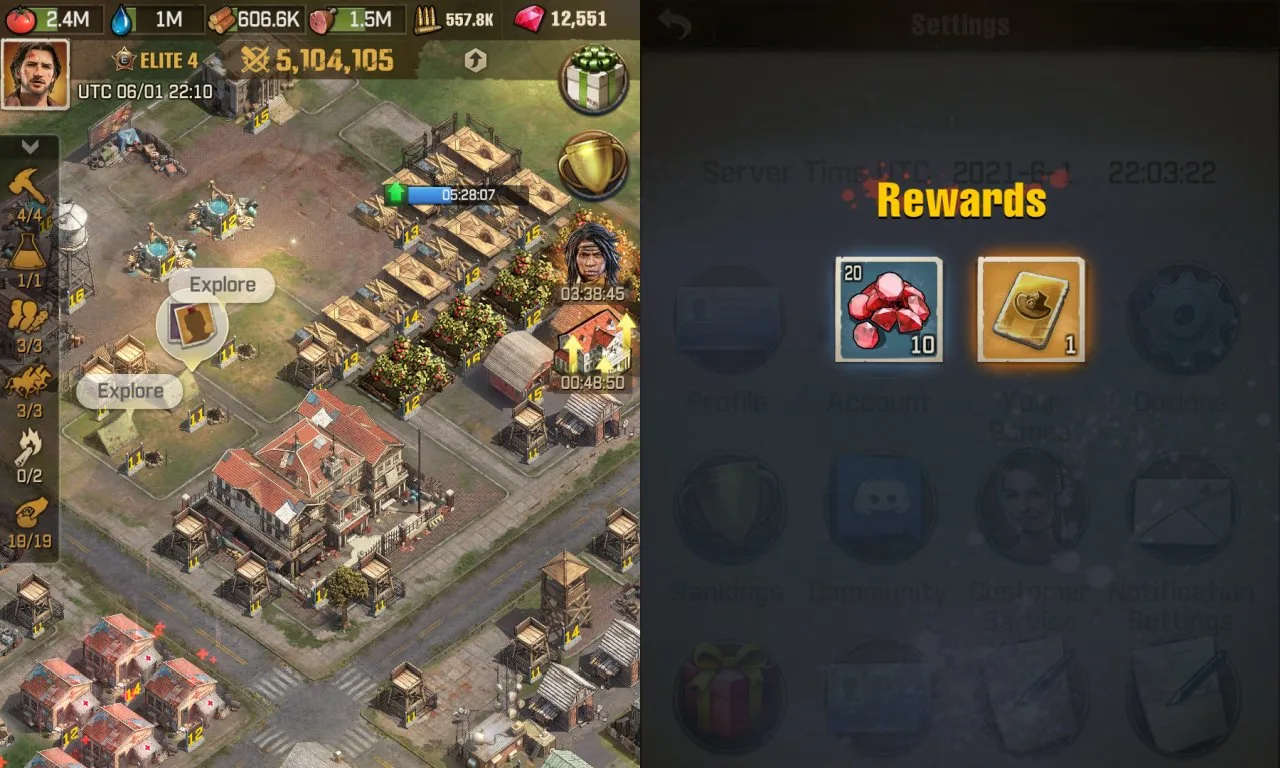 The Walking Dead: Survivors is a mobile game where there are a number of codes to redeem for juicy rewards. Especially if you're looking for free rubies, the paid in-game currency. Rubies play a role in every part of The Walking Dead: Survivors, so it never hurts to have more. The developer often gives out rubies via codes and in-game mail. Continue reading our guide below for how to redeem codes and the current ones.
How to Redeem Codes For The Walking Dead: Survivors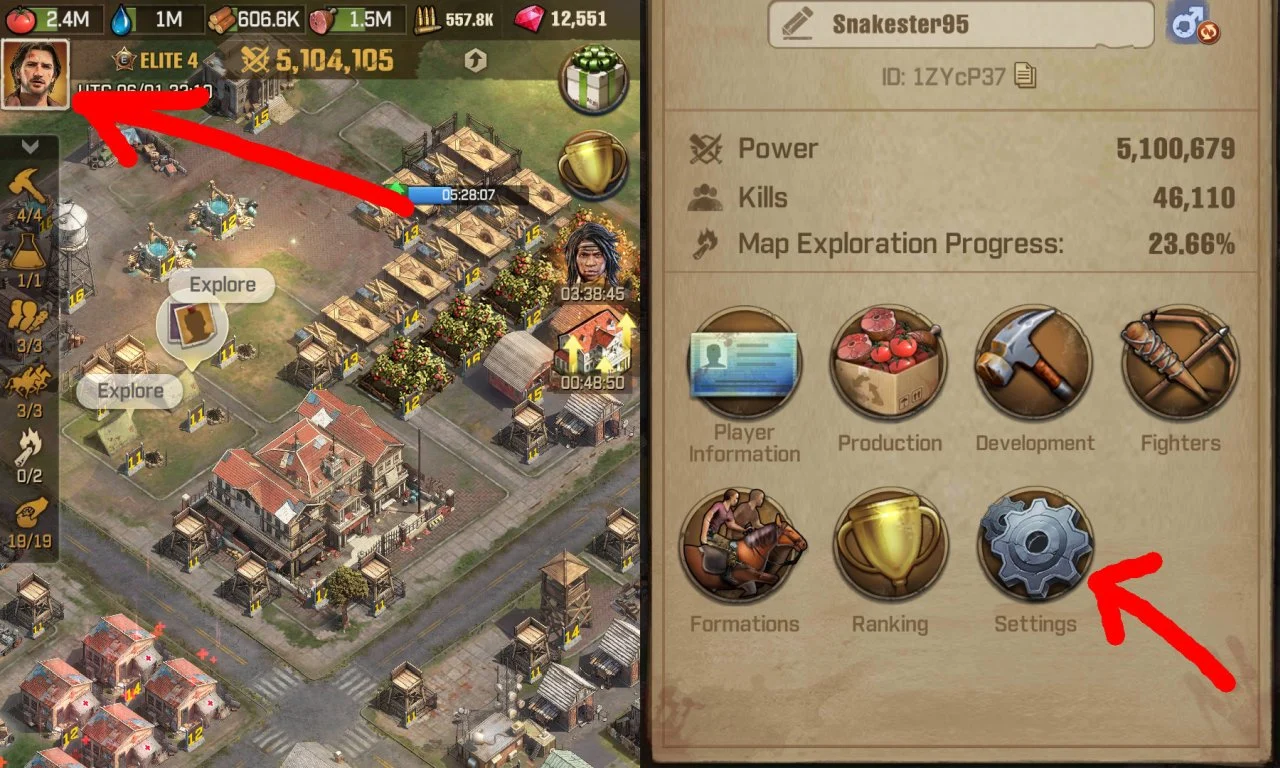 Redeeming codes in The Walking Dead: Survivors is nothing too complicated, fortunately. First, you'll want to have your town screen open where you can see all your buildings. This will help with having the UI buttons visible that you need to see. Then, press the picture of your character near the top left corner. You can see what this should look like in the above screenshot.
After pressing the picture of your character, you'll see a page showing your name and stats. Next, press the "Settings" button near the bottom that shows a cogwheel. This button is also visible in the screenshot above in case your game looks different.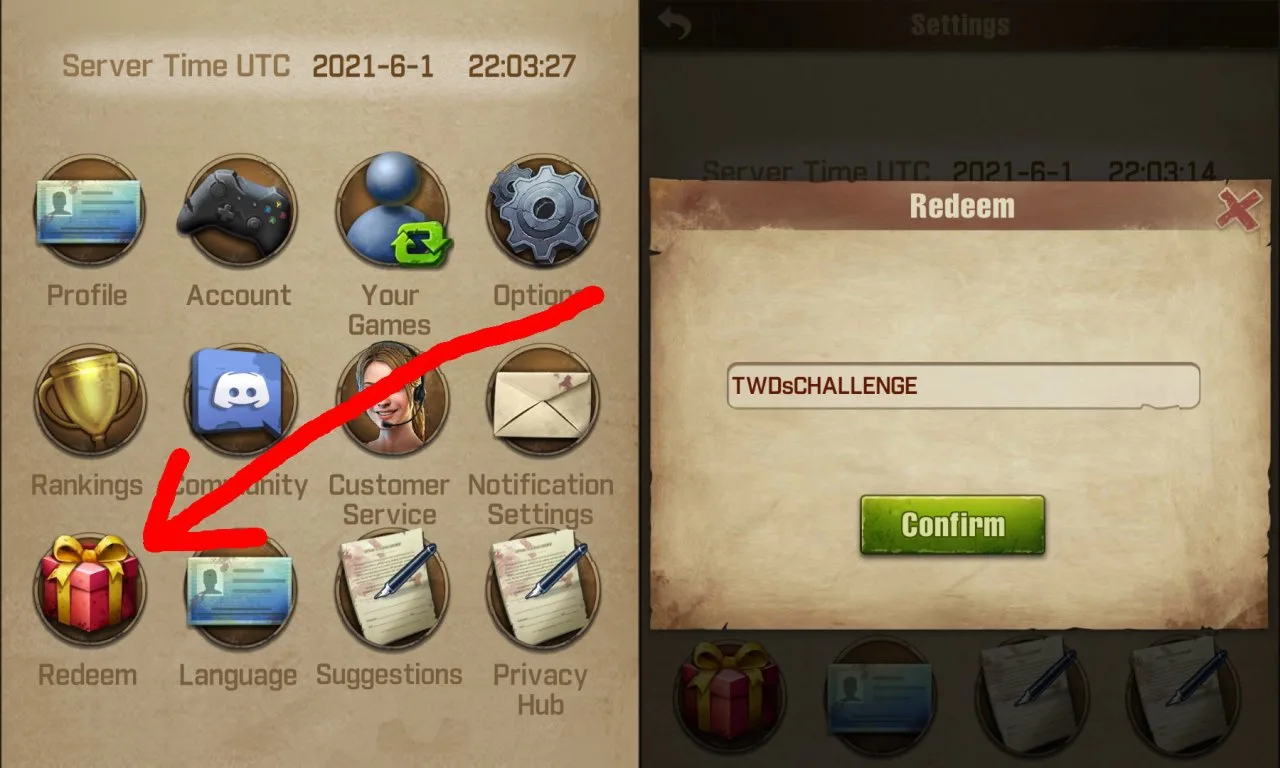 Once you've reached the settings area, there should be a "Redeem" button on the bottom row. This button has a red gift-wrapped present on it. Tap that button and then you can enter your gift code here. Simply press the confirm button when you're done typing in the code you want to activate.
If you've already redeemed this code you'll get a message saying so. And if the code is no longer active, it will say the code doesn't exist. This is why it's important to make sure you don't have any typos in your code since you don't want to miss out on free rewards. Everything helps you get a step ahead, especially over players not redeeming codes.
Make sure to check your inventory for items that need to be used like rubies after redeeming a code. For example, when you get rubies from a code, you'll still need to use the item that you're rewarded with. So if you get 200 rubies, you may actually get 10 items that each have 20 rubies. Just don't be surprised if you redeem a code and don't immediately have them at the top right corner.
The Walking Dead: Survivors June 2021 Codes
Here are some codes that are currently active as of June 2021. Make sure to redeem them as soon as possible since they aren't available forever. If you come across any new codes, be sure to comment below the article so more people know about them. And we'll update this article with them.
SURVIVALKIT – 200 Rubies, 10 Speed Up 1 Min
TWDSCHALLENGE – 200 Rubies, 1 Long-Range Transmission
TWDS400 – 400 Rubies
BESTTWDS – 1000 Rubies, 5 Long-Range Transmissions, 1 8h Shield
TWDXPO64 – 2000 Rubies
If you have any other questions for us regarding The Walking Dead: Survivors, feel free to comment below the article for help. Be sure to take a look at more useful guides filled with tips and tricks below as well.

Jeff is a journalist with over 10 years of experience writing, streaming, and making content about video games. With an associate degree in journalism, he's a sucker for RPGs, survival games, roguelikes, and more.