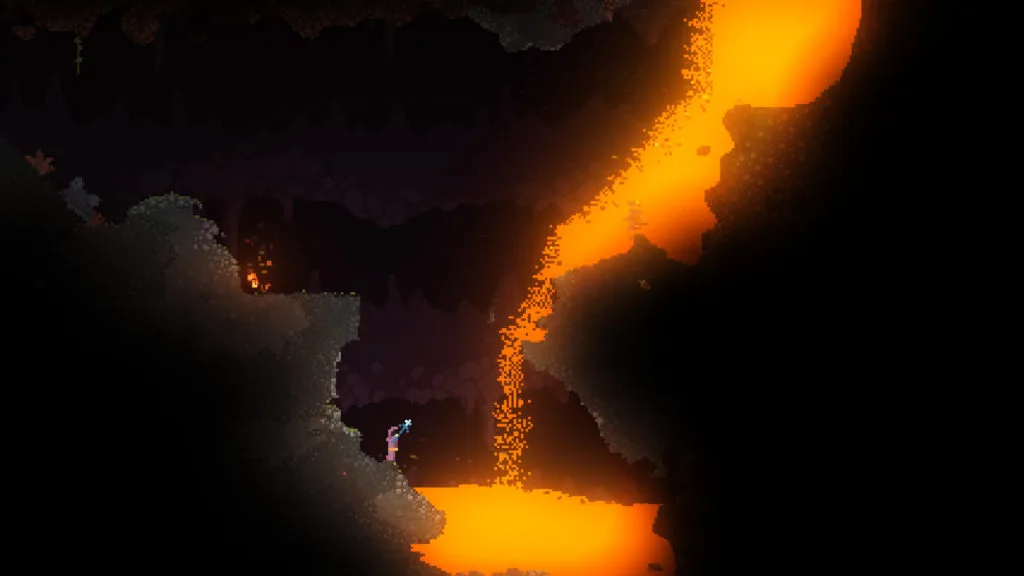 Nolla Games behind Noita has released their eighth update with new content, tweaks, and bug fixes. A quick rundown of what's new in Update #8 is available below.
What's New in Update #8?
15 New Spells
2 New Creatures
5 New Magical Materials
5 New Types of Weather
New Game+
Update #8 is already available on Steam for those itching to try the new spells and whatnot. It's unknown if the New Game+ mode is replacing the empty spot on the main menu. Currently, the three available modes are regular, Daily Run, and Nightmare Mode. It's unclear how to access the New Game+ mode at this time unless it's something for players to continue after finishing a run.
Snowy Trailer Showcases New Content
The developer also released a video for the update coining it the "Snow Update". Take a peek at the trailer below and see how many new changes you notice. At a quick glance, I spotted liquids that speed your character up, attract worms, and make you immune to damage. The immune to damage one could be for projectiles only.
https://youtu.be/8CCi3YGiyc8
The full patch notes are available on the Steam blog update from Nolla Games here. It also spotlights Noita mods and fan art from the community.
---
Visit our guide hub here for all the tips and tricks you need to get ahead in Noita.
Noita is available on PC via Humble Bundle and Steam Early Access as of September 24, 2019. The developer hasn't confirmed any plans for consoles at the time of this publication.
Disclaimer: Certain links in this article may contain affiliate links where purchases may provide a small commission to Slyther Games. Our affiliate policy is here.

Jeff is a journalist with over 10 years of experience writing, streaming, and making content about video games. With an associate degree in journalism, he's a sucker for RPGs, survival games, roguelikes, and more.