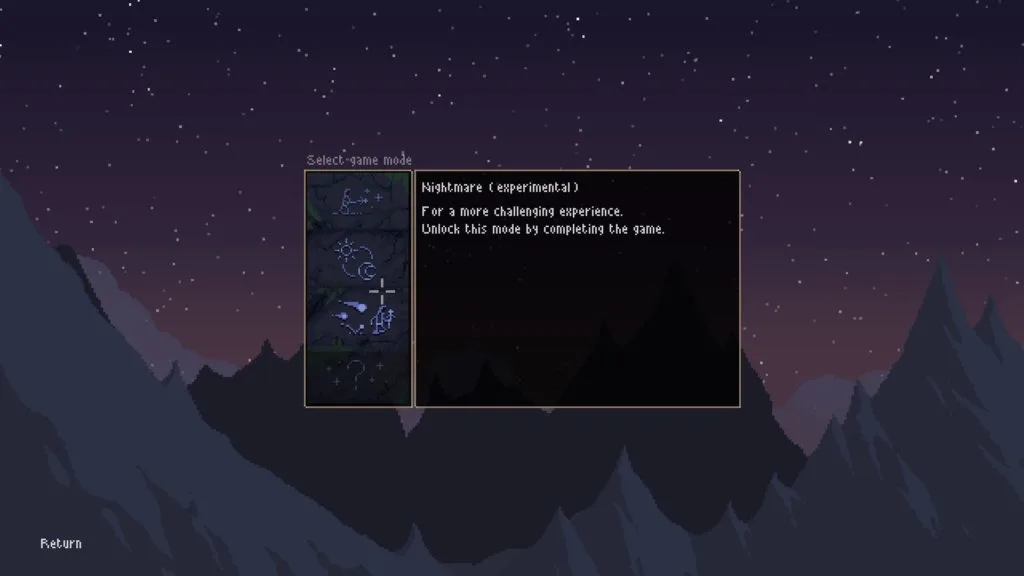 The developers behind Noita added the new Nightmare mode for players looking for a challenge.
The Nightmare mode was added as a part of the seventh update to Noita alongside a new menu, new spells, and enemies. The update doesn't say much about the mode aside from it being a "proper challenge even to the best Noita players."
The new menu shows four different modes with one of them being the new Nightmare one. The others include a Normal Run, Daily Run, and an unknown one at this time.
How to Unlock Nightmare Mode
Nightmare mode is locked unless you have completed Noita. If you beat the final boss before the update went through, it still counts for unlocking it.
If we find out any new information about the Nightmare mode, we'll be sure to update this article with it.
In the meantime, share your experiences with the new mode in the comments below. Some players are already realizing how difficult it is with certain enemies shooting nukes.
If you're struggling to beat Noita and need some help, be sure to take a look at our 10 Best Beginner Tips and Tricks. It's easy to miss a lot of simple features if you haven't taken a look outside the game.
---
Noita is available on PC via Humble Bundle and Steam Early Access as of September 24, 2019. The developer hasn't confirmed any plans for consoles at the time of this publication.
Disclaimer: Certain links in this article may contain affiliate links where purchases may provide a small commission to Slyther Games. Our affiliate policy is here.

Jeff is a journalist with over 10 years of experience writing, streaming, and making content about video games. With an associate degree in journalism, he's a sucker for RPGs, survival games, roguelikes, and more.