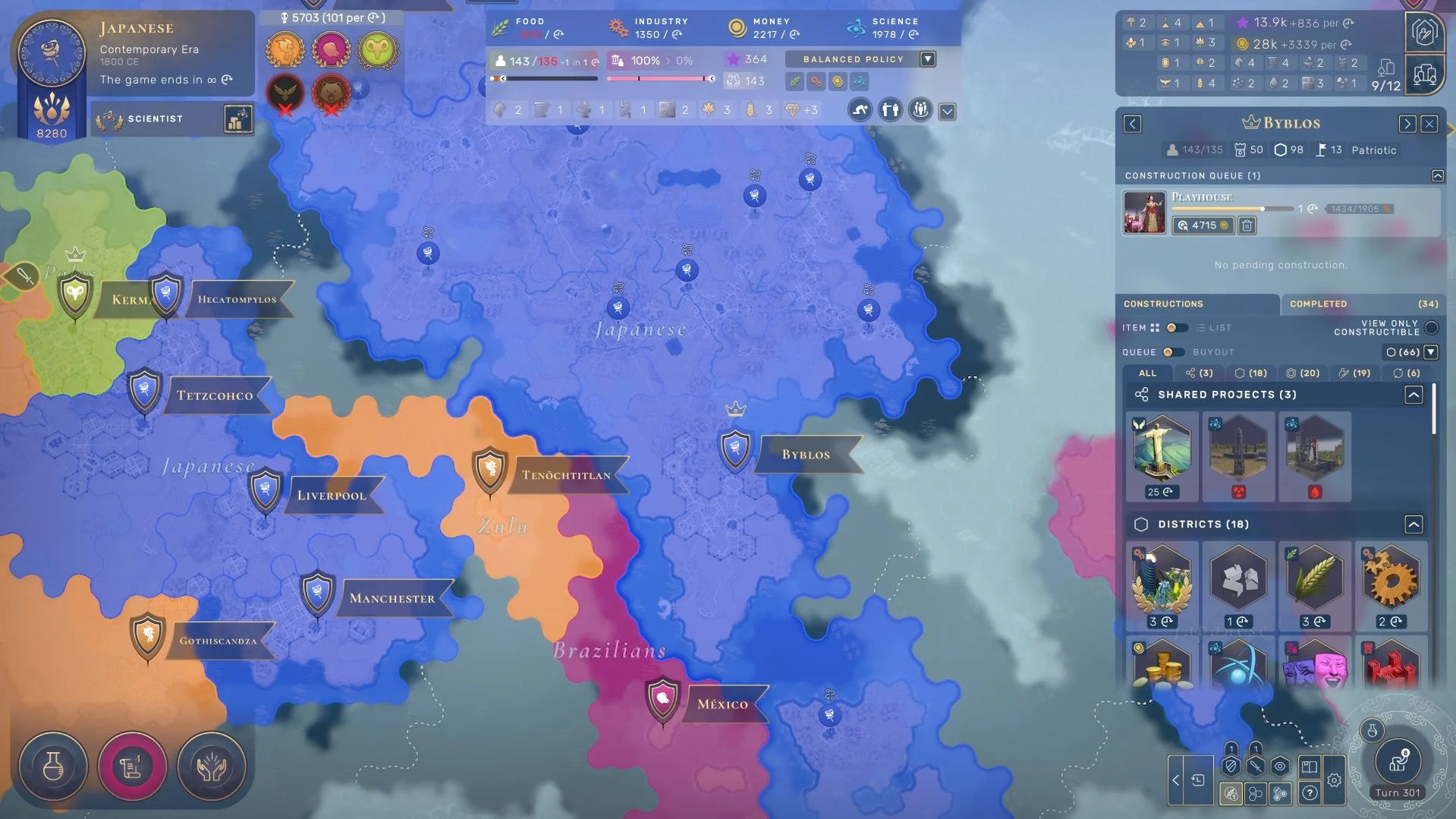 As you get further into Humankind you may struggle to expand without passing the city cap. This can lead to negative Influence modifiers that nobody really wants. Even though they don't seem to be that significant. Fortunately, there's a neat trick that lets you merge cities into one. That's why I've put together this guide on how to merge cities.
How to Merge Cities in Humankind
Whether you're looking to reduce your number of cities or simply want to create a mega city, this is what you need to know. First, you'll need to reach Medieval Era technology to unlock this mechanic. It's not available right from the start even though it functions similarly to attaching outposts.
If you tap the technology button at the bottom left corner and then the "Go to Technology Screen" button, you can see the entire tech tree. This screen also has a search bar at the top right corner that you can use to search for Military Architecture. This technology unlocks the Fort, Trebuchet, and Absorb City mechanic.
While you may think of this mechanic as merging cities, Humankind specifically labels it as "Absorb City". Fortunately, you can also search that phrase on the tech tree screen too. Regardless, once you have this tech, you can absorb cities the same way you attach outposts. Just make sure you're absorbing the right city into the right one.
For example, absorbing City 2 into City 1 so you can still work out of City 1. While you will gain all the FIMS/resources when merging, you can only create new buildings and units at one. Also, it's worth swapping between both cities before combining them because the Influence cost will vary.
How Much Does it Cost to Merge Cities
The Influence cost for absorbing a city is based on how well established it is. For example, if it has a high population, a lot of districts, plenty of infrastructure, e.g. Depending on how valuable it is, the cost can be anywhere from a couple of thousand Influence to tens of thousands. So make sure you're not sleeping on getting that Influence flowing in.
You'll certainly need it if you want to conquer the Humankind world without just outposts. Another neat tip that may help out is filtering the technology screen by FIMS. For example, you can search specifically by Influence to see any tech that helps you gain it. This is a useful method for finding districts or infrastructure providing more.
If you still don't have quite enough Influence to merge your cities, don't forget about increasing your city cap. Our guide on How to Increase City Cap in Humankind directly covers that topic. Listing all the different types of technology and even a civic for raising that limit.
My last tip before letting you go is to not forget about Stability either. The same way you lose Stability from attaching outposts to cities, you'll lose it from merging cities too. Don't forget to take advantage of the many buildings providing Stability. Fortunately, a lot of early technologies help with this. But the difficulty you choose will certainly play a big role in how tough it is to keep up.
If you have any other Humankind questions for me, feel free to ask in the comments below. Otherwise, that's all there is regarding how to merge cities. I'm currently working on more guides to help out the community with common questions.

Jeff is a journalist with over 10 years of experience writing, streaming, and making content about video games. With an associate degree in journalism, he's a sucker for RPGs, survival games, roguelikes, and more.