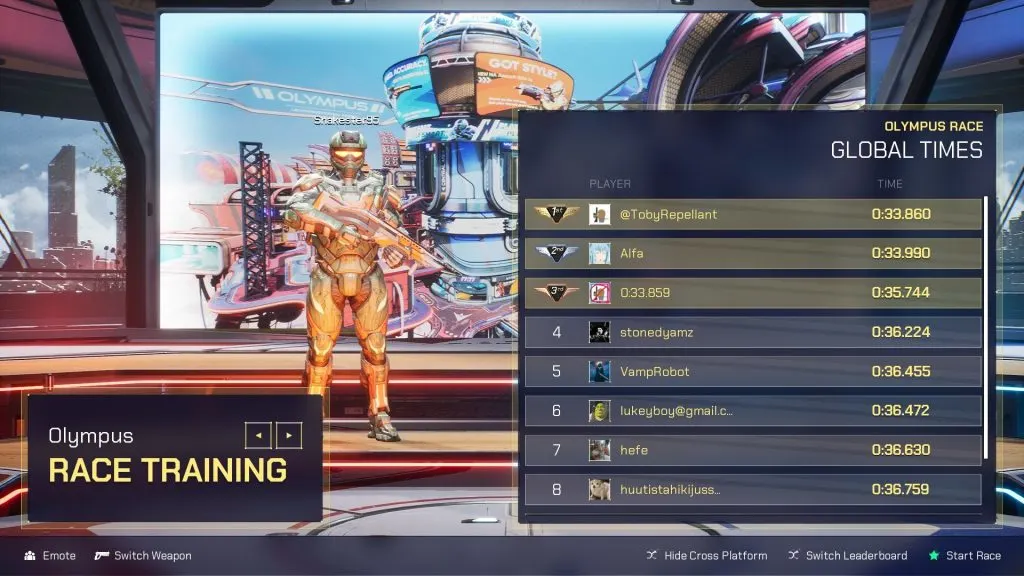 Splitgate is a free-to-play shooter that revolves around portals for a constantly changing fight. One of the many Weekly Challenges revolves around a hidden mode that not all players know about. This is the race mode for the challenge, "Complete the Olympus Race".
This is a fun way especially for speedrunners to see how quickly they can complete a race. If you've noticed the Weekly Challenge, "Complete the Olympus Race", here's how to do it.
What is the Olympus Race in Splitgate
Whether you're looking to complete a race for a challenge or not, here's where you need to go to start one. Also, keep in mind, this is a single-player mode so you won't need to worry about other players. And simultaneously, you can't race at the same time as others in your party. First, you'll need to be at the lobby screen for Splitgate.
Once you're here, make your way to the Training tab at the top of your screen. This section has three different modes you can click into with one being for Races. After entering the "Race" mode, you can cycle through the different maps as well as see top times. Also, you can click the "Switch Leaderboard" button at the bottom right to change it from Global Times to friends if you'd like.
If you're trying to complete the Olympus Race, just switch the map at the bottom left corner until it's on Olympus. As this challenge is bound to continue changing every week, you can always get the map you need this way. Or you can keep grinding at a level to see how quickly you can complete it. Maybe you'll even make your way into the top 10 Global Times.
Olympus Race Tips and Tricks
Splitgate YouTuber Benzai is a great source for tips on several different races. You can see his tutorial pointing out how the current Olympus world record holder completed their run below. If you'd prefer to see the once world record run directly, you can find the latest video here at 33.860.
Be sure to let us know what time you get in the comments regardless of the map. I'd love to hear how quickly you're able to complete them!
If you have any other Splitgate questions for me, feel free to comment below the article for help. You're better off learning how to complete a race quickly from Benzai than me, but I'm here to help with any other questions that may come to mind. Some of the common questions we've covered are listed below.

Jeff is a journalist with over 10 years of experience writing, streaming, and making content about video games. With an associate degree in journalism, he's a sucker for RPGs, survival games, roguelikes, and more.