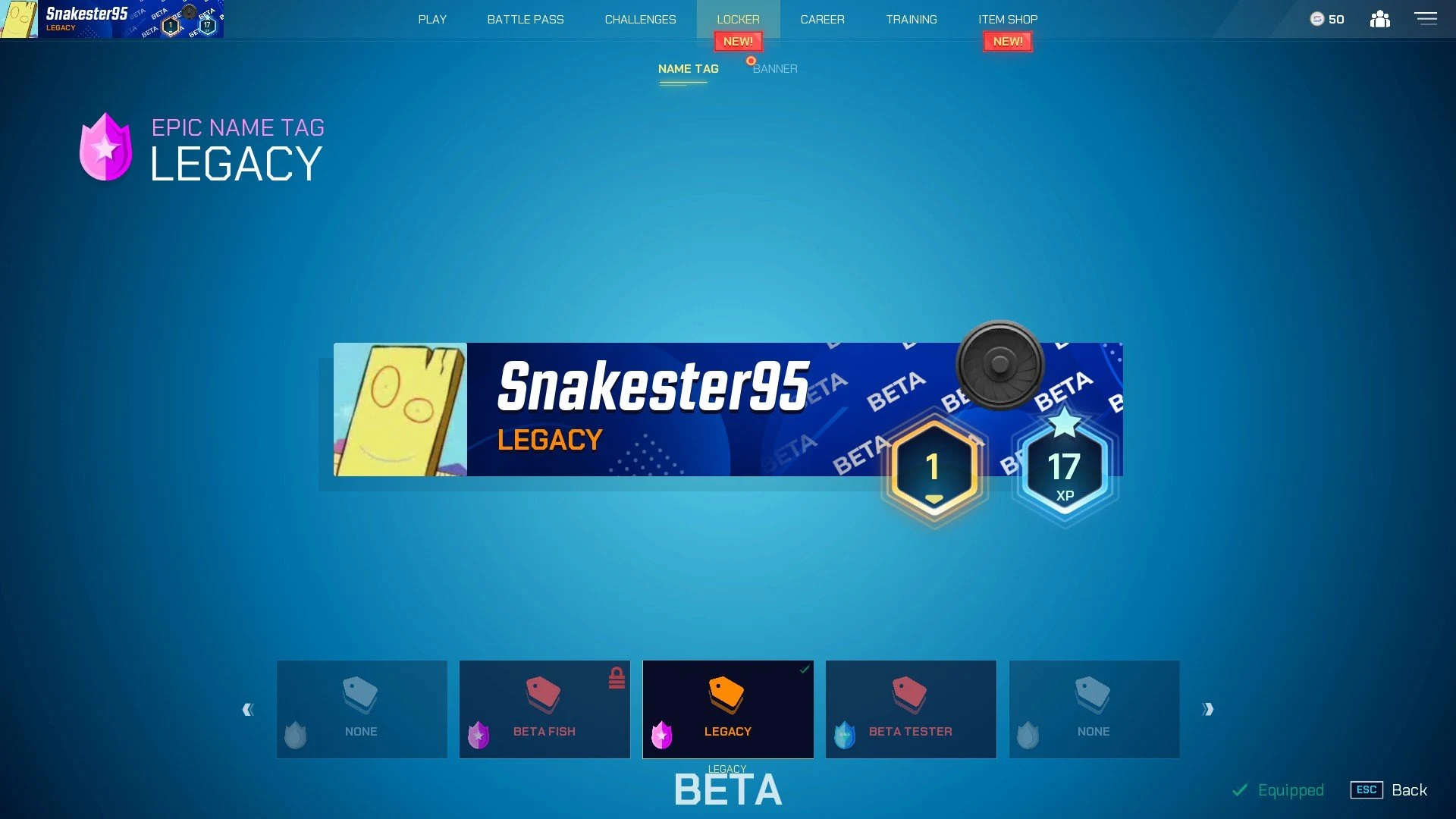 The free-to-play shooter Splitgate first became playable on Steam back in 2019 giving people a chance to try it. Depending on when you first play the game, you may have access to different titles such as the Legacy one. Make sure to get in on the beta if you want exclusive titles that won't be available when it officially releases.
Our guide dives into every title currently in the Splitgate beta. As well as how to get the Legacy title. For those that don't know, you can edit your banner card that other players see and place a title under your name. This is known as a name tag in-game. You can also change the banner background too.
How to Get the Legacy Title in Splitgate
Those of you that are playing this free-to-play shooter for the first time won't be able to get the Legacy title, unfortunately. It was an exclusive specifically for those that played Splitgate before it launched into open beta. This was on July 13 when it became available on consoles with cross-platform play.
Since launching in open beta across several platforms, Splitgate has reached a much wider playerbase than before. So you're less likely to run into that many players with the Legacy title. Especially since you couldn't play on consoles prior to the open beta. Meaning that it's impossible for console players to have this title.
Those that played on PC before July 13 may notice they have this title and also their career stats from before. If you want to see your stats from Legacy, you'll need to visit the Career tab first. Afterward, click the Stats section where you'll see Lifetime and Beta stats by default. You can then click the "Change Season" button at the bottom right corner.
And if you're someone who spent money on Splitgate during the Legacy period, you may have had your items refunded. I can't confirm this personally, but others in the community have said this is the case. You'll likely have the real money currency of Splitcoins.
Free Titles Currently on the Battle Pass
Regardless of whether you're new to Splitgate or not, there are still a couple of titles you can get in the beta. Also, there are a couple of backgrounds you can get too by leveling the Battle Pass. Keep an eye out for more becoming available depending on how long Splitgate is in beta.
It's worth mentioning as well that the Battle Pass is completely free unless you want to purchase levels. You can do this with the real money currency of Splitcoins. Each Battle Pass level costs 100 Splitcoins which is $0.99.
Beta Tester – You can get this name tag/title at Battle Pass level 3.
Blue Beta Banner– You can get this banner at Battle Pass level 5.
Beta Fish – You can get this name tag/title at Battle Pass level 11.
Beta Fish Banner – You can get this banner at Battle Pass level 13.
How to Pick a Title in Splitgate
If you're not sure how to pick a title or banner, don't worry, it's easy to miss. First, make sure you're at the lobby screen not in a match. Regardless of what tab you're on, you should notice your name and banner at the top left. Click this to open up a new menu on the Locker tab screen.
Now you'll need to click your name and banner one more time, but at the bottom left corner instead. This will open a new menu where you can pick your title/name tag. Then, if you want to change your banner background, click the "Banner" tab at the top. For those on PC, you can double click a title to equip it. Or click the "Equip" button at the bottom right corner.
If you have any other Splitgate questions for me, feel free to comment below the article. If I can help out, I'll try and get back to you as soon as possible. I'm currently adding more guides for Splitgate with two popular questions below.

Jeff is a journalist with over 10 years of experience writing, streaming, and making content about video games. With an associate degree in journalism, he's a sucker for RPGs, survival games, roguelikes, and more.