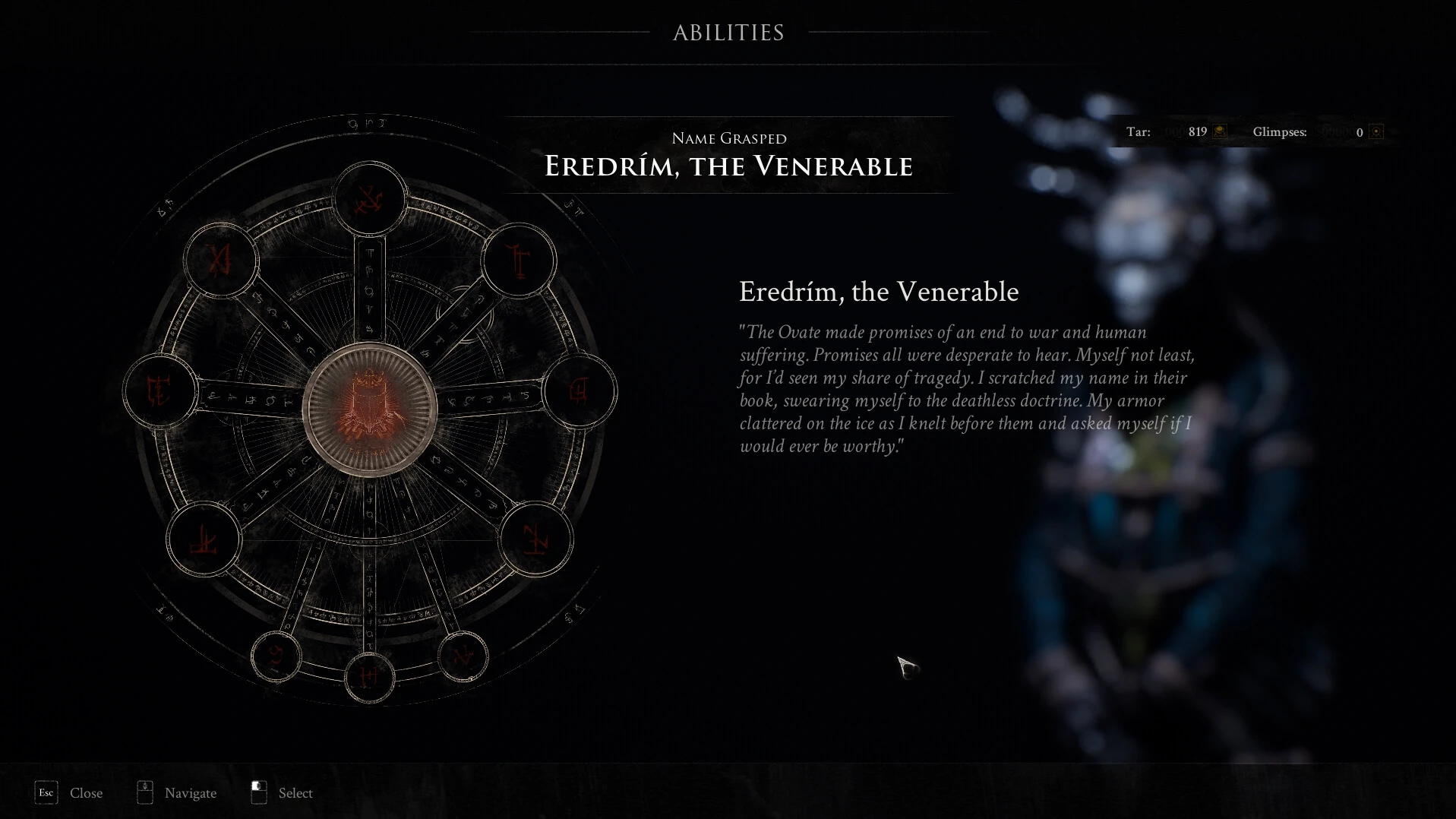 The best way to make your Mortal Shell experience easier starts with learning how to seek your shell name. Before you know the name of each shell, you can't upgrade it with any new passive abilities at Sester Genessa. Take a look below for a quick answer in our guide on how this works.
How to Seek Your Shell Name
As you progress through Mortal Shell's world, you'll frequently run into Sester Genessa for checkpoints. Also, you can talk to her to heal yourself and seek your shell name. Simply talk to her, sip the divine tar, and unlock the first upgrade in the center as shown in the screenshot above. Depending on the shell you're seeking the name of, it will cost a different amount of Tar or Glimpses.
If you're having issues, make sure to click and hold or press and hold whatever button on your controller instead. Once you seek the name of a shell, you'll know its name, have access to effigies, and more passive abilities to upgrade. If you haven't become familiar with any effigies yet and learned what they're for, check out our other guide here for more info.
For more Mortal Shell guides, be sure to check out our 10 Best Tips and Tricks For Beginners or perhaps every shell available! And if you have a favorite shell, let us know in the comments below.
---
Mortal Shell released on August 18, 2020, for Xbox One, PlayStation 4, and PC via the Epic Game Store. It will release sometime in 2021 on Steam as well.
Mortal Shell was provided by a PR company via an Epic Games Store code.

Jeff is a journalist with over 10 years of experience writing, streaming, and making content about video games. With an associate degree in journalism, he's a sucker for RPGs, survival games, roguelikes, and more.