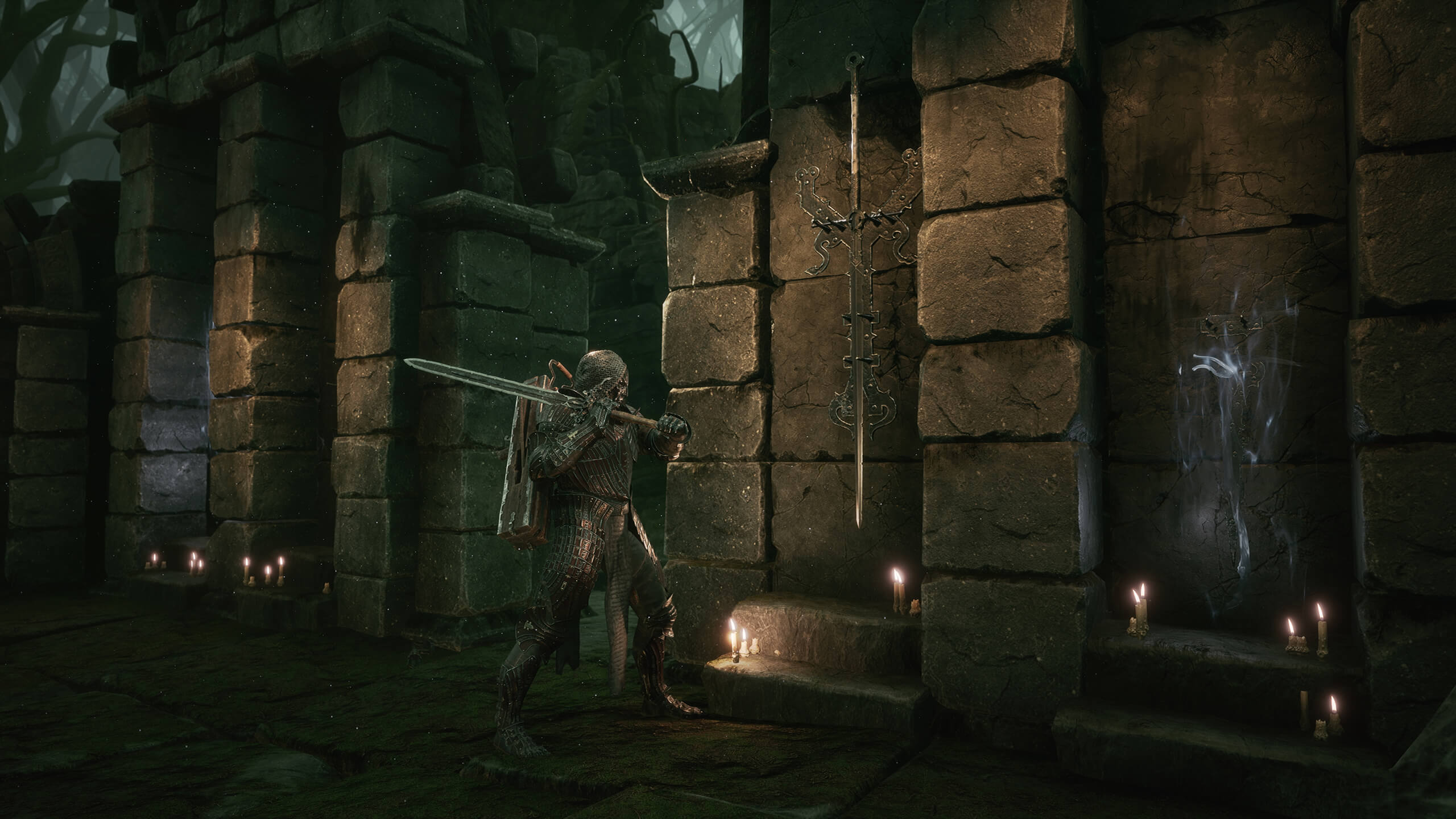 If you're wondering how many weapons there are in Mortal Shell, this guide answers that. Also, you'll get a few quick tips and ideas of how each weapon works. Be sure to let us know in the comments which weapon is your favorite.
How Many Weapons Are in Mortal Shell?
The Mortal Shell beta originally had only two weapons available in it. Since release, the full version now has four melee weapons and one ranged weapon. Take a look below to see each weapon, where to find them, and more. If you're not sure how to get them, you'll have to fight Hadern after reading a book near Sester Genessa and a statue holding the relevant weapon.
Hallowed Sword
| | |
| --- | --- |
| Location | Tutorial Area |
| Speed | Average to Quick |
| Damage | Moderate |
The first weapon players get their hands on is the Hallowed Sword in the tutorial. This is a decent weapon regardless of whether it's upgraded or not since it's well balanced. It deals a good amount of damage without requiring too much stamina, which gives you flexibility in which shell you use.
Before you get the Hammer and Chisel weapon, this is definitely my second preferred weapon. While it's not as quick as the Hammer and Chisel, you can still stagger and stun-lock weaker enemies with the Hallowed Sword. Also, it has three attacks for both the normal and strong attack combo.
Hammer and Chisel
| | |
| --- | --- |
| Location | Eternal Narthex |
| Speed | Fast |
| Damage | Low, but strong with combos and high stamina shells. |
The Hammer and Chisel is bound to be a favorite weapon for many people who play Mortal Shell. It has a quick attack speed that works around multiple playstyles. By not requiring too much stamina per hit, you can also combine it with different shells. This is my preferred weapon because it's great for gaining resolve since you can get so many hits in. Plus, it also has a strong engage attack if you do a sprinting strong attack forward.
The Hammer and Chisel weapon also has a four normal attack combo and a three strong attack combo.
Martyr's Blade
| | |
| --- | --- |
| Location | Abandoned Chamber |
| Speed | Slow |
| Damage | High, but uses a lot of stamina. Strong attack knocks enemies up. |
The Martyr's Blade is an extremely slow weapon that often requires a wind up before striking. While it may deal a little extra damage, it's not enough to make it worth using. This weapon can be difficult to use even against the weaker enemies you'll find in Mortal Shell. Regardless, I can still appreciate the standing still strong attack that knocks enemies up and away.
The Martyr's Blade has three attacks for both the normal and strong attack combo, similar to the Hallowed Sword and Smoldering Mace. One major issue with the Martyr's Blade and Smoldering Mace is that they require a lot of stamina.
Smoldering Mace
| | |
| --- | --- |
| Location | Temple Grounds |
| Speed | Slow |
| Damage | High, but uses more stamina. |
The Smoldering Mace is slightly quicker than the Martyr's Blade, but not significantly. This makes it still a difficult weapon to use. In spite of that, both the Smoldering Mace and Martyr's Blade have a long reach with each swing. This weapon also has a good sprinting strong attack for engaging.
The Smoldering Mace has three attacks for both the normal and strong attack combo. While there's a little more flexibility in shell choice with this slow weapon, I'd use Tiel or Solomon.
Ballistazooka
| | |
| --- | --- |
| Location | Fallgrim Tower |
| Speed | Slow |
| Damage | Strong against weak enemies. |
The Ballistazooka is the only ranged weapon in Mortal Shell. Players can purchase an upgrade from the trader NPC at Fallgrim Tower that gives you the Ballistazooka. Plus, you can even pet the black cat near the trader known as Vlas. The Tools item costs 8,000 Tar and can be used at the Workbench to craft a Ballistazooka. It will always be with you regardless of your shell or melee weapon equipped.
This ranged weapon also requires Large Bolts as ammo. Personally, I was a little disappointed with this weapon since it doesn't deal too much damage. In spite of that, it's still fun to launch a bolt at weaker enemies and see them go flying into a wall.
I hope this guide on how many weapons there are in Mortal Shell answers your questions and more. For other Mortal Shell guides, head over to our guides with tips like How to Parry or How Many Shells Are There?
---
Mortal Shell released on August 18, 2020, for Xbox One, PlayStation 4, and PC via the Epic Game Store. It will release sometime in 2021 on Steam as well.
Mortal Shell was provided by a PR company via an Epic Games Store code.

Jeff is a journalist with over 10 years of experience writing, streaming, and making content about video games. With an associate degree in journalism, he's a sucker for RPGs, survival games, roguelikes, and more.