If you're not sure why you can't play Eternal Return: Black Survival, this may be related to the region you're playing in. While it's possible servers may go down with certain bugs causing outages, it's important to know what time they're live. Continue reading below for information on when you can play and how to change your server.
Eternal Return Server Times/Schedule
Update (2/3/2021):
Previously Eternal Return: Black Survival servers ran on a schedule being open at different times for each region. However, this is no longer the case. Every region is open 24/7 with only mode rotations for ranked depending on the day of the week. Rank rotations are visible on the official site here. If you're still having issues playing Eternal Return, another common possibility is that it may be under maintenance.
Original Article:
There are four different servers people can play on currently. First, the two that are live 24/7 with all three modes available are in Asia and North America. The other two servers have limited times to play and alternate days of the week that you can play duos or squad. You can see the full schedule for each region in the image or table below. And if you want to know the current status of Eternal Return: Black Survival servers, check the official site here.
The reason for not having every region open 24/7 is likely related to the size of the playerbase in each area. My guess is they're trying to set peak hours when the majority of their community in that area is playing so matchmaking queues are lower. As Eternal Return picks up in popularity, there's definitely a chance of those hours being extended.
| | |
| --- | --- |
| Ohio (North America) | 24/7 with all modes. |
| Seoul (Asia) | 24/7 with all modes. |
| Frankfurt (Europe) | 12 pm – 7 pm EST. |
| São Paulo (South America) | 5 pm – 11 pm EST. |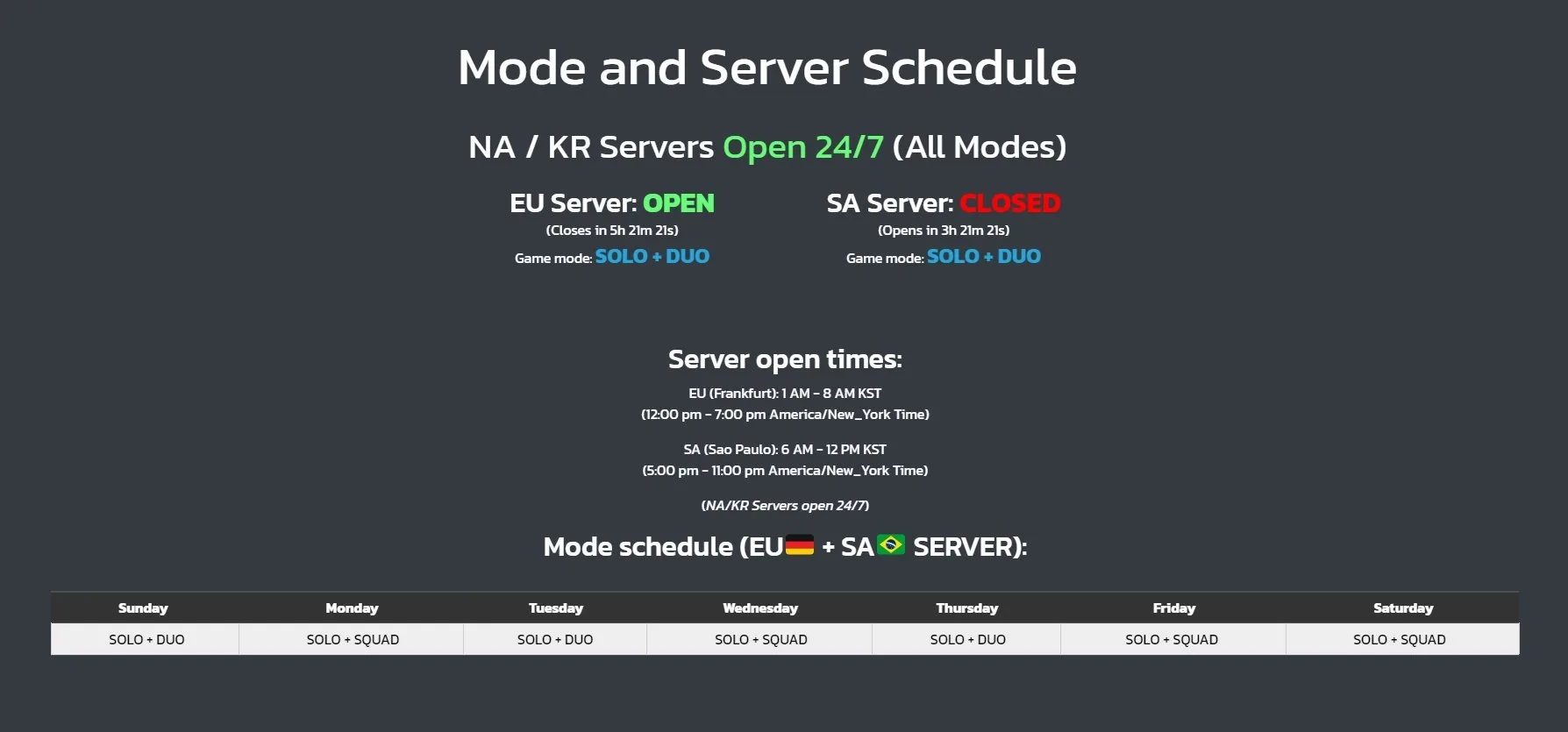 How to Change Eternal Return Server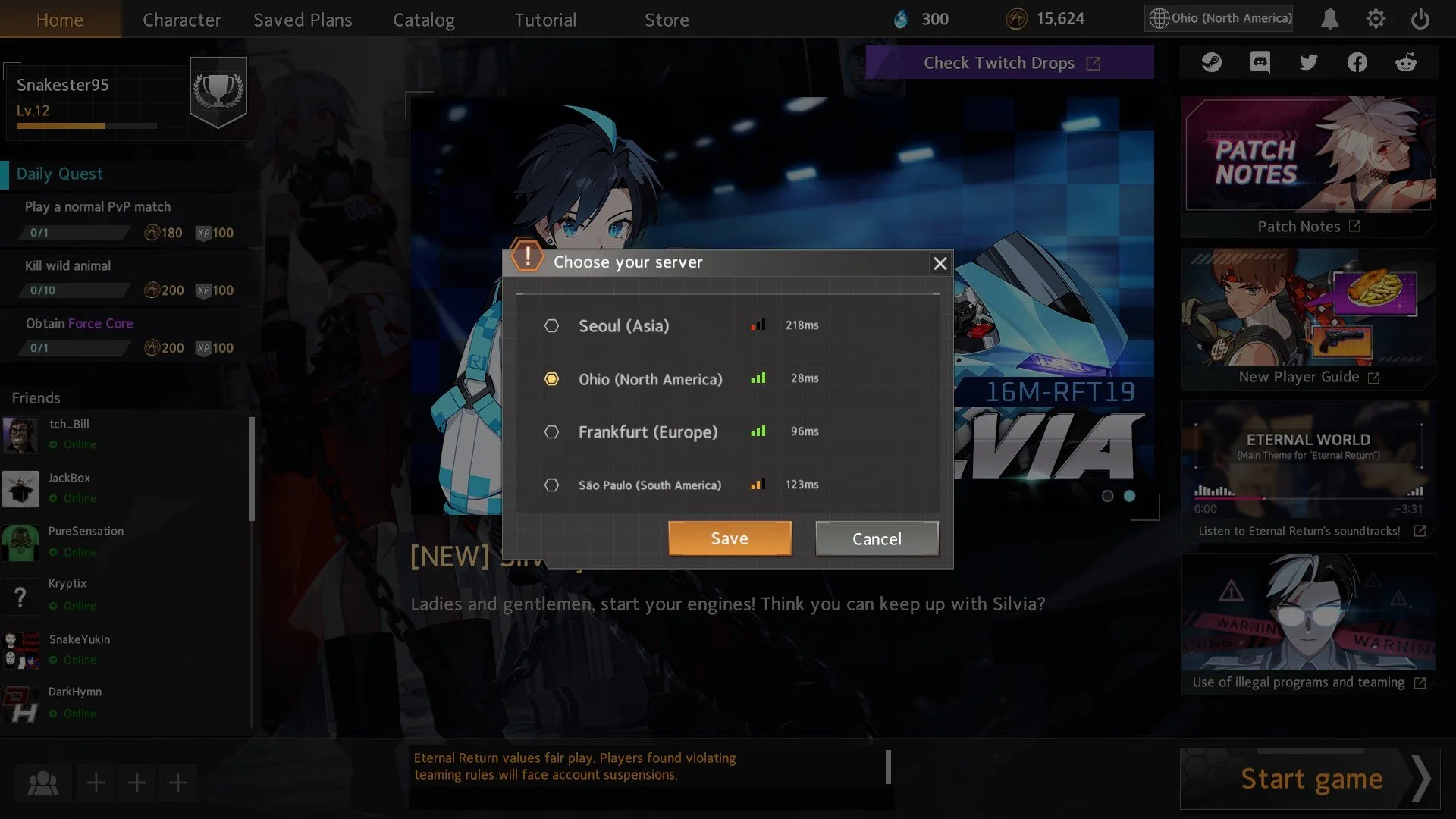 If you're not sure how to change the server you're playing on, you can do this from the lobby in-game. This is a good opportunity to check what regions you have the best ping in so you're not lagging all over the place. Nobody wants their actions and skills to be delayed, especially if you need to land a skill shot. Also, if the region you normally play on is currently closed, you can switch regions sacrificing some latency.
As the image shows above, make sure you're at the lobby, and then you'll see the name of your server near the top-right corner. In my case, it says, "Ohio (North America)" with a little globe icon near it. Clicking this will show each of the four servers with your current ping/latency on that server.
Leaving this window and returning to it will refresh your ping if you're trying to see how your connection is. Once you click a server and then click save, your server will swap. Be sure to take a look at our 10 Best Tips and Tricks for beginner players. And while you're at it, find out who the best characters are to play based on their win rates in our tier list.
---
Eternal Return: Black Survival became available for free on PC via Steam Early Access on October 14, 2020. It's a hybrid of multiple genres combining MOBAs and battle royales with survival mechanics mixed in. Up to 18 players total battle it out in solos, duos, or teams of three.

Jeff is a journalist with over 10 years of experience writing, streaming, and making content about video games. With an associate degree in journalism, he's a sucker for RPGs, survival games, roguelikes, and more.