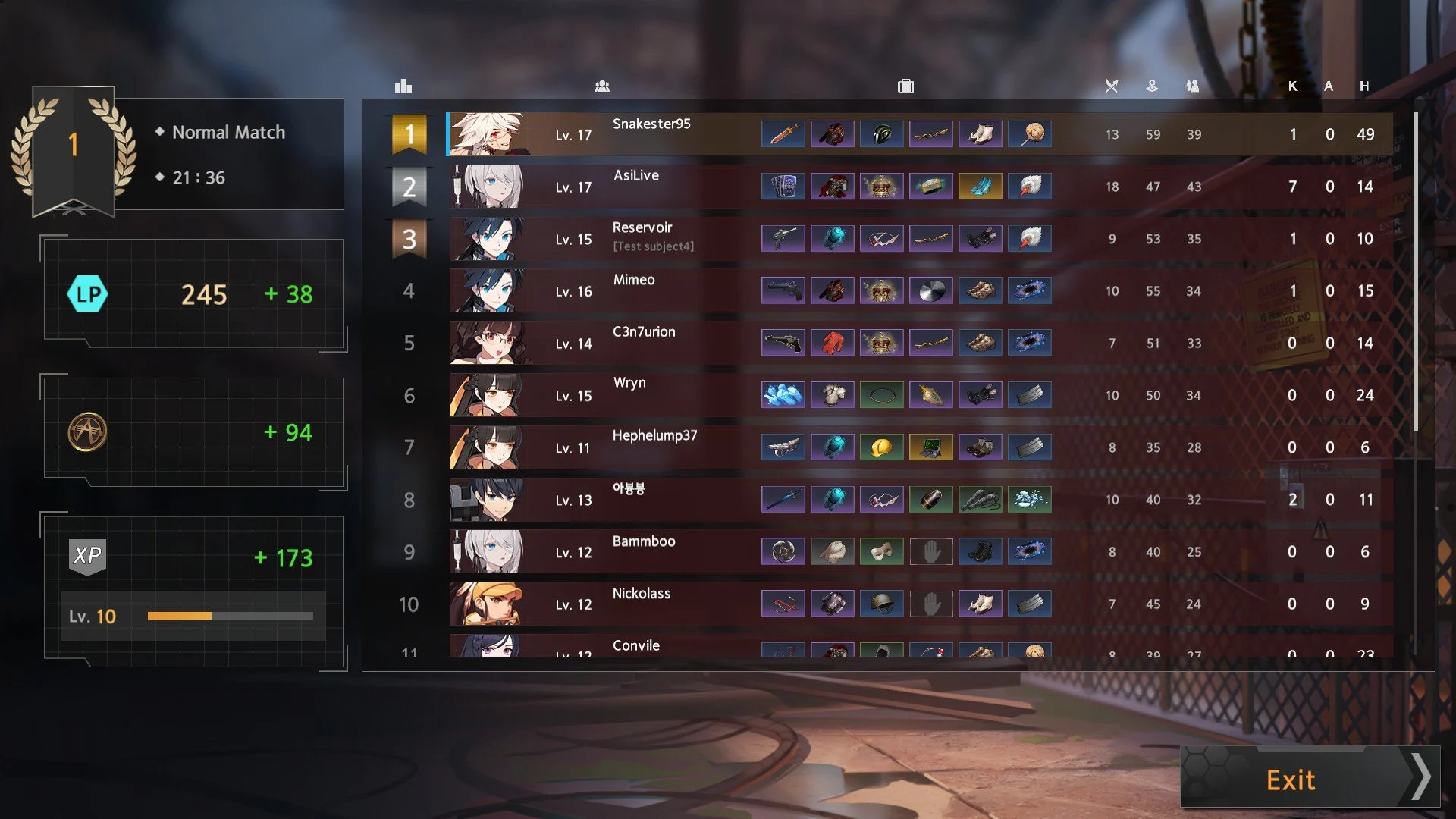 If you're wondering how to check your LP in Eternal Return: Black Survival, there unfortunately isn't a great way. For whatever reason, you can't see your current LP while playing, unless you complete a match or head to the official website. And even still, you'll need to be in the top 1000 to find your LP on the website leaderboards.
Therefore, for the majority of us, our best way to check our LP rank is after finishing a match. Once a match ends, you'll see an increase or decrease in LP depending on your performance. Your position in the match and number of kills plays a role in how much you lose or gain. Kills seem to give more LP if you're looking to make your way up the leaderboards a little more quickly. As shown in the screenshot above, you can see the LP change near the top left.
If you're unlike the rest of us grinding our way into the top 1000 and you're already on there, you can visit the official site leaderboards here. There are three different leagues/divisions with their own LP rank depending on how many people you play with. Each of the three is solo, duo, and squad. Even if you're not in the top 1000, you can still look at the leaderboards to see how everyone is doing. At the time of publishing this article, the lowest person on the solo leaderboard has 683 LP. So that's your goal if you're trying to get on the board.
While you're here, be sure to check out our 10 Best Tips and Tricks all Eternal Return players should know. And if you're looking for the best characters to play based on win rates, head over to our tier list here.
---
Eternal Return: Black Survival became available for free on PC via Steam Early Access on October 14, 2020. It's a hybrid of multiple genres combining MOBAs and battle royales with survival mechanics mixed in. Up to 18 players total battle it out in solos, duos, or teams of three.

Jeff is a journalist with over 10 years of experience writing, streaming, and making content about video games. With an associate degree in journalism, he's a sucker for RPGs, survival games, roguelikes, and more.