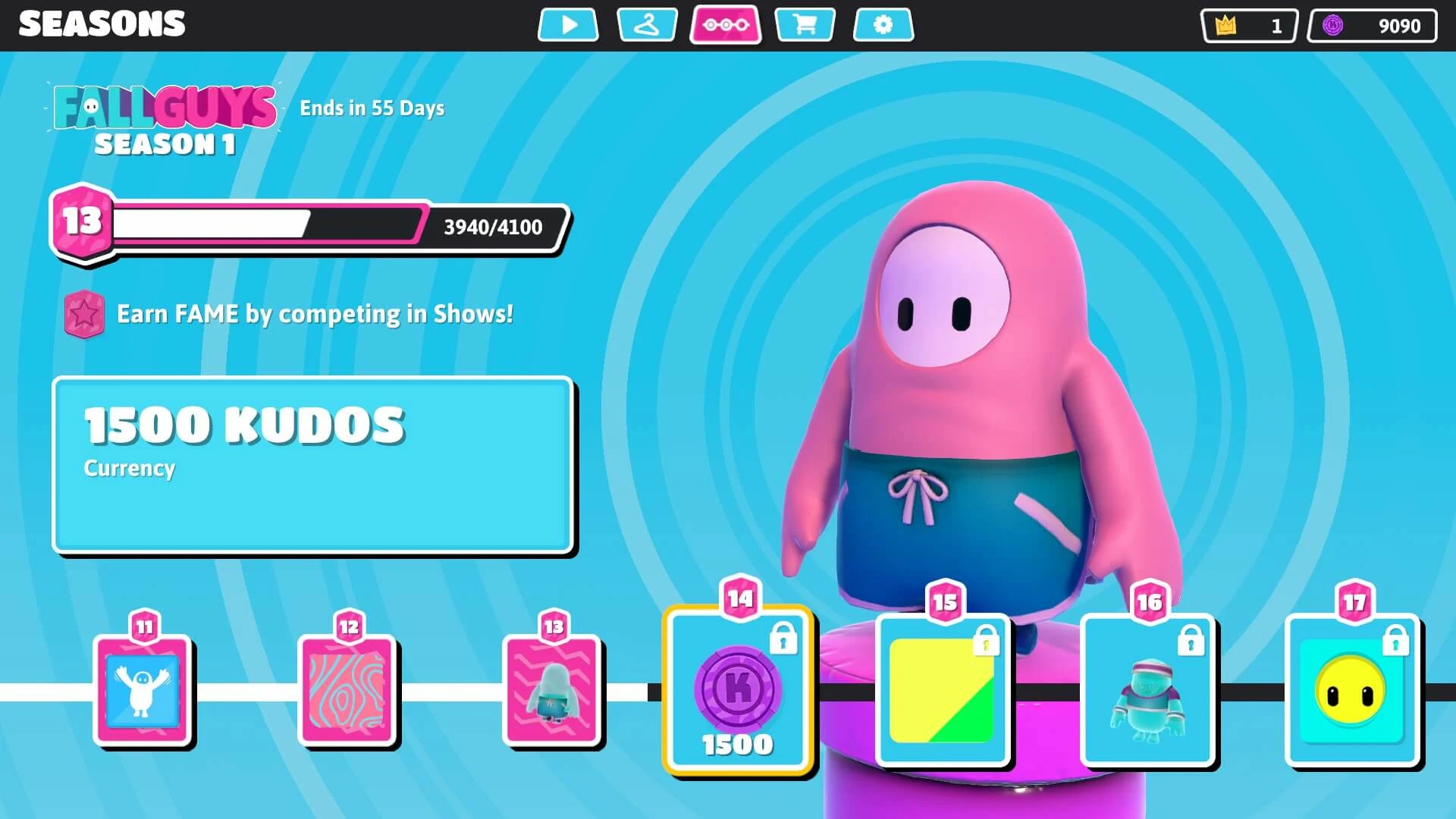 Find out what the Kudos currency in Fall Guys is used for and how you can get a bunch of it. Our short and thorough guide explains how they work.
What Are Kudos?
Fall Guys has two different currencies that are used for purchasing cosmetic items for your character. Unlike many other games, both currencies can be gotten without spending any money. First, we'll talk about Kudos which is a purple coin with a K on it that you get from simply playing the game. It doesn't matter if you lose or win, you'll always get some but you'll get more for making it further in the rounds.
The other currency explained in our Commonly Asked Questions guide is Crowns. The main method to get them is by winning matches in Fall Guys. You'll get one Crown per win. However, the other way to get a few crowns is by leveling up the season pass. The season 1 pass will give you three Crowns with each at level 5, 20, and 32.
If you're desperate for a cosmetic skin or pattern color for your character, there are a few ways to purchase Kudos. Take a look at the next section below for more information.
How Much Are Kudos to Buy?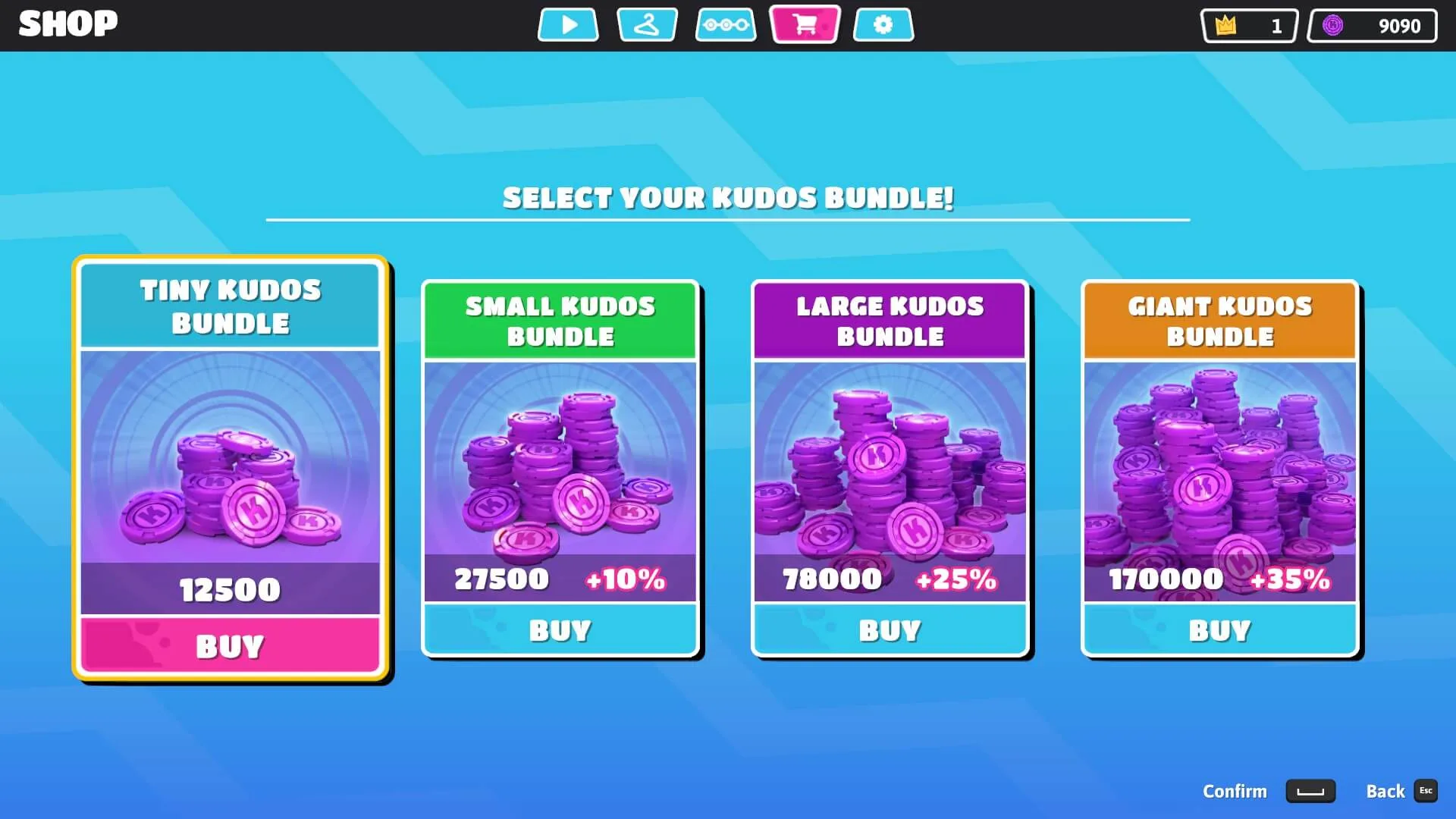 While you can't purchase a specific amount, you can buy them via one of four bundles shown below and above. Also, the Collectors Pack DLC for $10 includes a few costumes alongside 10,000 Kudos.
| | | |
| --- | --- | --- |
| Bundle Name | Kudos Amount | Price |
| Tiny Kudos Bundle | 12,500 | $4.99 |
| Small Kudos Bundle | 27,500 +10% (30,250) | $9.99 |
| Large Kudos Bundle | 78,000 + 25% (97,500) | $24.99 |
| Giant Kudos Bundle | 170,000 + 35% (229,500) | $49.99 |
For more context regarding how much certain items cost, here are some prices from the shop at the time of posting this article:
Ninja Upper – 7,000
Ninja Lower – 7,000
Sunburn Pattern – 1,800
Rainbow Water Lower – 4,500
My final tip for getting Kudos is still related to playing the game, but you'll get some from season 1 pass rewards. Every so often the season 1 pass rewards will give you some and it will increase with each unlock. And if you manage to max out the season pass, you'll get a total of 19,000.
For more guides on Fall Guys, take a look at our 10 Best Fall Guys Tips and Tricks here. Or if you want to see all our guides to help you get an advantage, check out the Guide Hub.
---
Fall Guys: Ultimate Knockout released on August 4, 2020, for PC on Steam and PlayStation 4. It's temporarily free on PlayStation 4 for PS Plus subscribers. Developer Mediatonic has stated it doesn't have cross-platform play, but may in the future.
Fall Guys: Ultimate Knockout was provided by the PR company via a Steam code.

Jeff is a journalist with over 10 years of experience writing, streaming, and making content about video games. With an associate degree in journalism, he's a sucker for RPGs, survival games, roguelikes, and more.