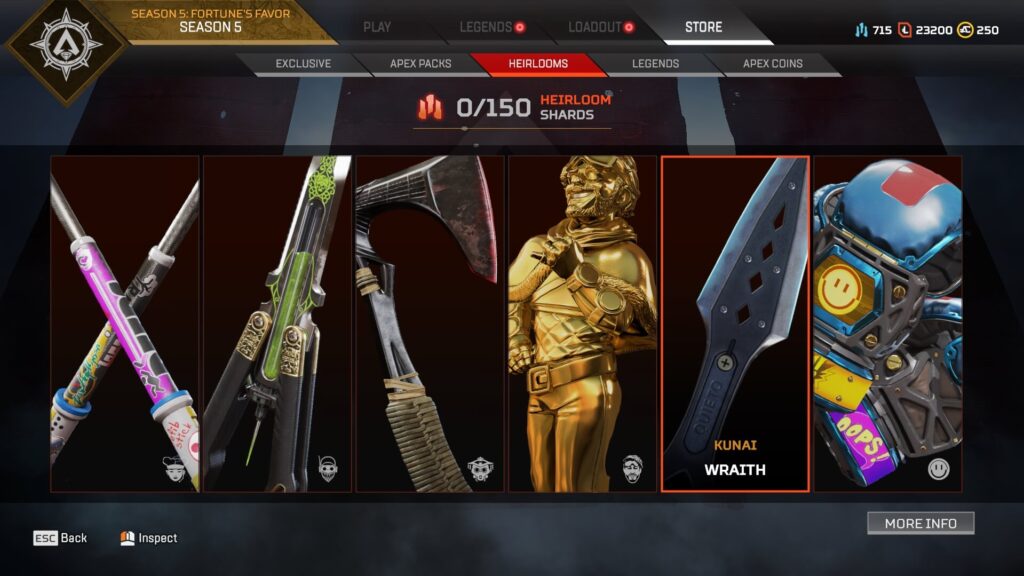 If you're wondering how to get Heirloom Shards in Apex Legends, this short guide gets to the point and explains how. Originally, the only way to get Heirlooms for each Legend was through a random drop from an Apex Pack. However, the only two ways to acquire them now are getting rare Heirloom Shards or from a Collection Event.
Collection Events are limited-time events where you can complete daily challenges to get points, similar to a battle pass. For example, completing the pass/collection for the System Override event gave Octane's Butterfly Knife. Further down you can see which Heirloom came from which event. This guide also explains how many Heirloom Shards are in a pack, how to find out how many packs you've opened, and more.
How to Get Heirloom Shards in Apex Legends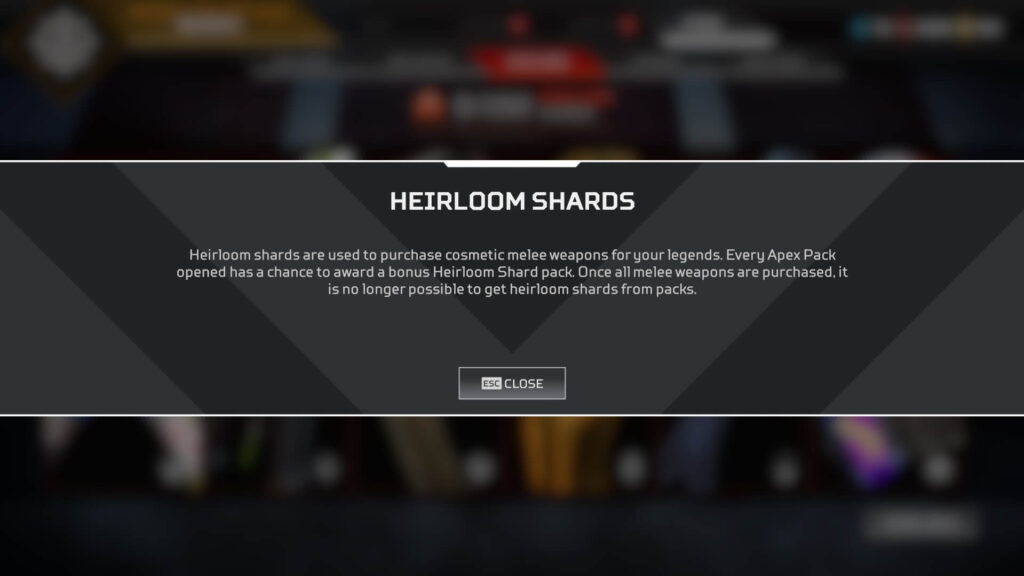 The only way to get Heirloom Shards right now in Apex Legends is from an Apex Pack. It doesn't matter whether you got a pack for free or bought it, they both have the same chance of dropping them.
Developer Respawn Entertainment states in their FAQ that there was originally a 1% chance of an Heirloom dropping from an Apex Pack. Since this can no longer happen, people assume Heirloom Shards have the same chance to drop.
The FAQ also states that a player cannot open more than 500 Apex Packs without receiving an Heirloom, assuming the same goes for Heirloom Shards. If the same rules still apply, your Apex Pack will also not be consumed if it drops them.
What Are Heirloom Shards For?
Most of you probably already know what Heirloom Shards are for if you're here. But if you're not sure, don't worry! As the name says, they're used to buy Heirlooms since you can no longer get them from drops.
This is a way to let players choose which one they want instead of getting a random Heirloom for a character they might not play. Once you get 150 Heirloom Shards, you can buy whatever Heirloom you'd like.
How Many Heirloom Shards Are in an Apex Pack?
If you're lucky enough to get Heirloom Shards from an Apex Pack, you'll get a total of 150 from it. As the picture shows above, there will be three separate rewards that contain 50 each. No matter what, you'll always get 150 in total, which is enough to purchase an Heirloom. This type of Apex Pack is also known as an Heirloom Shard Pack.
How Many Apex Packs Have I Opened?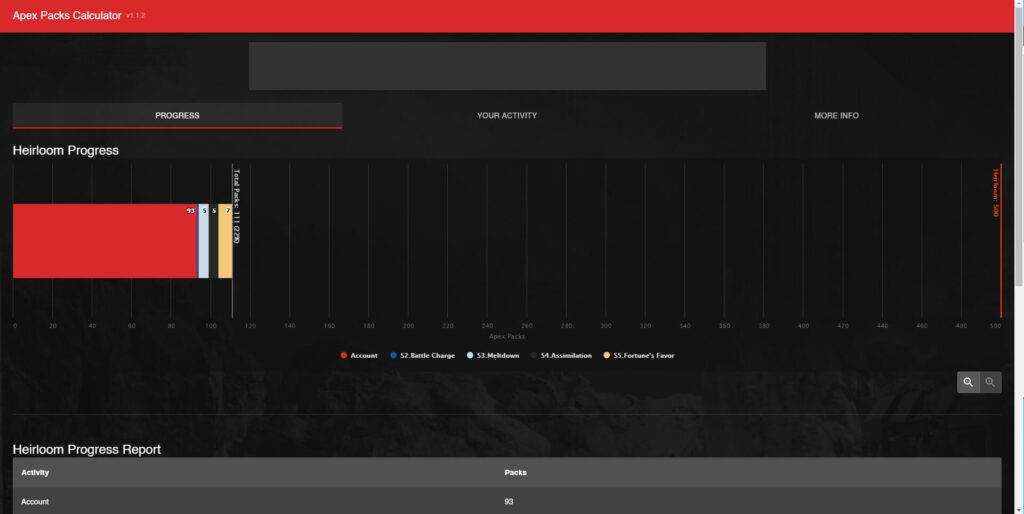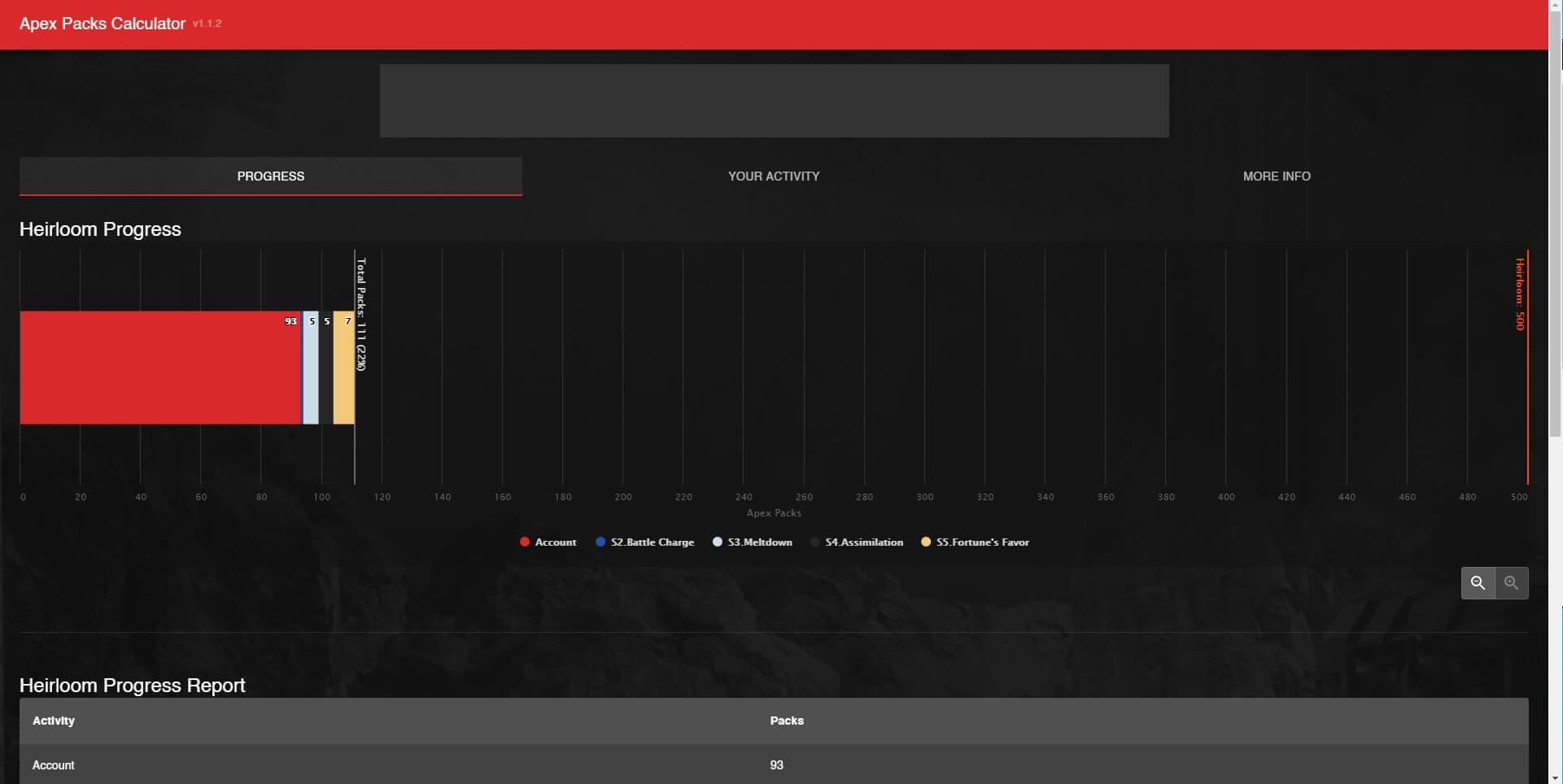 If you're wondering how many Apex Packs you've opened, there's an easy way to find out. There's a useful website that calculates how many you've gotten based on certain factors. So long as you enter information correctly like your account level and how far you got into your battle pass, it'll do the rest. Take a look at the website here. For more information on how the Apex Packs Calculator works, visit our guide here.
Collection Event Heirlooms
Collection Events are the second way to get Heirlooms without opening 500 different packs. These are limited-time events with their own rewards that the developer creates every so often. You can complete daily challenges that work toward a collection pass over time.
You'll rack up points with each challenge and then depending on the event, you may even unlock an Heirloom. Take a look at the list below for what events had which Heirlooms.
| | |
| --- | --- |
| Wraith | Collection Events didn't exist yet for the Wraith Kunai. |
| Bloodhound | Originally available during the Iron Crown event for 3,500 Apex Coins. |
| Lifeline | Completing the Halloween Fight or Fright collection event unlocked Lifeline's Shock Sticks. |
| Pathfinder | Completing the Holo-Day Bash collection event gave Pathfinder's Boxing Gloves. |
| Octane | Completing the System Override event gave Octane's Butterfly Knife. |
| Mirage | Completing the Lost Treasures Event collection gave Mirage's Too Much Witt trophy. |
| Caustic | Completing the Aftermarket collection event gave Caustic's Death Hammer heirloom. |
| Gibraltar | Completing the Fight Night collection event gave Gibraltar's War Club heirloom. |
| Bangalore | Completing the Chaos Theory collection event gave Bangalore's Cold Steel heirloom. |
| Revenant | Completing the Genesis collection event gave Revenant's Dead Man's Curve. |
| Rampart | Completing the Evolution collection event gave Rampart's Problem Solver. |
| Wattson | Completing the Raiders collection event gave the Energy Reader. |
| Crypto | Completing the Warriors collection event gave the Biwon Blade. |
| Valkyrie | Completing the Awakening collection event gave the Suzaku. |
| Loba | Completing the Beast of Pray collection gives the Garra de Alanza. |
I hope this guide helps you understand how to get Heirloom Shards and any other questions you may have. If you need help with something else Apex Legends related, feel free to ask in the comments below.
If you want to learn more about Apex Legends, get the 10 Best Tips and Tricks for Beginners or get better at grappling with Pathfinder in our guide.
---
Apex Legends released on Xbox One, PlayStation 4, and PC, on February 4, 2019. It released later for Nintendo Switch on March 9, 2021. It's currently planned for mobile platforms as well. Cross-platform play is available between consoles and PC at this time.

Jeff is a journalist that loves to write, stream, and make content about video games. He's a sucker for RPGs, survival games, roguelikes, and more.