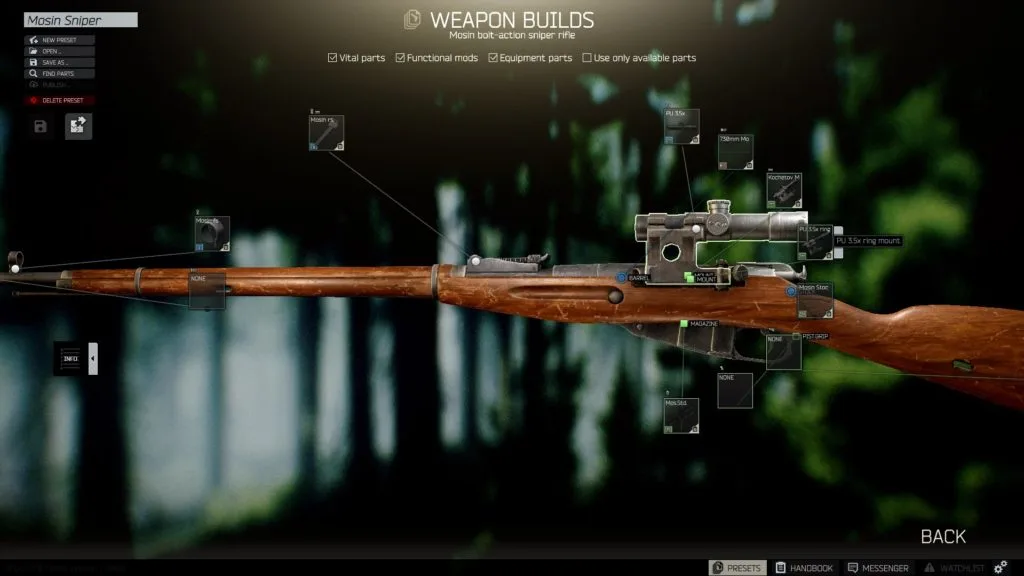 Knowing how to create guns in Escape from Tarkov with Presets is a useful skill to have. As long as you don't run into bugs, it's a quick way to save your favorite gun setup and build it too. Take a look at my guide below that explains the ins and outs of how it works.
Workbench Level 1 Unlocks Presets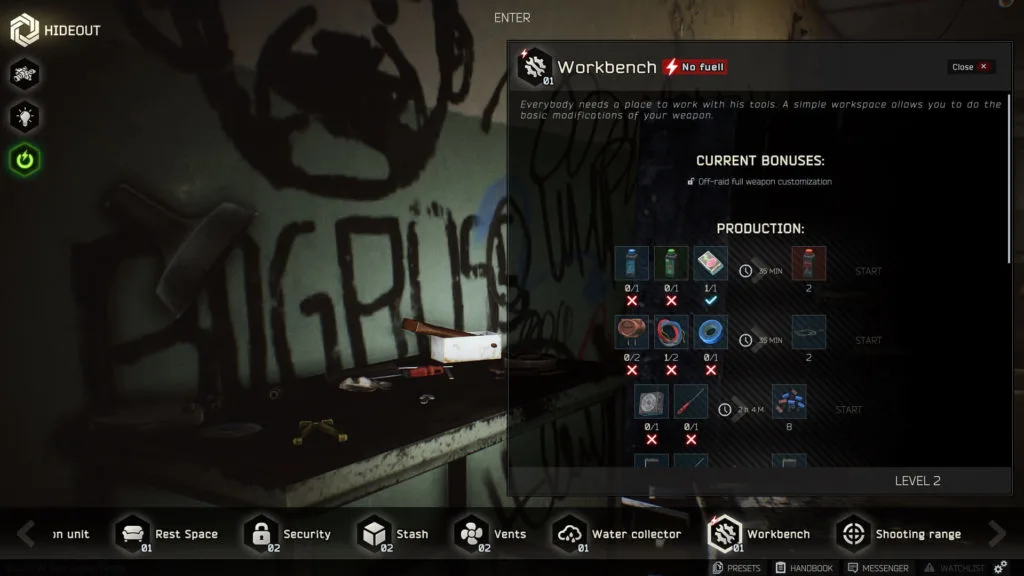 Before you can access Presets at the bottom right corner, you need to upgrade your Hideout's Workbench to level 1. This unlocks the Preset menu that they refer to as, "Off-raid Full Weapon Customization".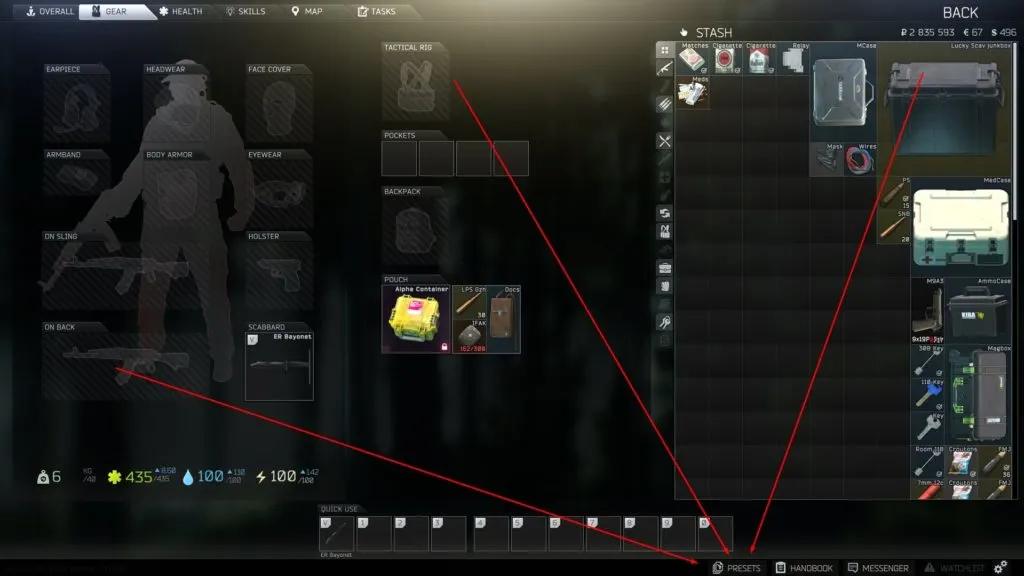 Once you've built your level 1 Workshop, the Preset button appears in all Escape from Tarkov menus. So long as you're not in a raid as the bonus states. This is where the fun begins as you learn how it all comes together.
Open a Weapon Build Preset
Before editing anything, you need to open a weapon build at the top left corner. The developer created stock builds for every weapon to tinker with. However, you can right-click a weapon in your Stash and click "Edit Preset" to modify that weapon immediately. Once you pick a weapon, every available part slot on it appears.
These are all customizable with compatible parts and depending on changes, new parts may become available. You don't need to own any items to create a weapon preset if you're looking to experiment. However, there are quick ways to build one if you choose to do so.
Buy Your Parts With Find Parts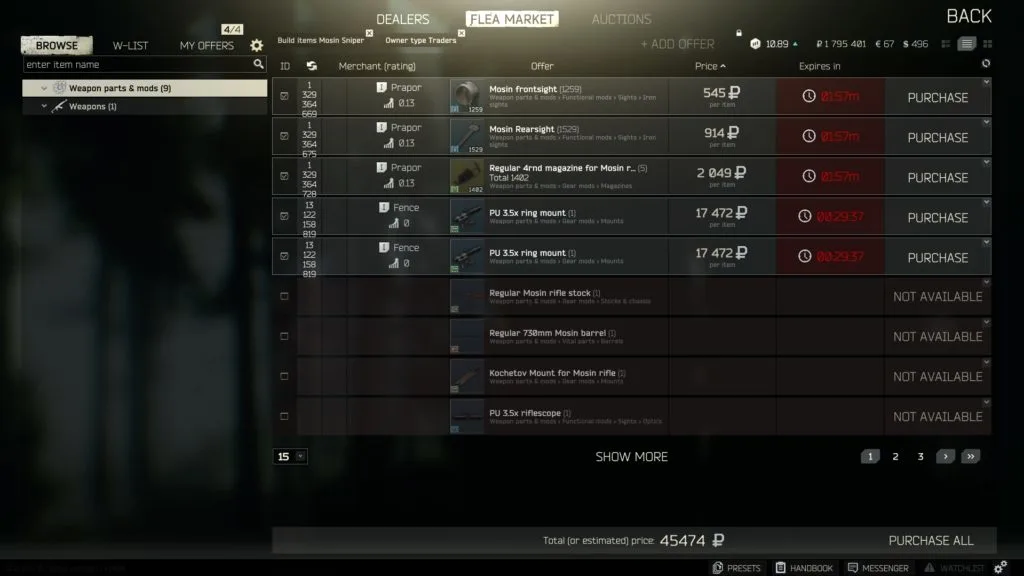 The Find Parts button searches Escape from Tarkov's Flea Market for available prices. The default filters prevent player items from appearing and only show the items for your current build. If you disable the "Owner Type Traders" filter, it will show prices from players too. This helps find the best price for what you're building.
The main problem with the Find Parts menu is it frequently runs into bugs. We have a section below with common issues to be wary of.
Assemble Your Weapon
The Assemble Parts button looks like a jigsaw puzzle picture near the top left corner. Once you click this, you need to select a weapon body for the preset gun you're working on. As long as you have the parts in your Stash and enough room to build it, the gun will be assembled. However, if you don't have every part, a message lets you assemble the parts you have or buy the ones you don't.
If you have the parts you need and want to edit a gun you already have, there's another option. Right-click your weapon, click "Modding", and you can exclusively attach parts from your Stash.
Save Your Preset
When you're finished designing your new weapon, save the preset by clicking "Save As" at the top left corner or the Floppy Disk picture. If you know what a Floppy Disk is, let me know in the comments. Also, only functional weapons are savable. You can delete presets by selecting them from the open menu and using the "Delete Preset" button too.
Final Bits of Info
The New Preset button strips the current preset to its frame.
The Info window at the bottom left is expandable to show the stats of your build. It updates in real-time with part changes.
The top of the screen has several filters to change which part slots are visible.
All saved builds appear in the Handbook for easily comparing stats.
Edit Preset Bugs to Watch Out For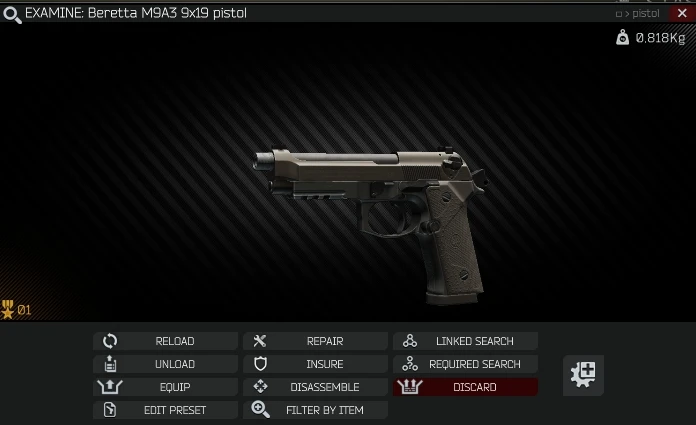 Beware of certain bugs that can break your process. The Find Parts menu tends to be the primary source of problems according to players and my personal experiences too. A few issues are below:
Not all parts always show in the Find Parts menu. However, the Purchase All button still buys them if they're available.
If you click on a page after entering the Find Parts menu and return to page 1, the Purchase All price drops to 0. This prevents buying parts until returning to the Edit Preset screen.
Purchasing all parts can buy a gun that already has the parts and buy the parts too. This can double the price of a weapon preset.
If you change parts, try to find parts, and then come back, your changes can reset to the build's original form.
---
If you need help with anything else in Escape from Tarkov, feel free to comment below. Check out my other EFT guides at the Guide Hub here.

Jeff is a journalist with over 10 years of experience writing, streaming, and making content about video games. With an associate degree in journalism, he's a sucker for RPGs, survival games, roguelikes, and more.