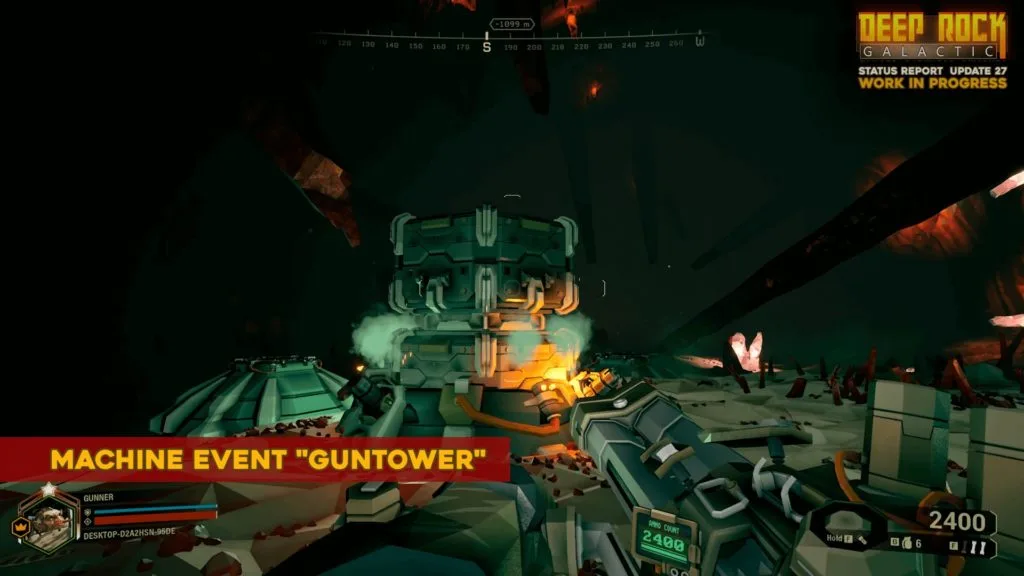 Update 27 for Deep Rock Galactic is live and with it comes a massive machine event featuring the Exterminator. Developer Ghost Ship Games released the new update just before the end of the year with new content and numerous small changes too. The new Glyphid Oppressor bug is sure to be a challenge for those in its way.
What is the Omen Modular Exterminator?
Machine events were added in November 2019 with Update 26 as a new and random challenge. These events are exclusive to players who have promoted a dwarf class and attained a Tritilyte Key. The Omen Modular Exterminator event is a part of a failed project to create towers for eliminating bugs. Despite the goal to eliminate bugs, they're a hazard to dwarves now instead.
"R&D came up with a brilliant idea for helping out our Pest Control teams: Project Omen – a vast network of interlinked Modular Extermination Towers, strategically inserted into caves all over Hoxxes. However, much to their regret, the Exterminators turned out to be just as dangerous to our own people as the bugs they were supposed to protect us against! So, the strategy is clear: Project Omen needs to be shut down. However… for security reasons, that can only be done through a… hands-on approach, by our esteemed ground teams."
The trailer below shows the haywire gun towers in action. If you're successful in taking them down, you can infuse a Blank Matrix Core with an overlock or cosmetic. For those with experience successfully completing other machine events from Update 26, the rewards seem to function the same way.
The Glyphid Oppressor is a Tank
The new Glyphid Oppressor bug is easy to mistake for a Praetorian for any regular Deep Rock Galactic player. They're slow with a strong armored shell that makes their vulnerability key. Shoot their small weakspot from behind without getting too close. The Glyphid Oppressor has a knockback attack for anyone who gets too close.
I've run into a few Glyphid Oppressors and they're certainly tanky. They remind me of a Dreadnought without the giant health bar. The fact that their vulnerable spot is even smaller than a Dreadnought or Praetorian doesn't make them easy.
Small Changes in Update 27
Ghost Ship Games added a new weapon skin, new animations, balances, and more. According to the developer, they added three customizable loadouts per class due to community demand. The loadouts are a good opportunity to create different builds for what the mission demands. A quick list of other changes worth mentioning are below:
New Animations for grabbing ledges, interacting with terminals, hanging on ziplines, and more.
Thunderhead Heavy Autocannon tweaked in balancing.
Beards adjusted to better show in heavy armor.
New cave flora.
Unique beer mugs.
UI and HUD changes.
The full patch notes are available on the Deep Rock Galactic Steam Blog here.
---
Deep Rock Galactic is available on Xbox One and PC via Humble Bundle and Steam Early Access as of February 28, 2018.
Disclaimer: Certain links in this article may contain affiliate links where purchases may provide a small commission to Slyther Games. Our affiliate policy is here.

Jeff is a journalist with over 10 years of experience writing, streaming, and making content about video games. With an associate degree in journalism, he's a sucker for RPGs, survival games, roguelikes, and more.