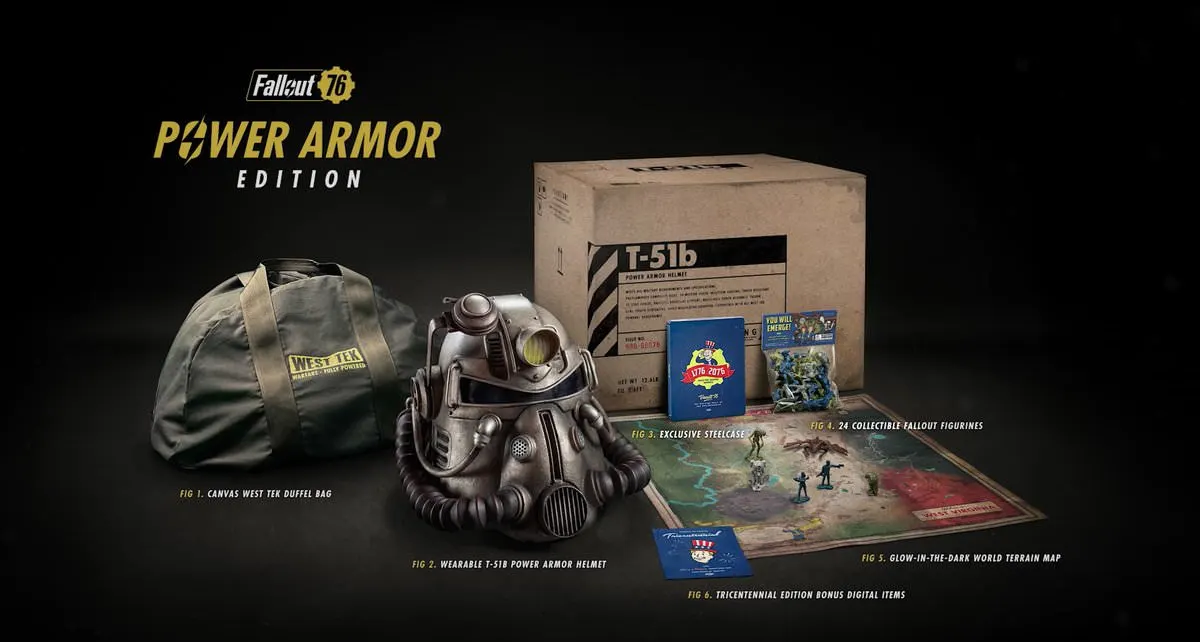 Fallout 76 fans have found themselves disappointed with the $200 Power Armor collector's edition. By now most people have likely seen the power armor helmet around the internet in all its detail. However, that's not what all the fuss is about.
As shown in the picture above, a "Canvas West Tek Duffel Bag" was to accompany the power armor helmet. Instead, people are sharing the bag they received, something much cheaper, a nylon bag. Discussed further down, Bethesda's solution over complaints is to give out their in-game currency, Atoms.
The bag above is what consumers were promised, whereas the image below courtesy of Imgur user @LanternCupcake, is what people have gotten instead.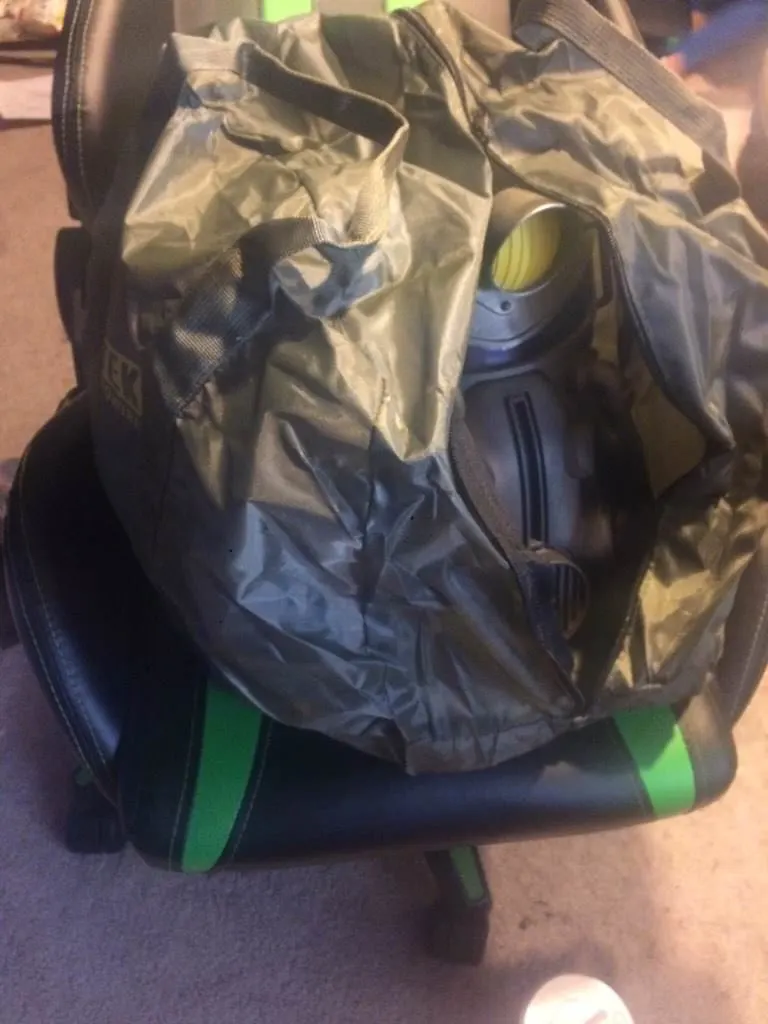 An email below shows the original response a Bethesda Softworks customer support representative had on the matter. Essentially saying the issue came down to an "unavailability of materials" forcing them to switch to a nylon bag instead. It's one thing to advertise a collector's edition with a canvas bag and another to advertise what is actually offered, a nylon bag.
It's entirely possible the original goal was to have a canvas bag as advertised and as the representative stated, it fell through. That's likely why all marketing assets for the collector's edition is still online at several retailers such as Amazon. Rather than being a dishonest case of false advertising.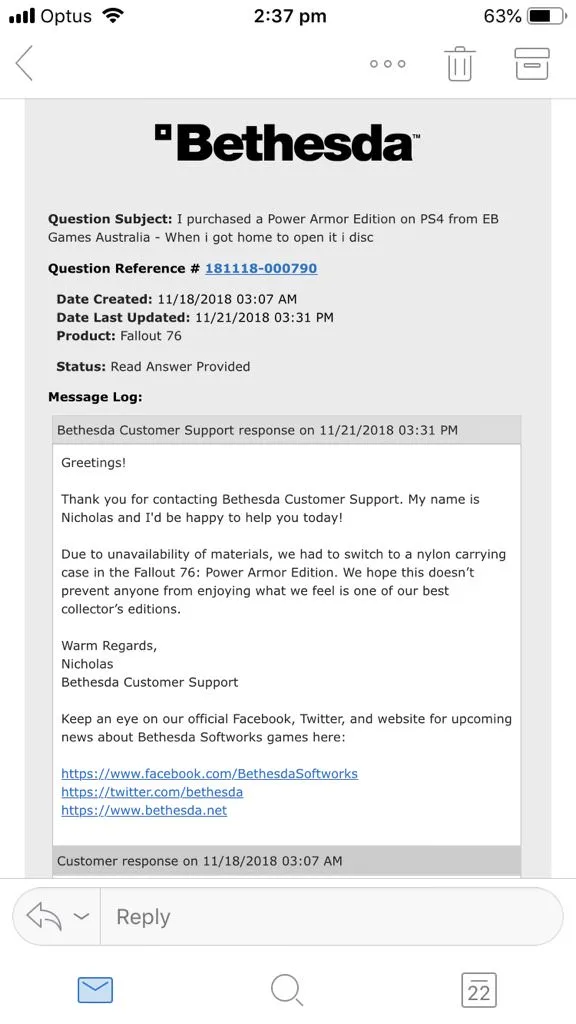 The latest response from Bethesda via Twitter has been to gift people their in-game currency, 500 Atoms.
We understand and respect that there is disappointment with the bag in the Power Armor Edition. We are sorry. Please contact Bethesda Support to provide proof of your CE purchase. They will assist in granting your account 500 Atoms.

Please visit: https://t.co/TJBMjYaph0

— Fallout (@Fallout) November 29, 2018
The 500 Atoms offered comes out to a value of $5, which many people have already shown dismay over. Take a look at some of the responses below:
Ironically 500 Atoms won't even buy you the Fallout 76 postman skin that actually has a canvas bag (it costs 700) pic.twitter.com/UCN3kXYDmn

— Chris Livingston (@screencuisine) November 29, 2018
When you swap a $200 product for the shitty cheap version without disclosing it then give customers $5 in fake currency as an apology 😬💀 https://t.co/V8v7EABSMG

— Bijou (@BijouDemi) November 29, 2018
5 dollars worth of ingame currency for at least what was a 100 dollar bag advertised. NOT ACCEPTABLE. Im sorry to all those that got screwed by bethesda https://t.co/Hln80kR9MU

— Cassandra (@Cassie_VR) November 29, 2018
500 items instead of a canvas bag. Great. I can get my character that Bee Hive hairdoo I didn't want. https://t.co/x3blGTQbuP

— Boogie2988 (@Boogie2988) November 29, 2018
For anyone who's wondering what you can get with 500 Atoms, you can get a door and some flowers. pic.twitter.com/4iOPzErV06

— Mitten Squad (@MittenSquad) November 29, 2018
— arthur morgan defense squad (@Pelleliu) November 29, 2018
If you were Bethesda, what would you do differently to make it up to people who bought the Fallout 76 Collector's Edition?
Fallout 76 is available on PC via Humble Bundle, Xbox One, and PlayStation 4.
Disclaimer: Certain links in this article may contain affiliate links where purchases may provide a small commission to Slyther Games. Our affiliate policy is here.

Jeff is a journalist with over 10 years of experience writing, streaming, and making content about video games. With an associate degree in journalism, he's a sucker for RPGs, survival games, roguelikes, and more.