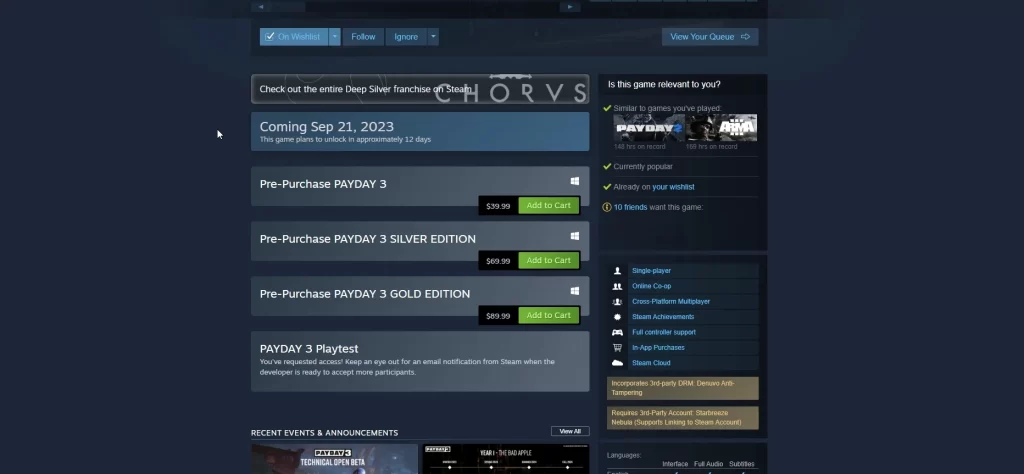 Payday 3 fans excited to try the open beta may find themselves hitting an error making it not feel so open. If you've already requested access to a Payday 3 playtest/beta in the past but didn't get in, you'll likely end up with this problem. This is where the Steam store page will display the following message without giving access,
"You've requested access! Keep an eye out for an email notification from Steam when the developer is ready to accept more participants."
Despite the open beta (second playtest) already having started, players can still get stuck with this message. I myself was one of them until I came across a fix going around the Payday 3 Steam Discussions. Fortunately, it isn't too complicated since it pretty much just has you request access a second time.
Before jumping into the steps in the below section, I've listed some quick details about the open beta. This is for those of you who aren't sure how long it's running for.
Beta starts: September 8, 2023 at 10 AM ET
Beta ends: September 11, 2023 at 4 AM ET
Server Slam: September 8, 2023, at 7 PM ET
Server Slam: September 10, 2023, at 12 PM ET
Steps to Gain Access to the Payday 3 Open Beta
Open the Payday 3 Steam store page on a browser such as Google Chrome or Firefox. (I've confirmed that both work)
Press F12 to open the Developer Tools window. This will appear at the bottom of your browser.
Click the "Console" tab, second from the left.
Click into the console area and enter the following command while on the Payday 3 store page, "javascript:RequestPlaytestAccess();"
Press enter after copying or typing in that javascript command.
A new Payday 3 Playtest window should appear giving you the option to "Request Access". Clicking to Request Access will then grant you access to the playtest.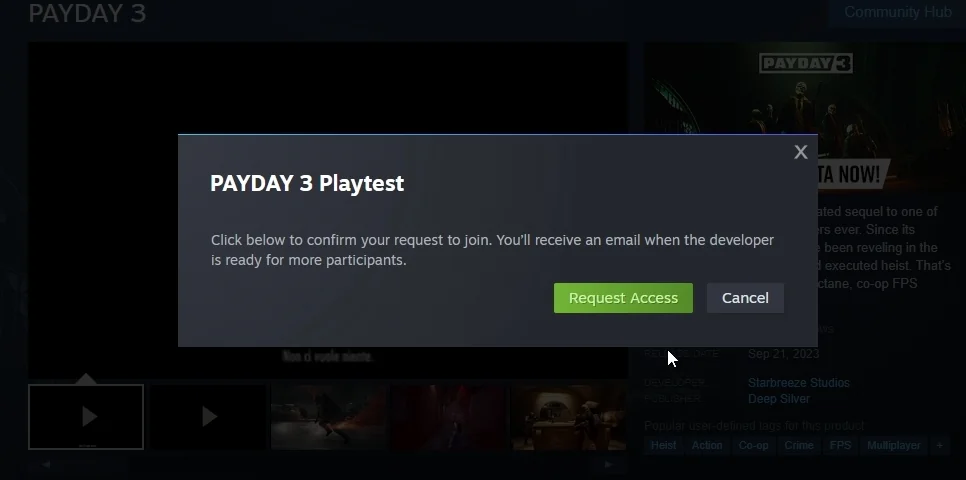 Upon completing the final step mentioned above you should be able to download the beta via Steam as normal. Make sure when entering the javascript command that you either copy ours or use the case-sensitive letters.
Otherwise, that's all there is to this quick guide on getting into the second Payday 3 playtest (open beta). While this isn't a guaranteed fix, many Steam players have had it work for them. So it's worth trying if you're stuck with the message about already having requested access.

Jeff is a journalist with over 10 years of experience writing, streaming, and making content about video games. With an associate degree in journalism, he's a sucker for RPGs, survival games, roguelikes, and more.