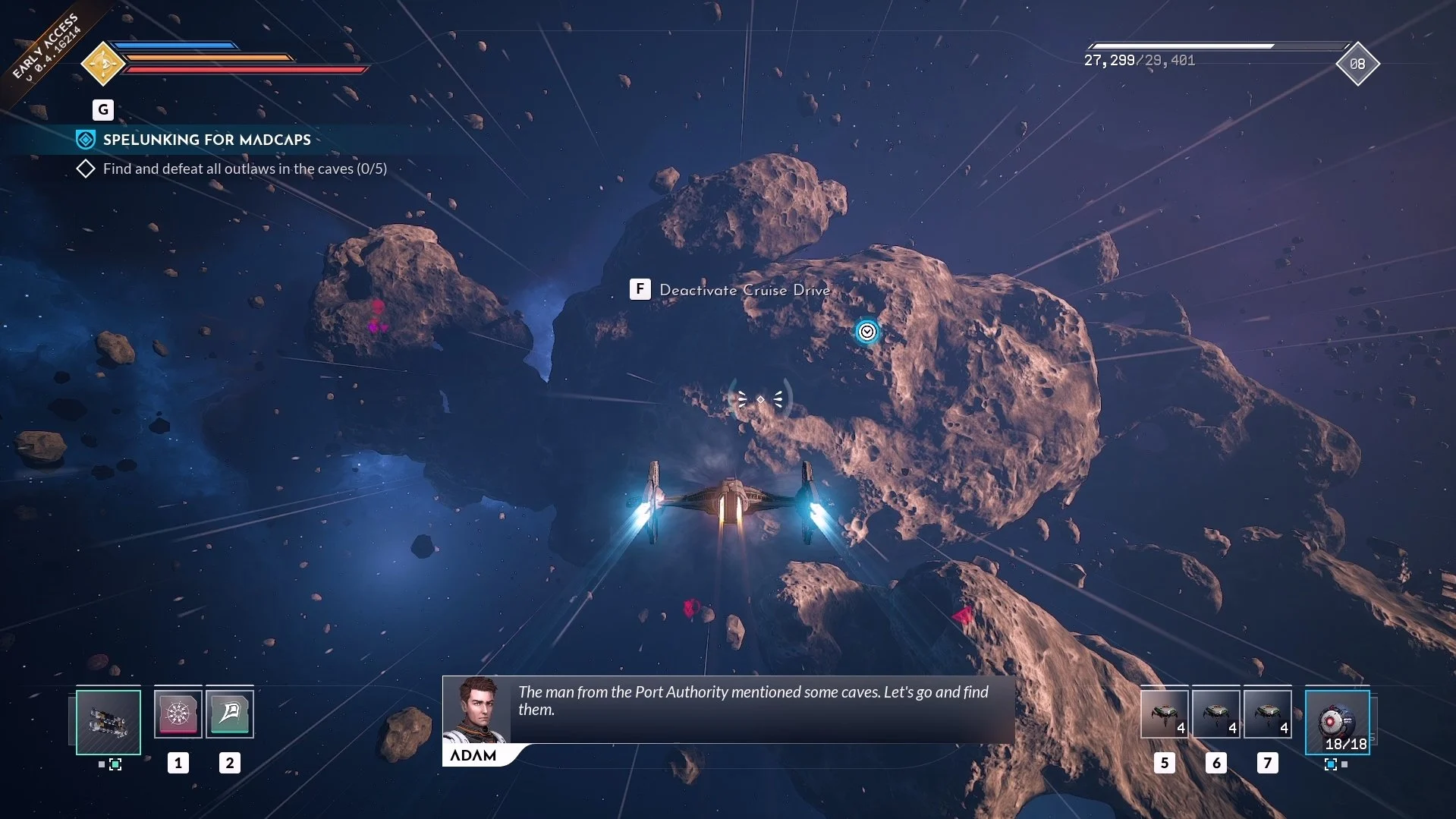 If you need help completing the Everspace 2 mission, Spelunking For Madcaps, continue reading below for our walkthrough. This guide contains in-detail steps on what you need to do for each objective alongside some tips and tricks. If you're still struggling with something, comment below the article to get some help.
Spelunking For Madcaps Walkthrough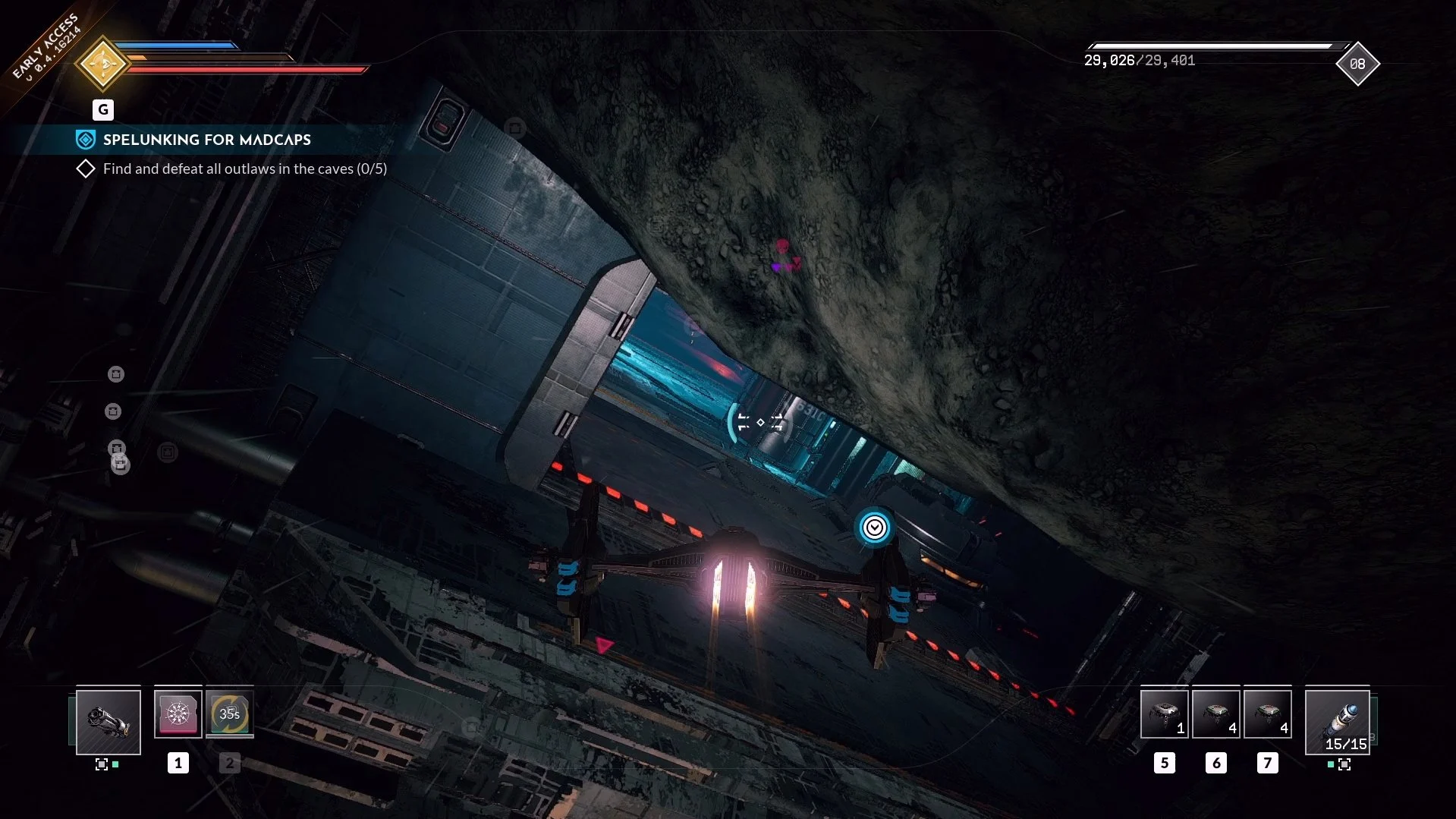 This is a side mission you can get from the Prescott Starbase Authority when you dock there for the first time. They'll mention having a bunch of jobs, but one is more important than the others, Spelunking For madcaps. They need you to go deal with a bunch of outlaws at the Sato Orbit location. Once you arrive, a bunch of hostile enemy markers will likely start appearing. You may run into a roaming patrol, but there's a group of five that needs destroying.
Search the nearby asteroids for a cave entrance marked by the mission marker. Make your way inside the cave where an Outlaw Sniper Drone will greet you. An unknown pilot will begin speaking with you as well. Continue flying through the cave destroying enemies as they appear. Be careful of the second enemy being a detonator drone. Once all five outlaws are destroyed for the objective, escape outside to find the Outlaw Leader. This leads to a new cave where they are.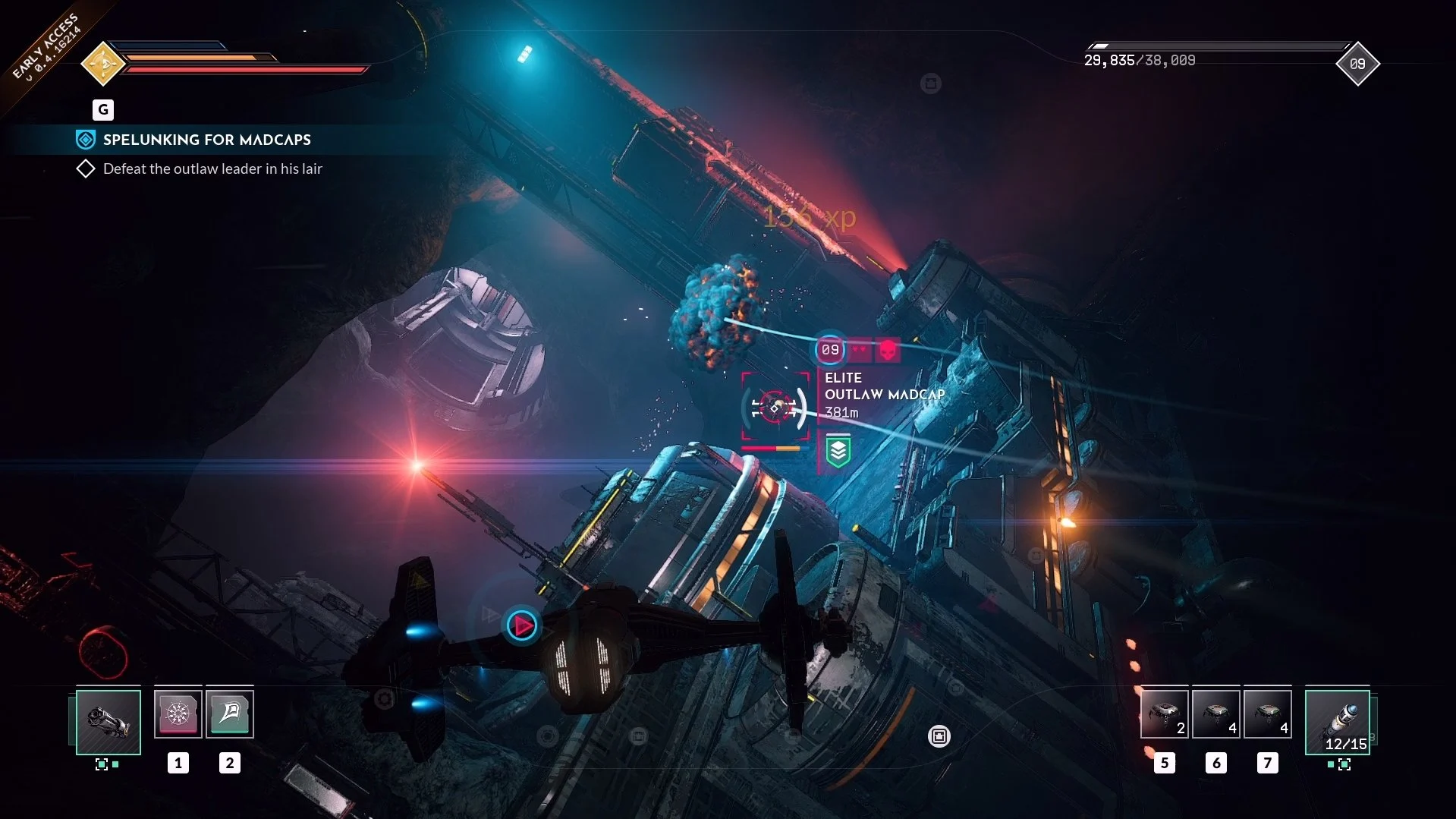 Be prepared to deal with a few outlaw drones and the leader simultaneously. Fortunately, the Outlaw Leader is in a weak Outlaw Armor Drone. Unless the mission simply goes by the last remaining enemy. After killing the group of outlaws, return to the Prescott Starbase Authority and dock to complete Spelunking For Madcaps. For more mission walkthroughs, visit our full Everspace 2 walkthrough hub here.
Solving Spelunking For Madcaps Puzzles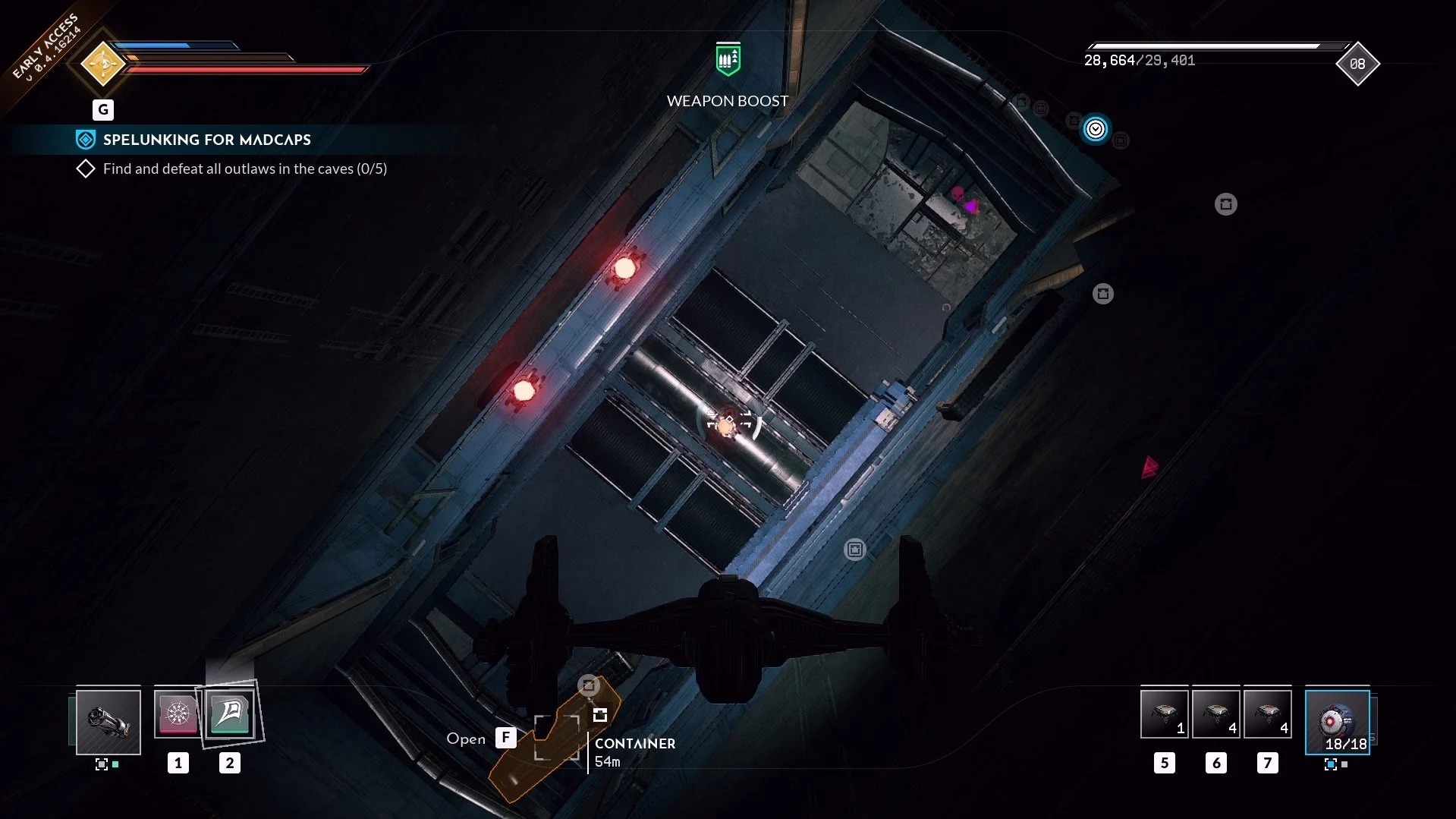 There are two puzzles in the Sato Orbit area that have to do with blinking red lights. Fortunately, they're not too complicated and we've got the solution if you're having trouble. The first one is shown in the above screenshot with three red lights. All you need to do is shoot the red lights on the left from the top down, then the third one in the middle. This will open a container and two doors leading outside.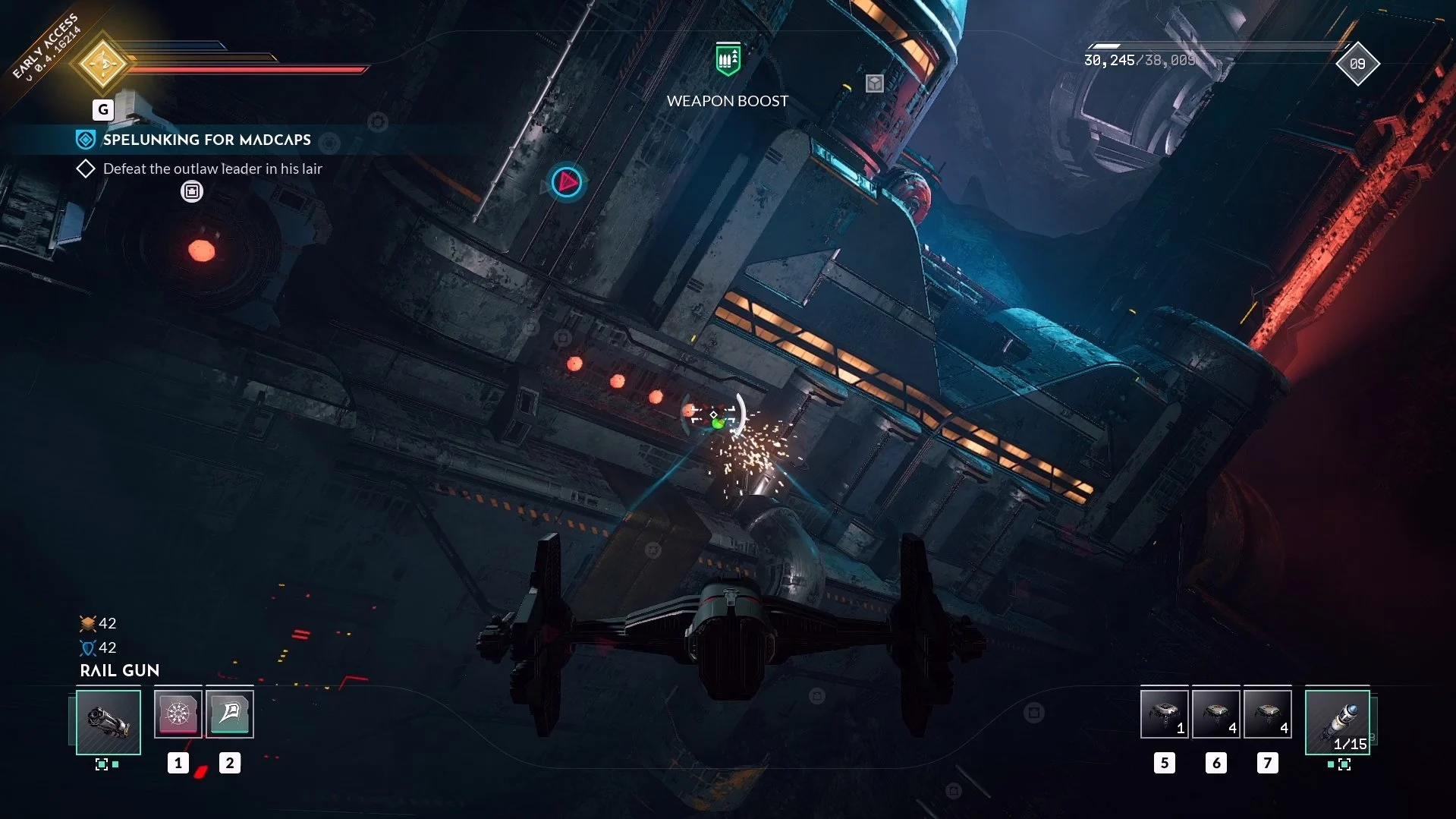 The second puzzle is shown in the above screenshot. This is inside the Outlaw Leader's lair where six red blinking lights are. If you're not sure how to solve this puzzle, all you need to do is shoot the lights from right to left. Once the five lights are green, shoot the final one to open a nearby container.

Jeff is a journalist with over 10 years of experience writing, streaming, and making content about video games. With an associate degree in journalism, he's a sucker for RPGs, survival games, roguelikes, and more.