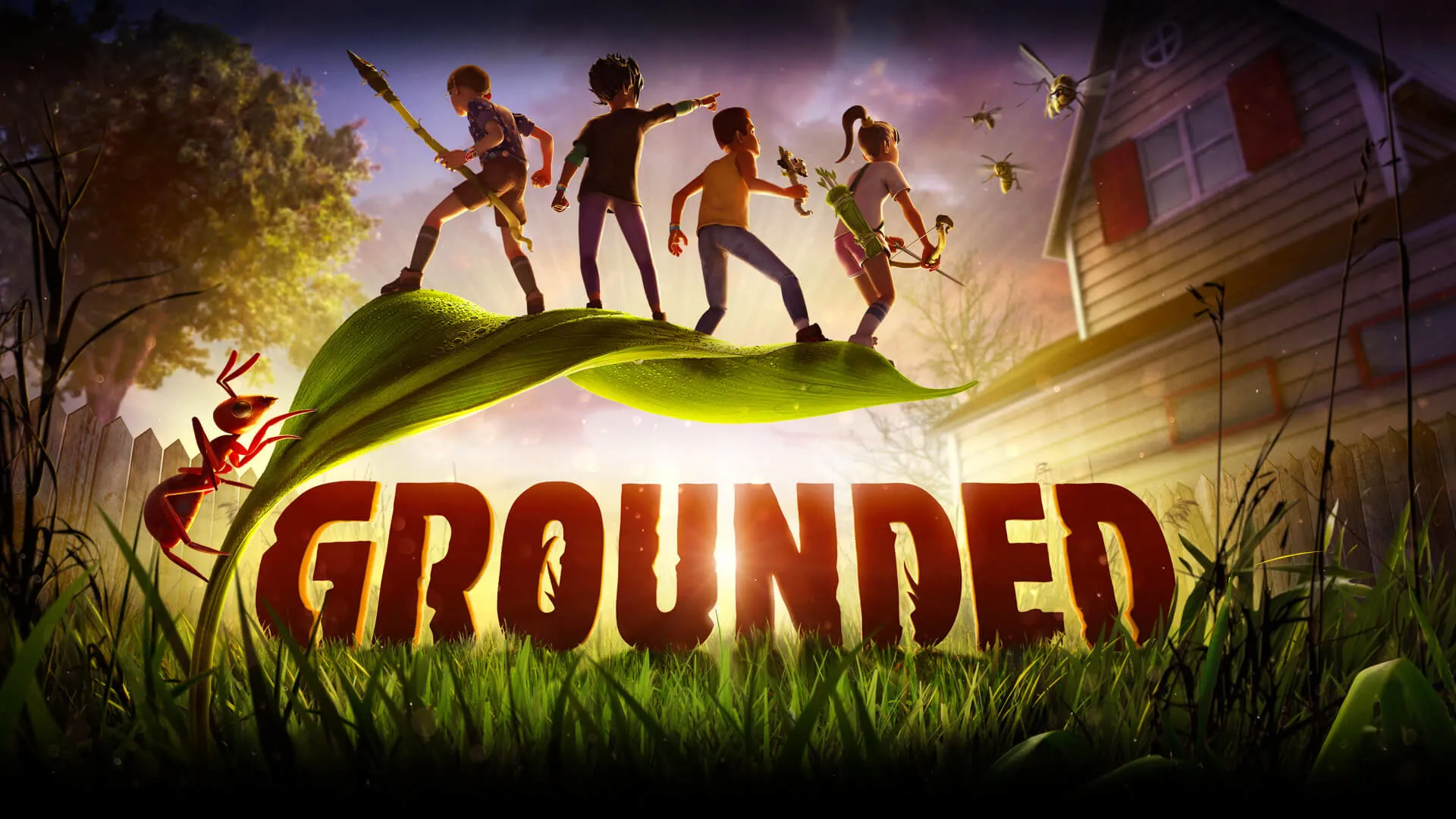 If you're having trouble finding certain insects or materials in Grounded, hopefully this guide will help you find them. Use the Table of Contents below and click whatever you're trying to find. If you have any tips on where you've seen anything on the list, feel free to let others know in the comments below too.
Where to Find Grubs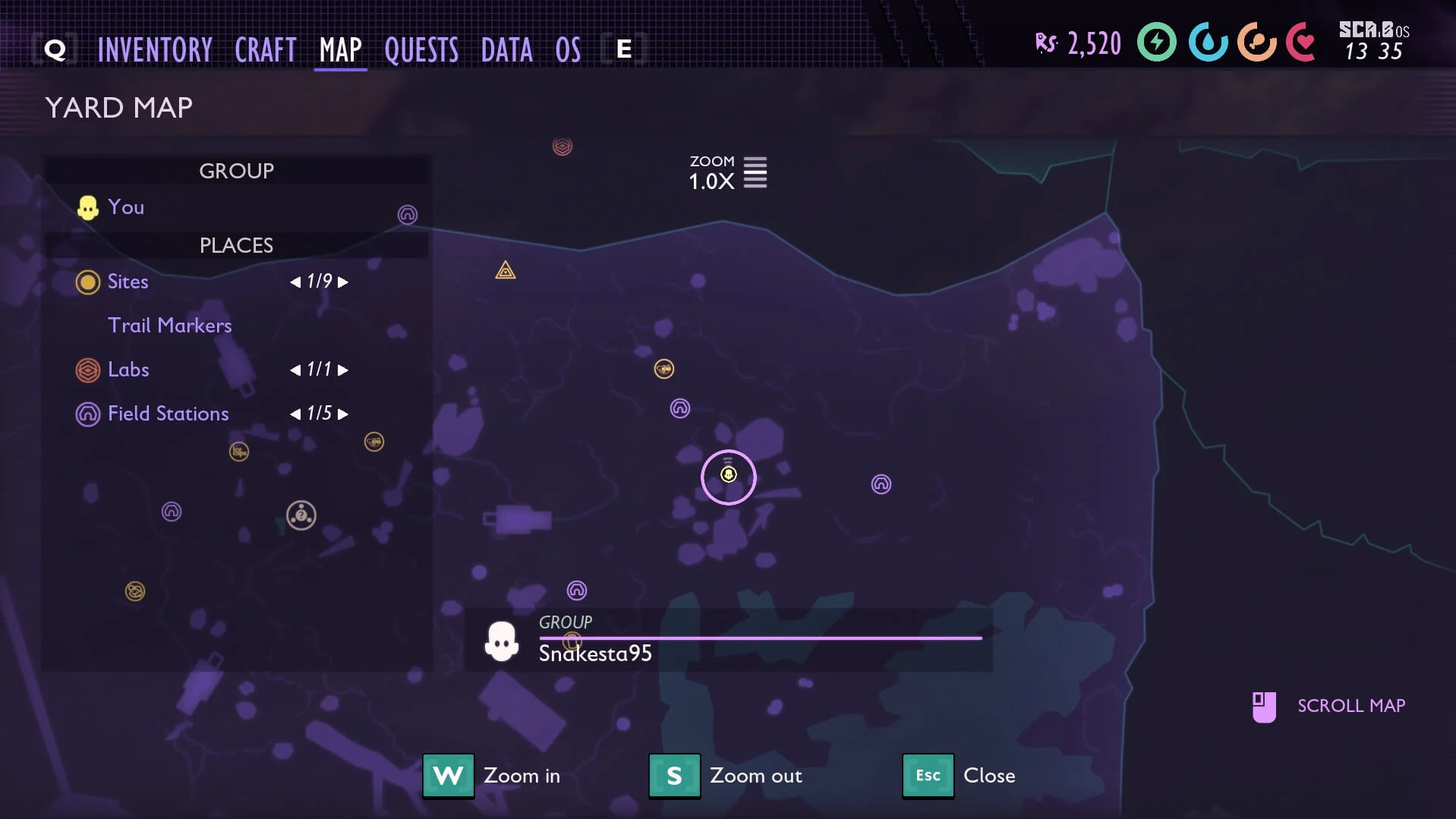 If you're trying to farm Grubs for Grub Hides or Grub Goop, you can find them at the giant Oak Tree and near the location on the map above. Also, it's possible to find them tunneling through the dirt pretty much anywhere on the surface. In order to dig them up to get their resources, you'll need to use an Acorn Shovel on their dirt tunneling trail. Then they'll appear and you can kill them.
Where to Find Quartzite
There are several good areas to farm Quartzite that require you going beneath the surface. First, you'll want to check the tunnel from The Mysterious Device mission where the faulty laser is/was. The tunnel where the mites are biting on the cables will have four to five blocks of Quartzite. Second, the map below marks the location of an anthill filled with Worker Ants and Soldier Ants. While the Soldier Ants are hostile on sight, you can wear Ant Armor to prevent that.
A third area loaded with Quartzite is marked on the map below, but you're bound to run into a nest of Larvae. Be prepared for anything from a few to easily over 10. This area is also known as Shovel Gulch Cave because it has a giant shovel outside marking the location.
Where to Find Clay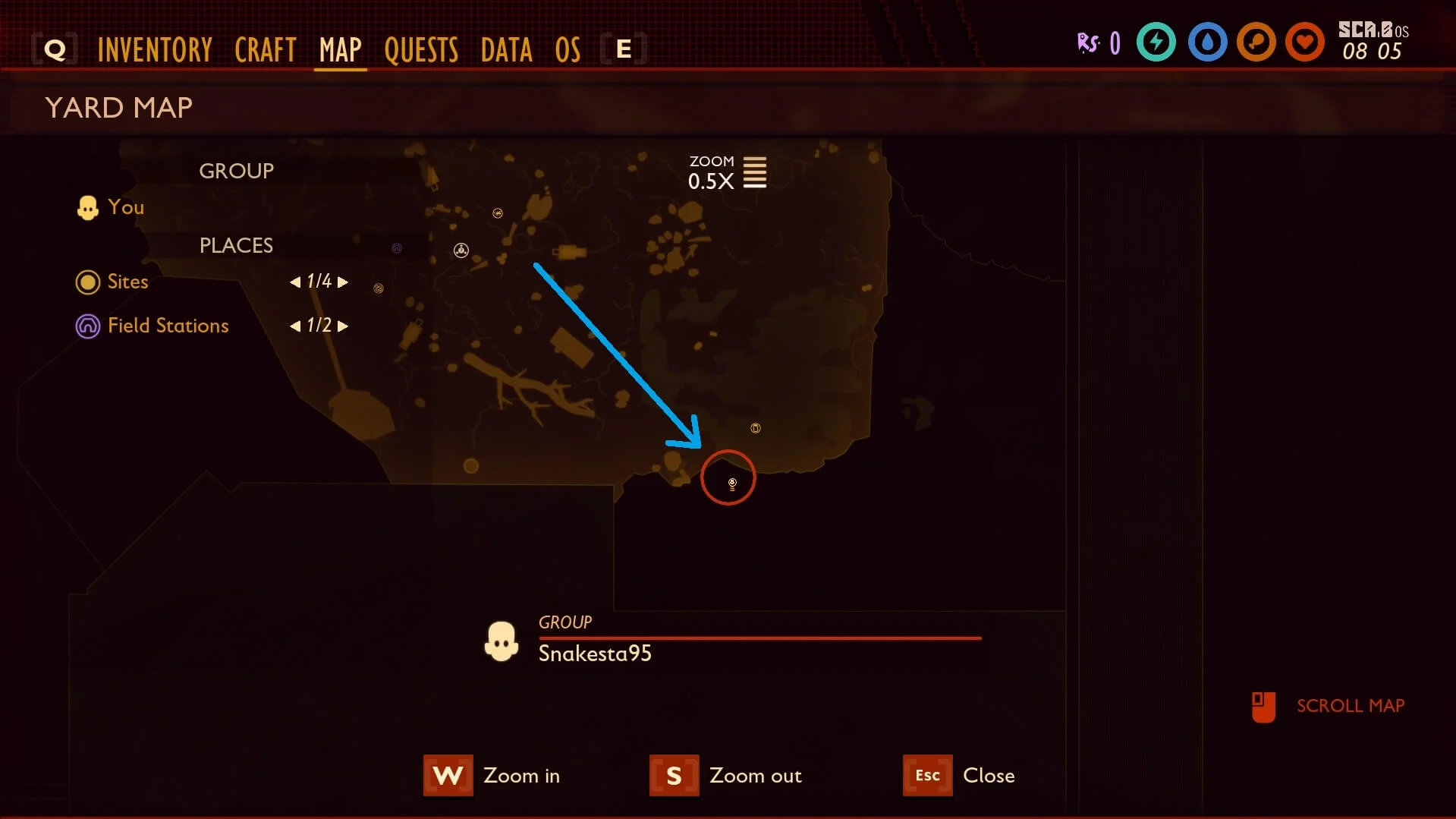 There are two large bodies of water with one being in the southeast corner and the other in the northwest corner of the Grounded map. Both of which have clay deposits bordering the edge of each pond. You can use an Acorn Shovel to dig up these clay deposits for whatever recipes you have in mind. The map above shows an area where you can find clay as well as berries.
Where to Find Ant Eggs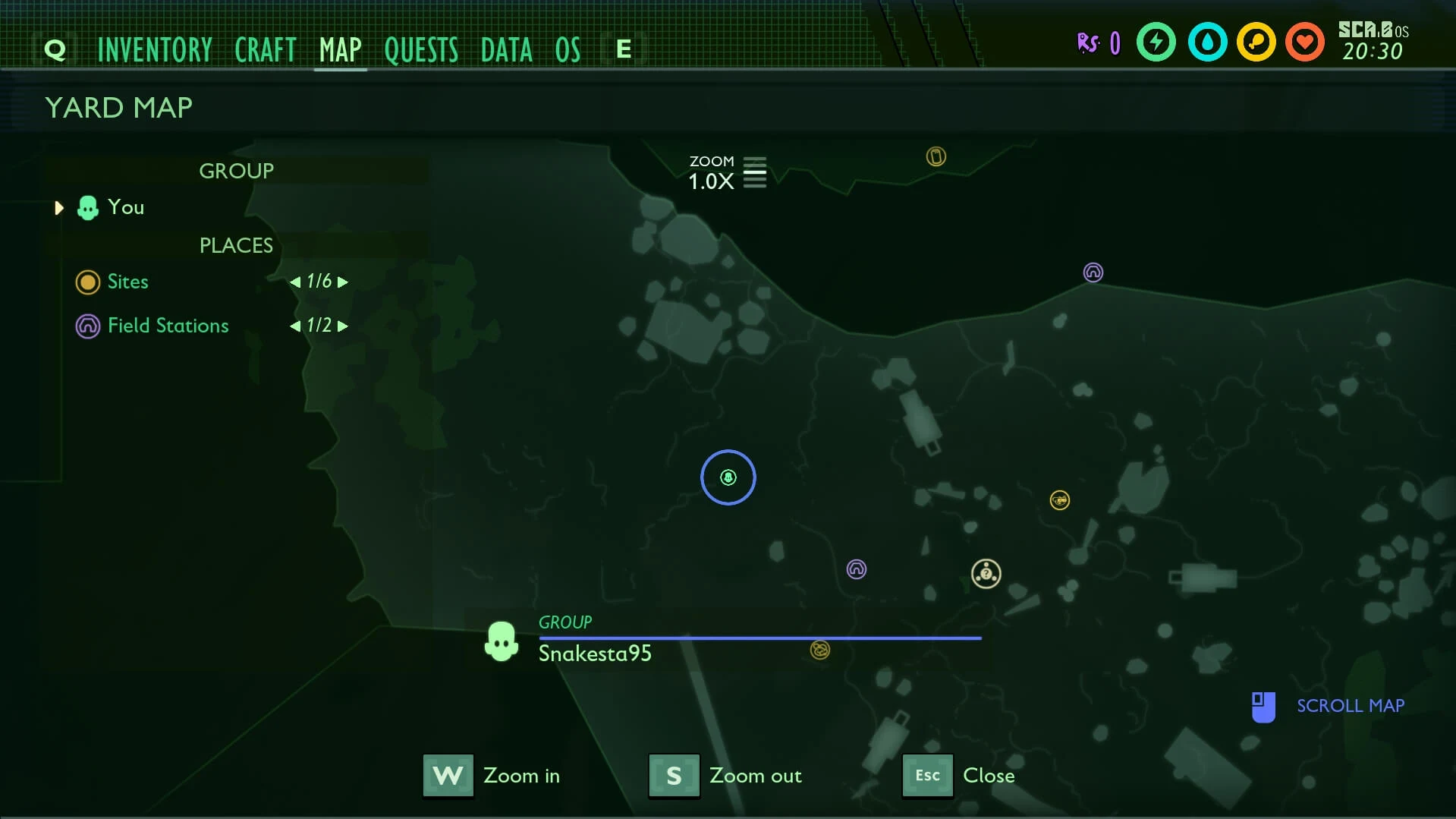 The large anthill marked on the map above has several tunnels that will eventually lead to one of two rooms that contain Ant Eggs. According to a Reddit thread, Ant Eggs wil only appear in here once you've killed enough ants. Shortly afterward, Worker Ants will begin placing Ant Eggs through the anthill that you can grab or kill.
Reminder that the ant armor set provides the "HumAnt" set bonus making it so ants won't attack you unless provoked. This includes Soldier Ants, which are abundant here.
Where to Find Thistle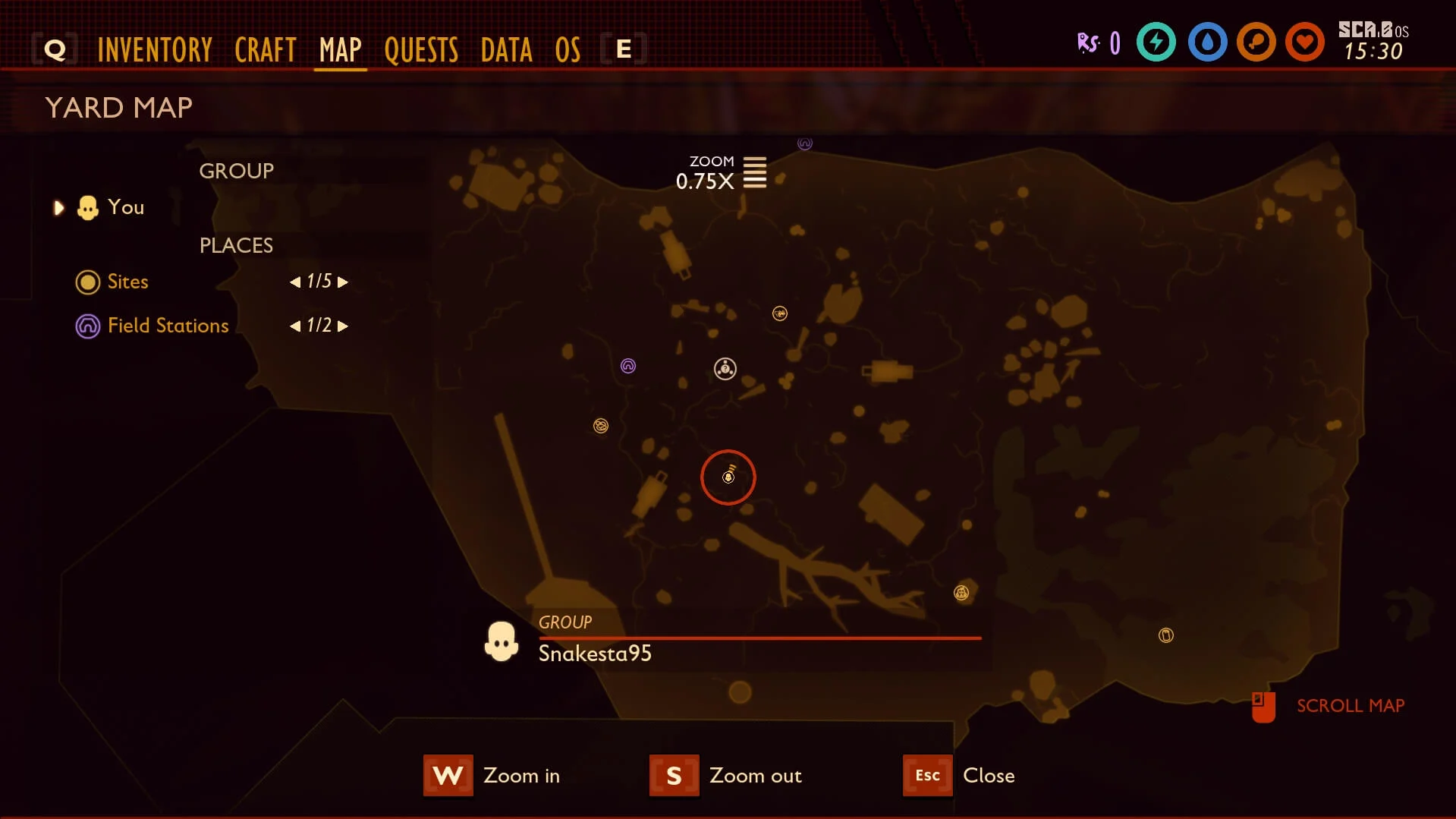 Thistle plants can be found in several areas around the Grounded map. However, one location where they're available is marked on the map above. You can farm Thistle for Thistle Needles used in a few recipes, including arrows. An easy way to find a Thistle plant is by looking for spiky leaves with a purple bulb on top. The picture below shows what they look like.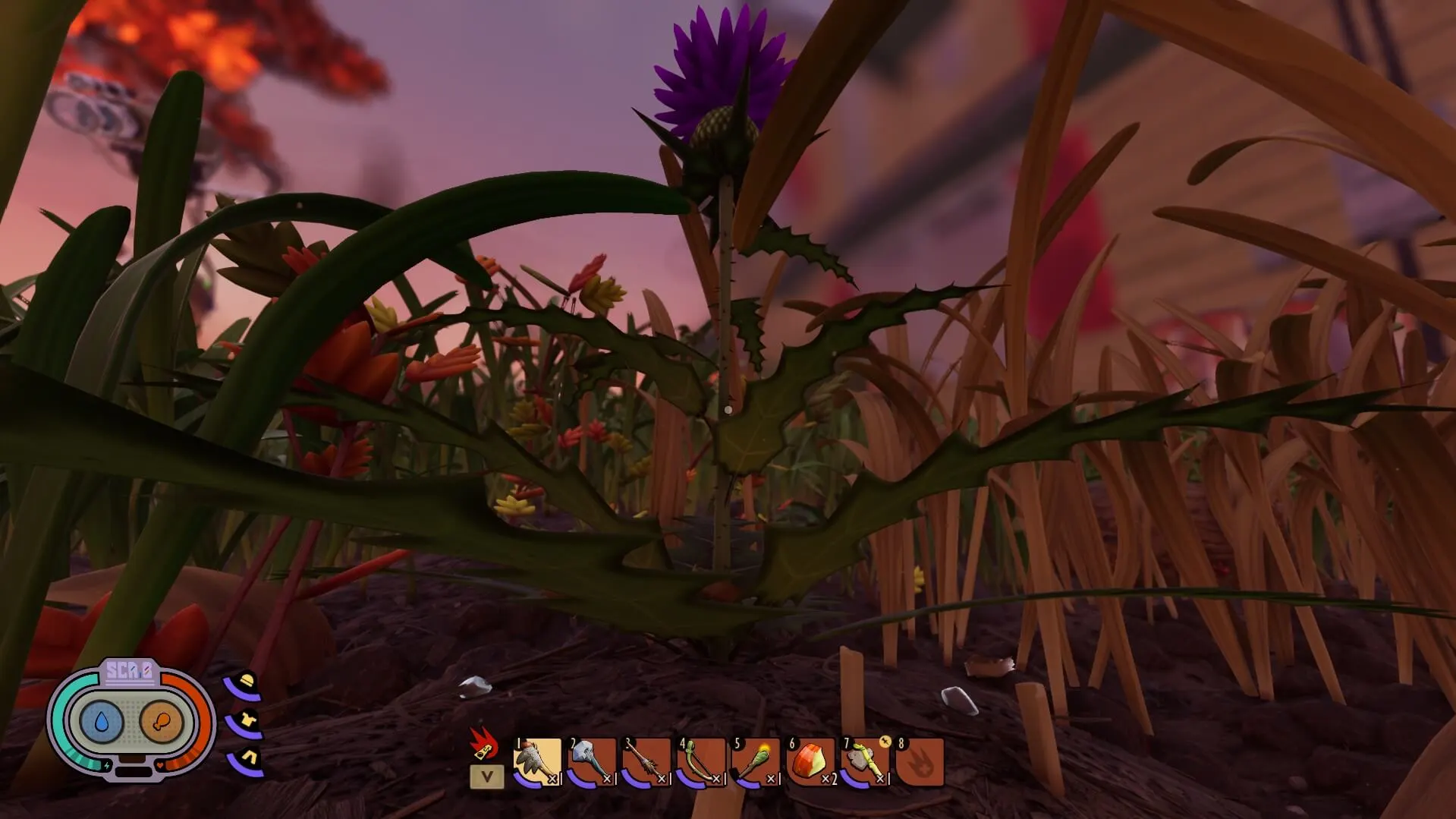 Where to Find Berry Leather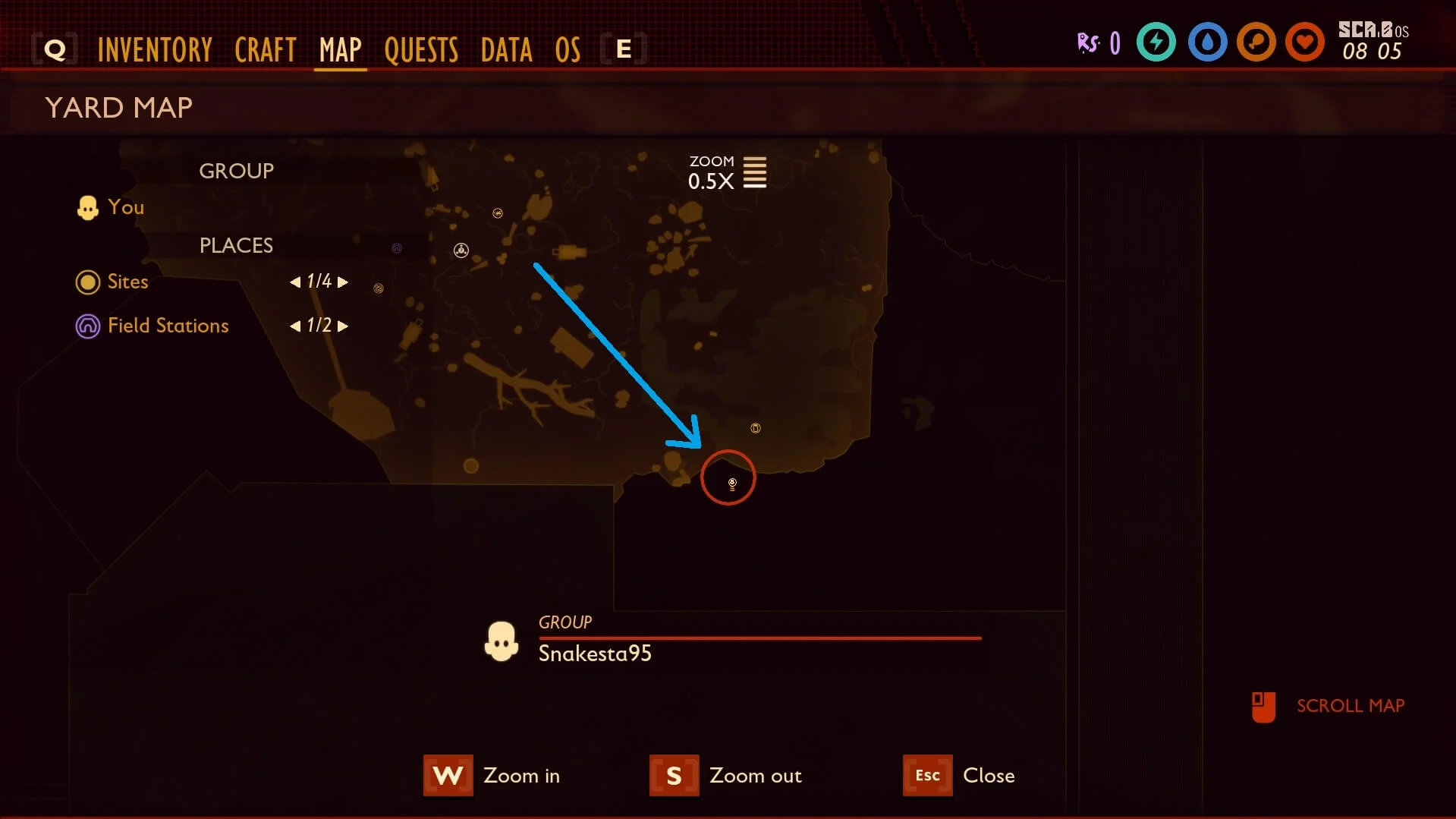 If you need Berry Leather for higher tier tools, weapons, and armor, you'll need to harvest some berries first. The southeast corner of the map has a bush filled with berries that you'll likely need to knock out of the air first. Using a ranged weapon like a bow or throwing pebbles at berries attached to branches above will drop them. However, this area is filled with spiders you need to be mindful of.
Harvesting berries will give you Berry Chunks that can then be converted into Berry Leather.
Where to Find Ladybugs
Ladybugs are commonly found in areas with healthy green grass. Especially in the area surrounding The Mysterious Device or near the giant logs separating the north and south region. If anyone has any other recommendations on where to find them, be sure to help others out and comment below.
Where to Find Larva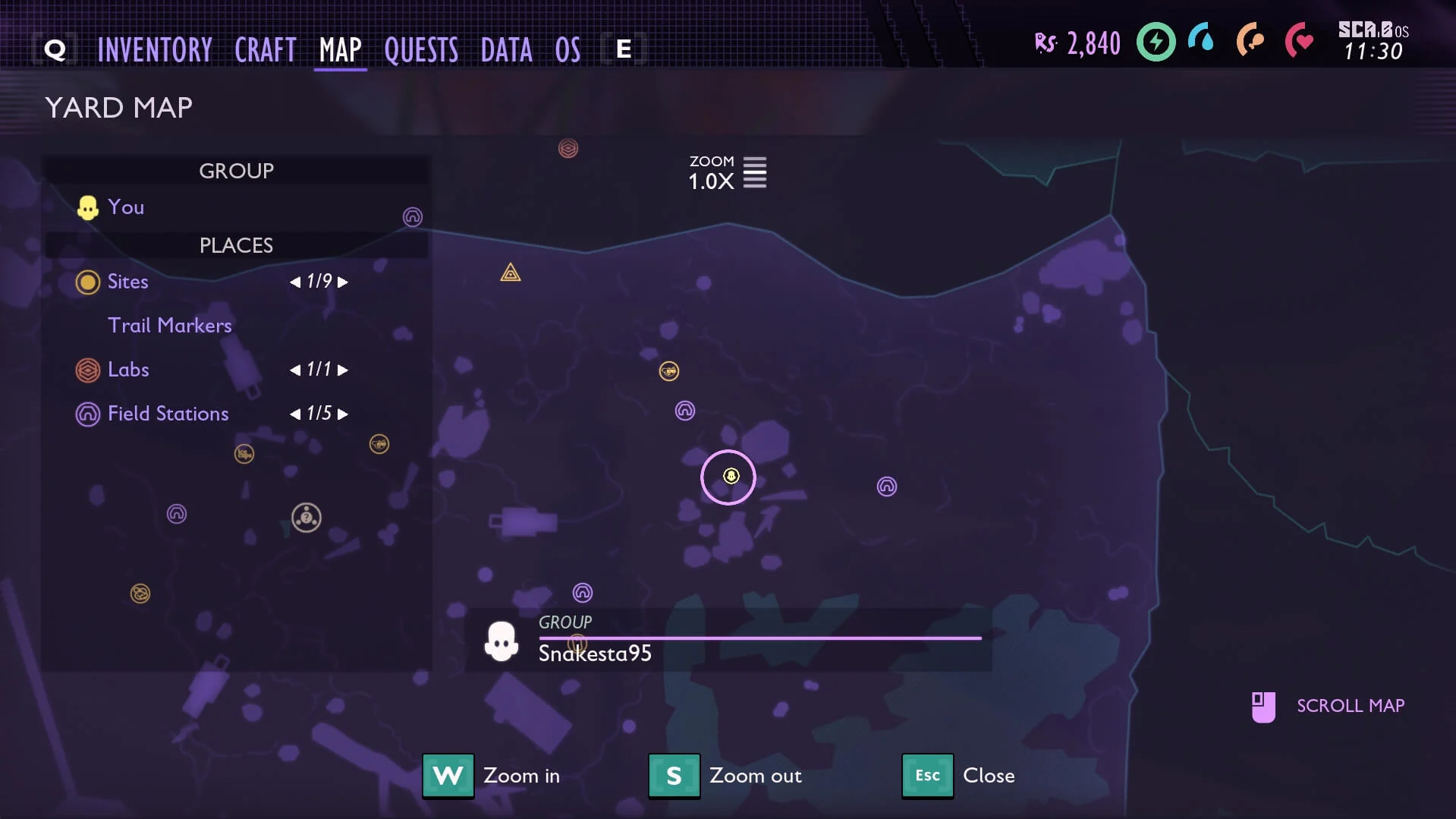 The marked location on the map has a nest of Larvae lurking beneath the ground. Be careful that they don't overwelm you, but if you're prepared, they're not too difficult. The Ant Club deals a good chunk of damage to them while also stunning them easily. This area on the map is known as Shovel Gulch Cave because of the large shovel marking the area.
Our guide on Commonly Asked Questions regarding Grounded has a lot of people commenting about swarms of Larvae attacking their base. Certain theories around the Grounded community right now are that food in containers may attract them. If this is true, you can also try using this to lure them in. However, I've tested this and haven't had any luck attracting them yet. Also, as you advance further into the days in-game, you can come across Larvae patrolling on the surface.
Where to Find Stinkbugs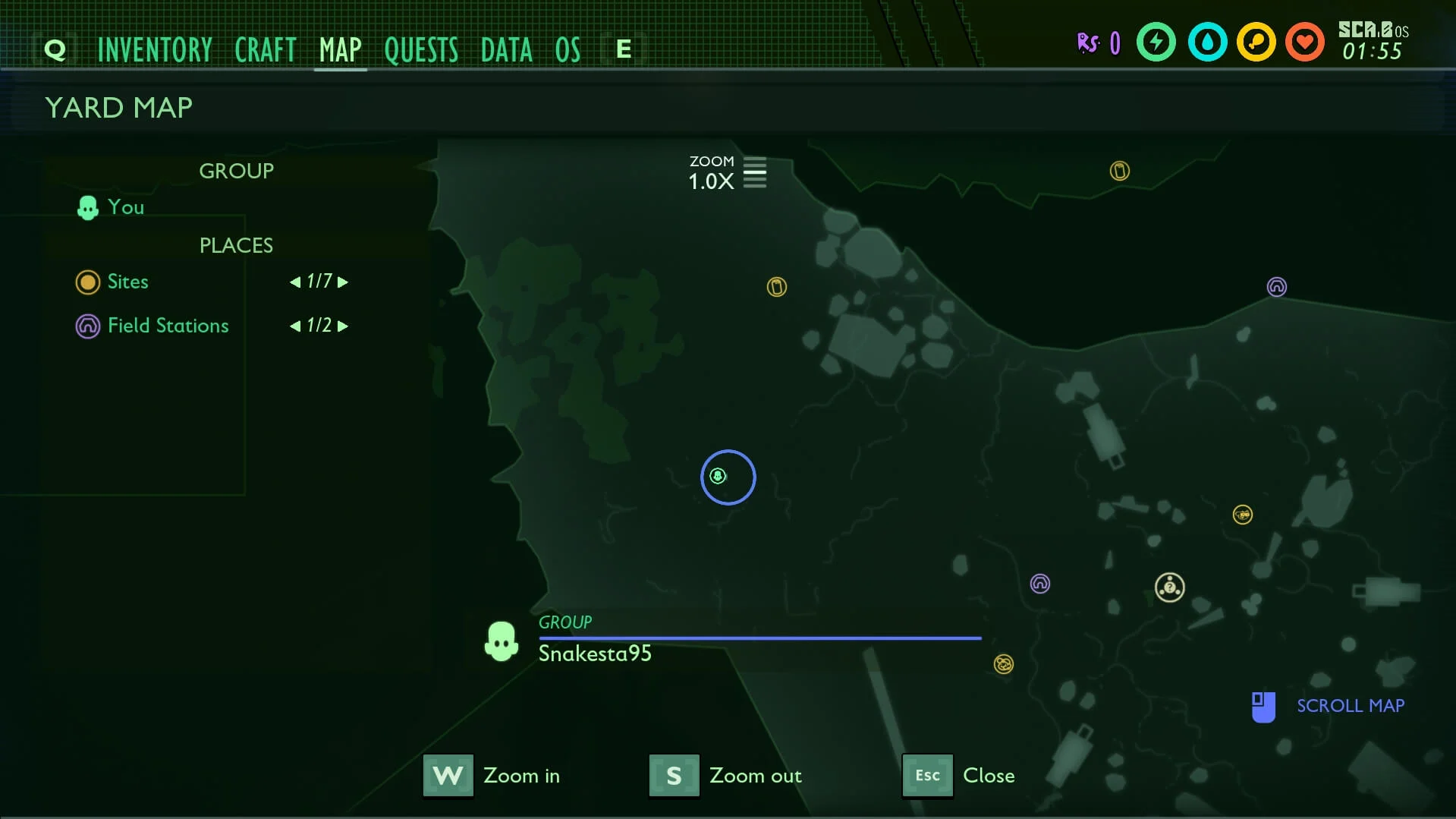 Stinkbugs can be found west of the anthill location, which is west of The Mysterious Device. The map above shows where they're frequently resting and often fighting nearby ants. As they're one of the tougher enemies in Grounded, be careful of the gas they emit once provoked.
Where to Find Wolf Spiders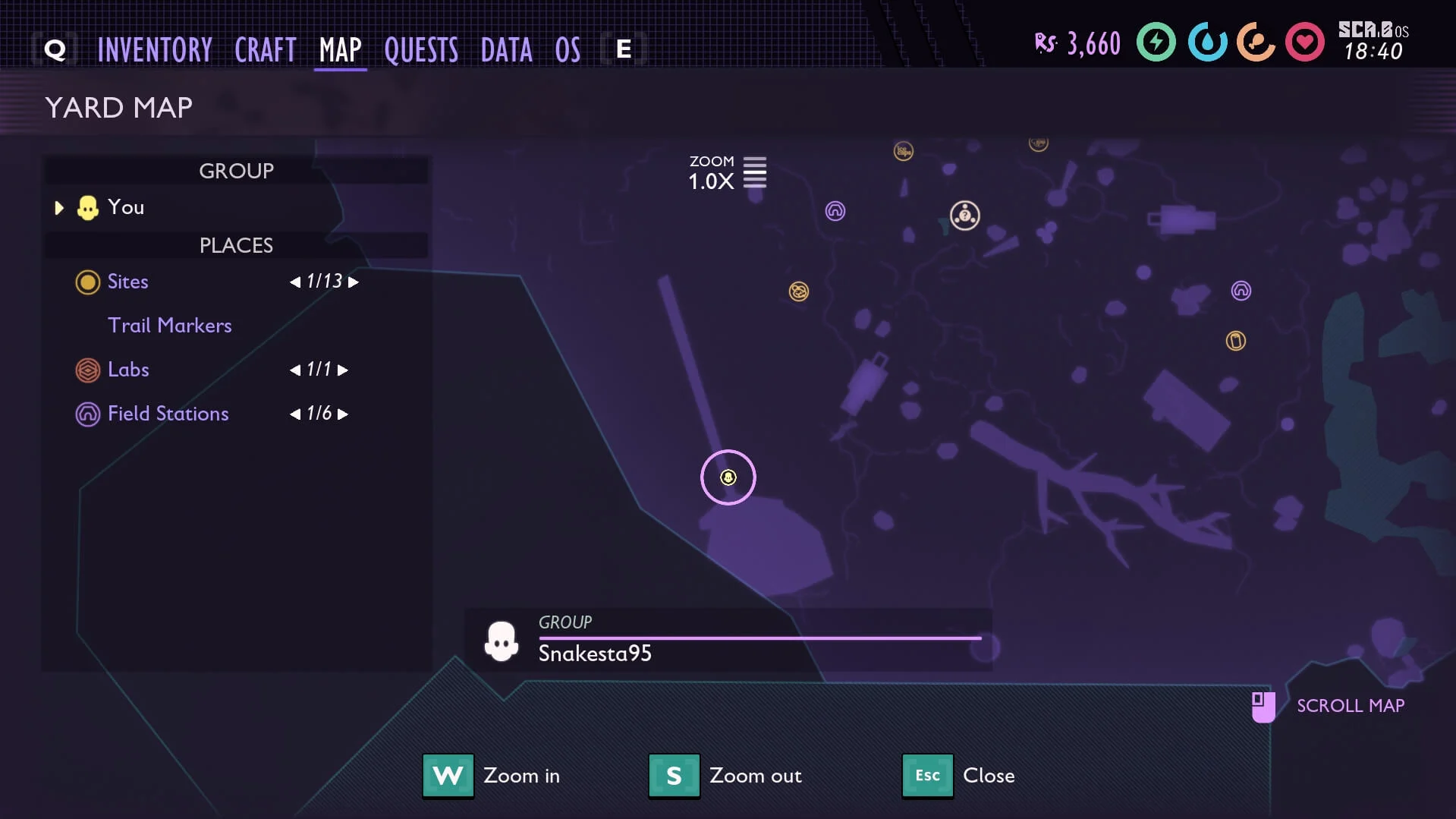 The easiest way to find Wolf Spiders is by going to the Oak Tree where The Mysterious Device questline leads you toward. Beneath the tree, you can find a small cave inside it where a Wolf Spider often rests. At night, there's a chance they'll wander the area nearby as well. Over time, Wolf Spiders will become more common in other areas too.
The map above also marks a Wolf Spider cave beneath the giant rake, bordering the poisonous gas territory.
Where to Find Bees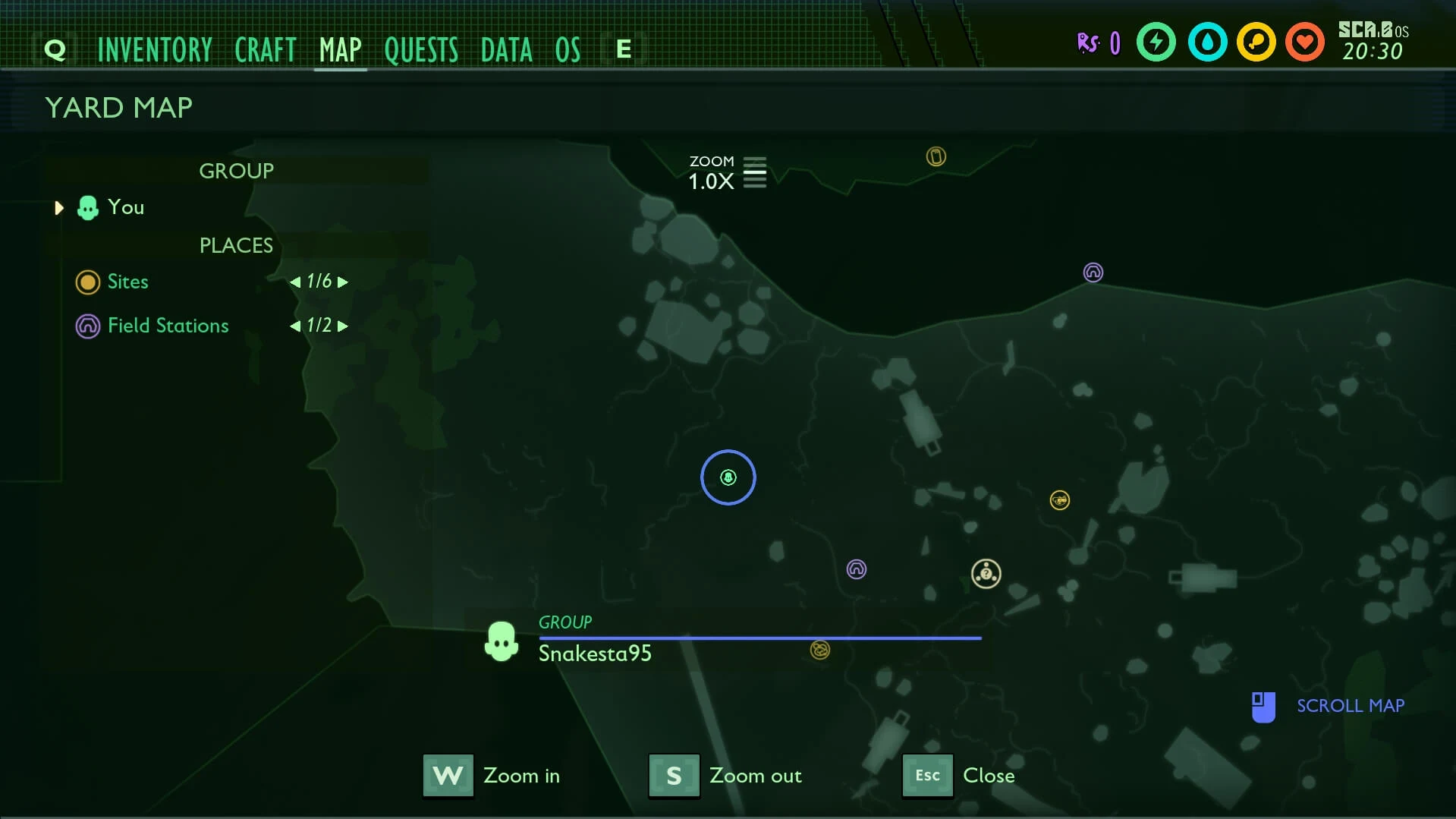 Bees don't currently exist in the early access/Xbox Game Preview version of Grounded. They'll likely be added at a later time. However, you can still get the Rotten Bee Armor set by picking up parts spread throughout the anthill. The map above shows where the anthill is for those looking for the armor set. You'll find each of the three pieces near skeleton bones.
Where to Find Bombardier Beetles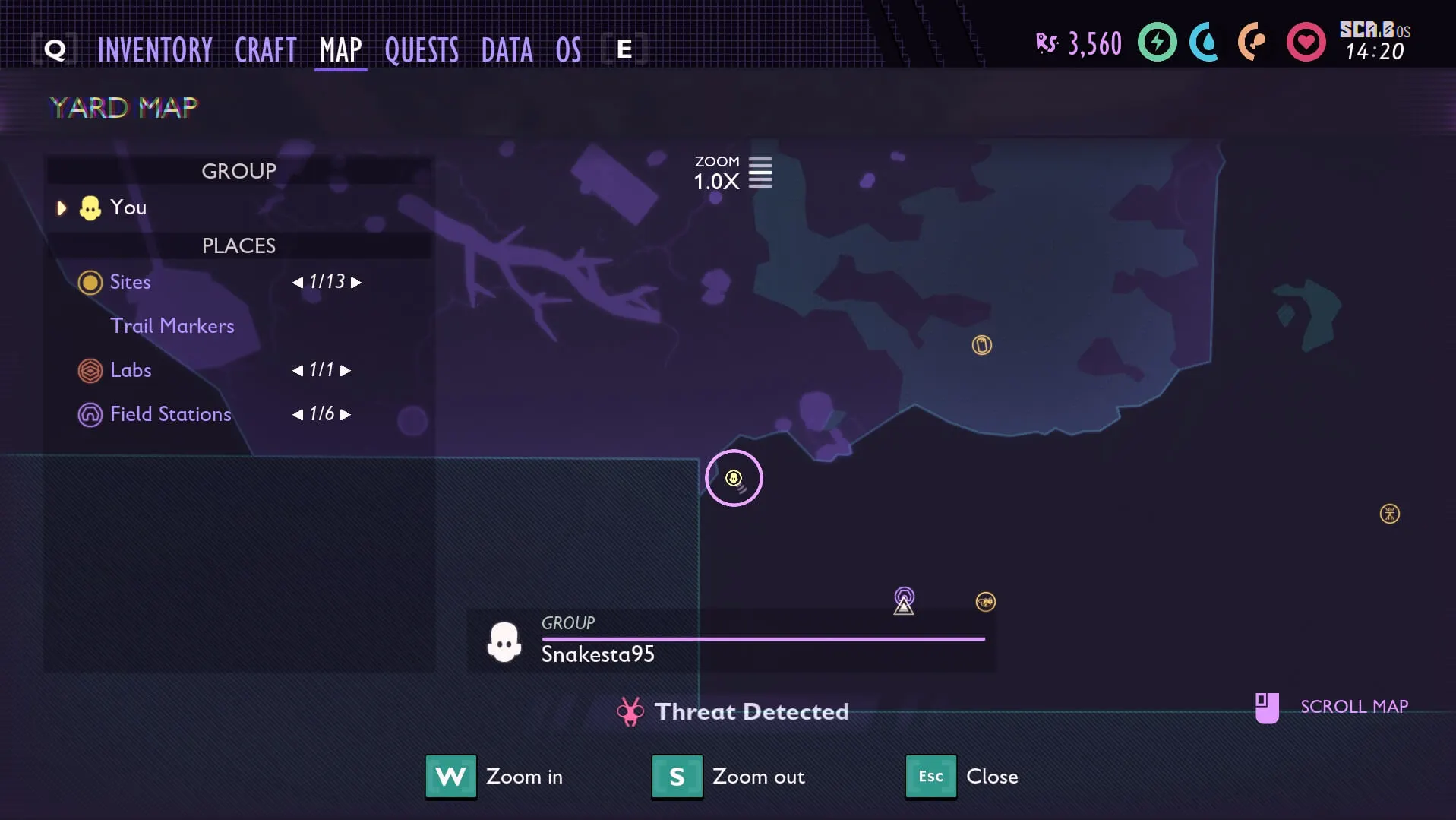 I first ran into several Bombardier Beetles near the dry grass to the left of the berry bush, as marked on the map above. However, they also seem to be extremely common on the southwest side of the Grounded map near the giant rake. You don't need to enter the poisonous gas to find them.
Where to Build a Base
The common recommendations for building a base is to aim for high in the air or over ponds. My second base I built was near The Mysterious Device, on top of a brown leaf way up above. The main reasoning for building in the air or over ponds is to avoid insects attacking your base. If they can't reach it, they can't attack or steal from it as ants do.
If you're just starting Grounded for the first time, don't worry too much about where you build your base. In order to build in the air or over ponds, you'll need to complete The Mysterious Device mission and use science points to unlock the floor plan recipe. Otherwise, you won't be able to easily build a base up high. Unless you use landmarks like the baseball or soda cans, for example.
Where to Find Nectar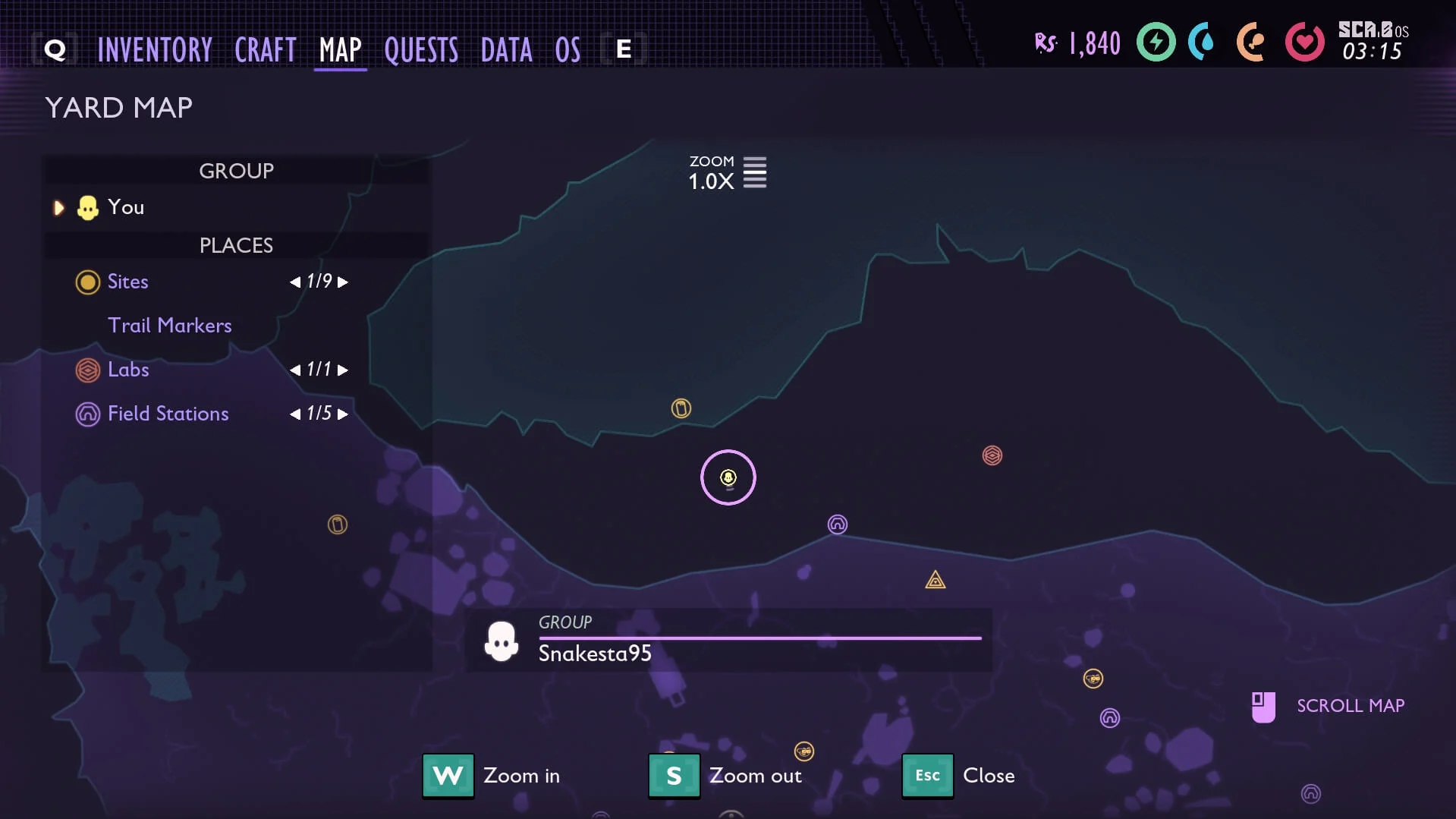 You can find Nectar by looting it on the floor beneath flowers that also drop Flower Petals. These are common in the region north of The Mysterious Device. However, be aware that you'll likely run into Orb Weaver spiders around here as well.
I hope this guide filled with all sorts of random information helps you enjoy your Grounded experience more. If you have any questions, feel free to ask in the comments below. Otherwise, check out our other Grounded guides on Commonly Asked Questions and How to Upgrade Your Tools.
---
Grounded is available in Early Access/Xbox Game Preview as of July 28, on Xbox One and PC. It's also on the Xbox Game Pass at the time of publishing this article for both Xbox One and PC. Eventually Grounded will be available on the Xbox Series X too.

Jeff is a journalist with over 10 years of experience writing, streaming, and making content about video games. With an associate degree in journalism, he's a sucker for RPGs, survival games, roguelikes, and more.