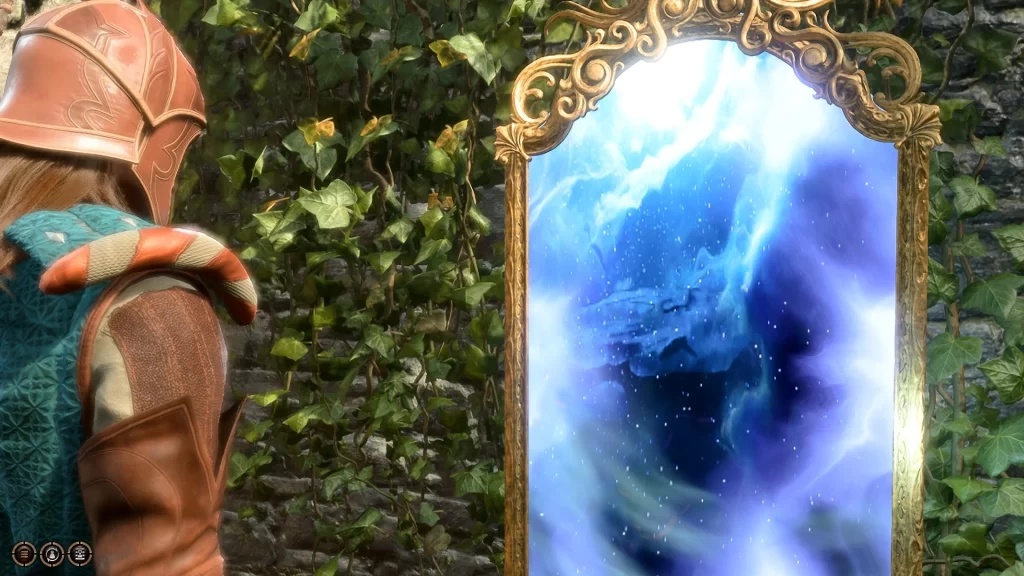 One common request Baldur's Gate 3 players have been asking for is a way to change their character's appearance. Fortunately, the developers at Larian Studios have been listening and will soon have a way to change your appearance. With that said, there are still limitations to what can and can't be changed. So some players may be a little disappointed.
Update (9/22/23): Now that Patch 3 is live we know how the Magic Mirror works. As we guessed, you can only customize custom characters in your party. So you won't be able to change origin characters or hirelings either. Fortunately, changing your character's appearance is relatively simple.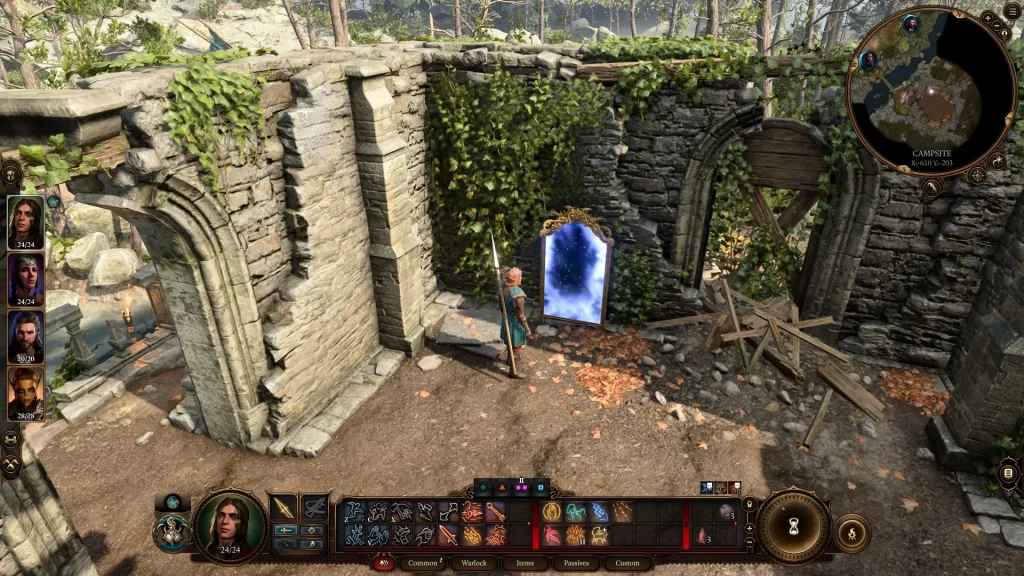 All you need to do is find the Magic Mirror in your camp and interact with it. Depending on where you set up camp, it'll have a different location. You can see in the above screenshot where it is for one of the common wilderness camp locations. This is the small set of ruins across the river to the east.
Original Article:
The Baldur's Gate 3 Twitter account tweeted on September 21, that Patch 3 will introduce the Magic Mirror to your camp. Due to the way the tweet is worded, I'm going to assume it only lets you change your custom character's appearance. But, I can't confirm that until the update hits on Friday, September 22.
The tweet mentions being able to change your appearance, voice, and pronouns, but not race, body type, or origin. So it's too late to reset if you already picked a major origin like The Dark Urge. Even though it was my favorite way to start the game.
Regardless, while you can't completely overhaul your character's look, you can still make some changes. And with how long a Baldur's Gate 3 run can be, I wouldn't blame you for changing it up. Whether you're changing it to match a cool new look you found or even a roleplay purpose. Such as a new tattoo having a meaning based on actions you've made.
Due to the craziness that is Twitter, here's a picture below of the relevant tweet. It also has a gif partially revealing the Magic Mirror without really showing much.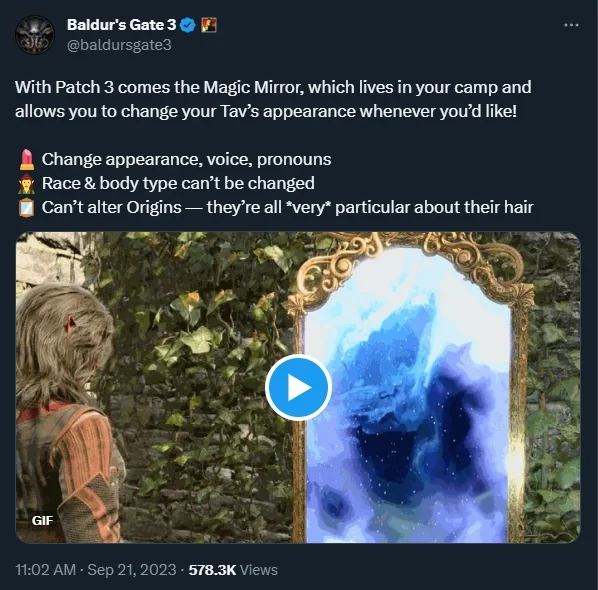 As far as changing your appearance goes, there's a quick tip to know about hiding your helmet. Did you know you can have it hidden during cutscenes or completely hidden? All you have to do is open your inventory, hover the helmet slot, and then a small icon will appear above it. Click it to then cycle through the choices.
Aside from changing your appearance in Patch 3, Larian Studios is teasing that this will be a big update. However, they haven't really said much about what we can expect. Even though the patch notes are bound to be lengthy and full of spoilers. So be careful if you're someone who loves to see all the new changes.
While Larian does hide a lot of spoilers in their patch notes on Steam, it can still be tempting to take a peek. And the last thing you want is to have something major revealed. For those of you who have already beaten Baldur's Gate 3, the developers have been adding bits of new content. So it's still possible to learn something new by accident.
While you're here be sure to take a peek at some of our other Baldur's Gate 3 guides. Such as everything there is to know about what happens when you die. Did you know you can revive a downed party member with temporary health points? Or perhaps the ongoing question about what items are safe to sell.

Jeff is a journalist with over 10 years of experience writing, streaming, and making content about video games. With an associate degree in journalism, he's a sucker for RPGs, survival games, roguelikes, and more.