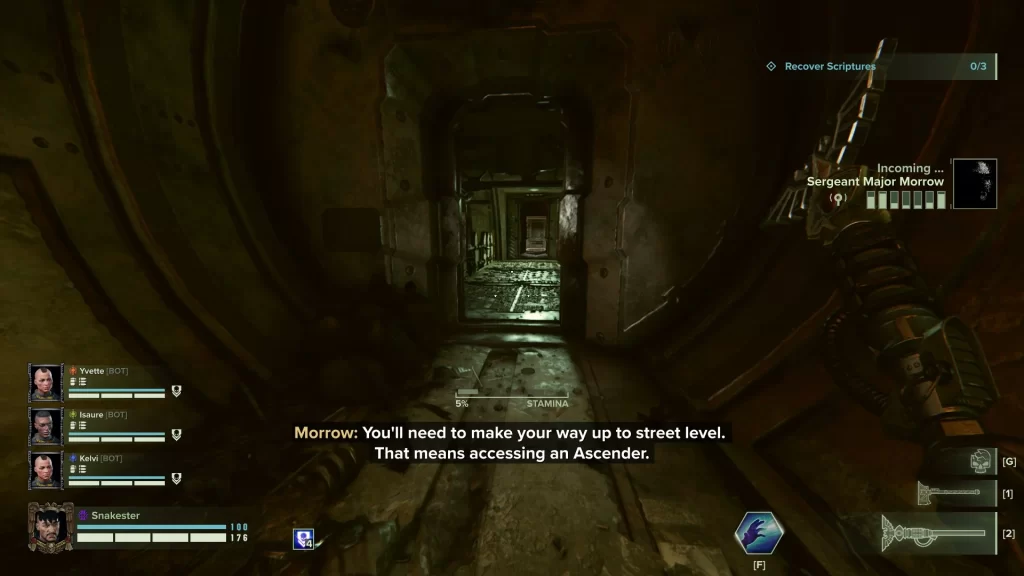 Warhammer 40,000: Darktide is a cooperative action game where up to four people can play together, but not everyone wants to. Some people would prefer to play solo or perhaps in a private lobby with a friend or two. Whether you're looking to learn the game or don't want to deal with randoms, everyone has their own reason.
This leads us to several common questions in the Darktide community right now such as whether you can play with only bots or if private games are available. And if you're interested in the game but haven't purchased it yet, we can tell you immediately that there are bots. Since not everyone realizes that.
Can You Play With Only Bots in Darktide
The unfortunate answer with the release on November 30, 2022, is that there isn't a way to play with only bots yet. Players looking for a solo mode or private lobby will have to wait a little bit longer as the developer works on implementing it. Fortunately, however, developer Fatshark stated on November 18 in a Steam post that they're working on both.
As goes with any roadmap or game development, there isn't always a guarantee when a new feature will arrive. Even though Fatshark is aiming for sometime in December 2022 as the following statement explains,
"We've been working on an option to play exclusively in Solo Mode, where you will be hosting locally your own instance with bots. Because you will be hosting the AI and other game systems locally, this will increase performance cost. However, we continue to monitor and improve the performance where we can. Solo play is in its final stages of testing as we fix the last issues that remain. We aim to release this at Launch. If not, a patch shortly after that in December."

We have recently begun implementing Private Games as an option, and we're in the middle stages of development for this. When launched, you can start a private game with 2-4 of your friends. We expect to be able to release this later in December."
Understanding How Bot Autofilling Works in Darktide
Despite there not being a way to play alone, if you start a match alone, bots will autofill each player slot. Since Darktide allows players to drop in while a mission is in progress, these slots are likely to be filled quickly. However, this of course depends on your region, when you're playing, and a few other factors. Such as if they click the Quickplay mission option or the one you're in.
Another nice feature is that when a player leaves, a bot will replace them temporarily. If you're not sure whether someone is a bot or not, they will have a [BOT] tag next to their name. You can see this at the bottom left corner or when looking at their character.
Taking Advantage of Darktide's Training Area
If you're desperate for a way to try and learn the game without jumping into a public match, there are a few options. First, when you start playing you'll enter a prologue where it loosely teaches you how to play. However, you'll learn much more by completing the Basic Training and Additional Training. This walks you through how certain mechanics work.
If you skipped the training after leaving the prologue, you can still find the Psykhanium room to try them. You'll need to find the room in the screenshot above with the giant pod in the center. This is to the right of where you first start when entering the base/The Mourningstar.
For those of you that already understand the basics or have completed your training, I recommend checking out The Meat Grinder. This is one of the tips mentioned in our 10 Best Darktide Tips and Tricks. With that said, you can go there from the same room mentioned above. As long as you're level 2, you can head here to test your weapons against a variety of enemies.
The main annoying thing is that not every enemy is immediately available to practice against. They slowly unlock as you get higher in level. This is likely a way to prevent spoiling enemies that you may not have seen yet. Once you reach the max level of 30, every enemy will be in The Meat Grinder. This is a great way to test your damage against different armor types.
That's all there is to this guide on if you can play with only bots in Darktide. We'll try to update this guide the second a solo or private mode arrives. And if we're not quick enough to do so but you know it has one, feel free to comment below! For those of you that haven't visited our 10 Best Darktide Tips and Tricks, make sure to head over. You may learn something new.

Jeff is a journalist with over 10 years of experience writing, streaming, and making content about video games. With an associate degree in journalism, he's a sucker for RPGs, survival games, roguelikes, and more.