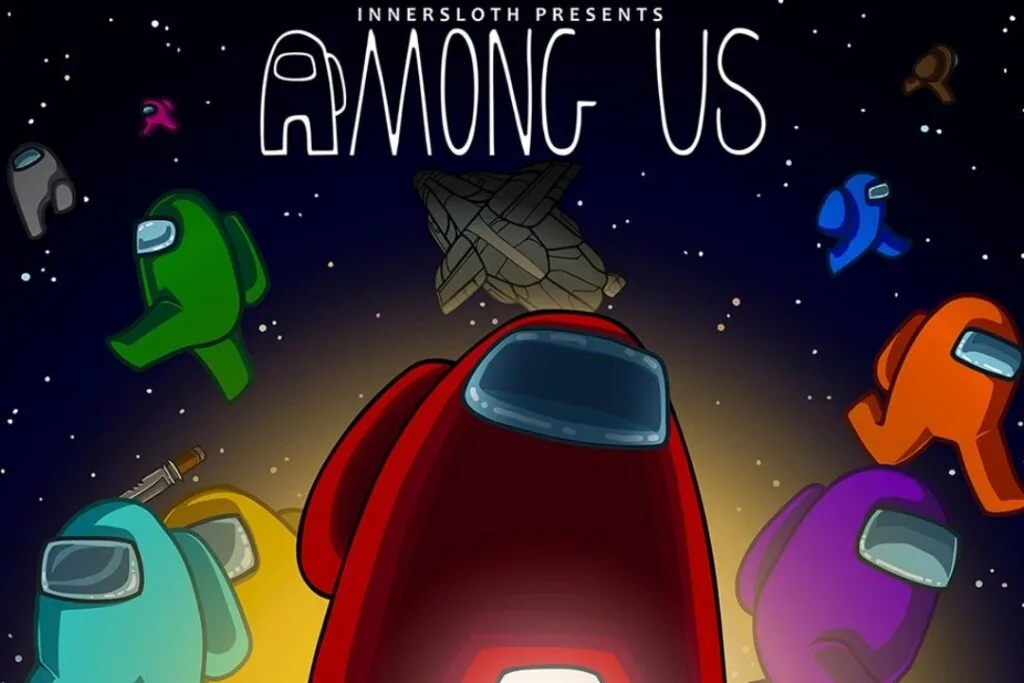 If you're looking for more information about Among Us and have some questions, we've got a whole bunch of answers below for you. Click a question in the Table of Contents below to immediately jump to the answer. And if you have a question not answered in this article, feel free to comment below the article for help.
How to Change Name in Among Us
Before you can change your name on mobile, you need to tap Local or Online. Then, you'll see your name at the top center of the screen. If you haven't changed it yet, it will say "Player" here as shown in the above screenshot. Tap that area and your keyboard should appear where you can change your name. If you're still having trouble understanding how to change your name, just ask in the comments below.
How to Win as Imposter
If you want to win as the Imposter in Among Us, you'll have to achieve one of three winning methods below. The trick is learning how to do those efficiently. Your main goal as Imposter is to eliminate everyone or sabotage a vital room without the crew figuring out who you are. You need to be subtle in everything you do and avoid suspicion. Sometimes that requires blaming other people even when someone is positive you're the Imposter. Seeing the Imposter doesn't matter if they can't prove that it's you.
Kill every Crewmate in the session.
Sabotage a vital room on the ship and nobody repairs it before the timer runs out.
The second last Crewmate is voted/ejected from the ship leaving only the Imposter and one other.
How to Close Doors

Closing doors in Among Us is an ability that only the Imposter has control of. Once you're the Imposter, use the Sabotage button at the bottom right corner so long as you're not near anyone or a vent. This will show the screenshot above where the normal map is now red instead with buttons over certain areas. If you tap/click a button showing two doors with a red X over them, that will close the doors to that room.
As explained in the question way further down about What Does Sabotaging Do, you'll see that sabotaged doors stay closed for 10 seconds. There's also more information in that section about how cooldowns are affected. Take a look at the video below courtesy of Unrated 7 for a walkthrough of how to close doors as well.
How to Play With Friends
If you want to play with friends, there are a few tricks to do so regardless of where you're playing Among Us. Two methods are shown below with instructions on how to make your private game public if that's something you'd like to do as well. While you can try to join a game in the public server list at the same time, it's not likely you'll find the same server or join before others do. That's why I recommend creating your own lobby and even if it's just for a couple of friends where you need more players, follow the private online game instructions below.
Creating a Private Local Game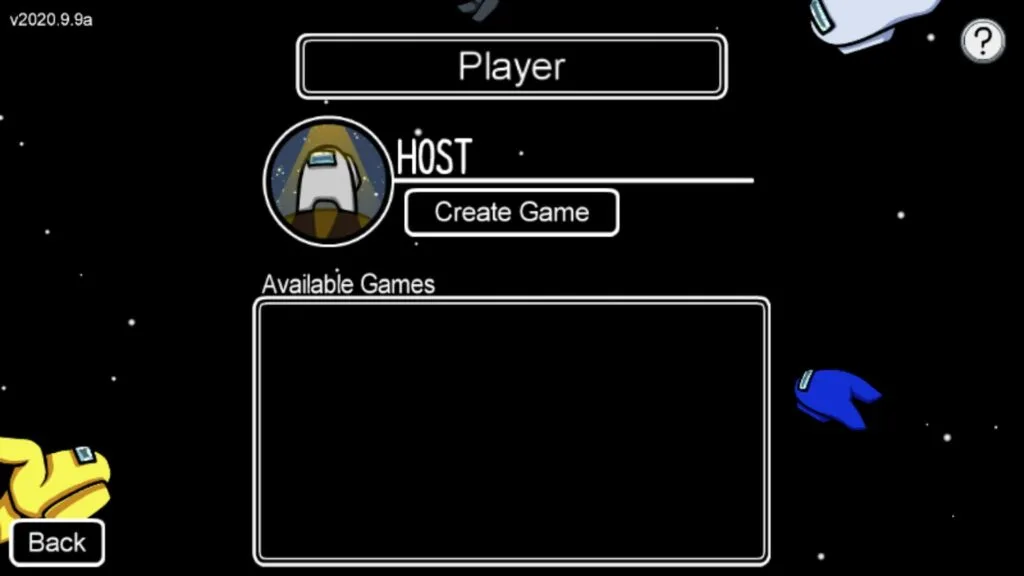 If you're looking to create a local game for people playing near you or on the same network, this is how you do it.
Click/tap Local at the main menu screen.
Tap Create Game beneath where it says Host. This server will accessible by players near you or on the same network.
Unlike online games, others can join by going to the Local area from the main menu and finding your game under the Available Games list.
Creating a Private Online Game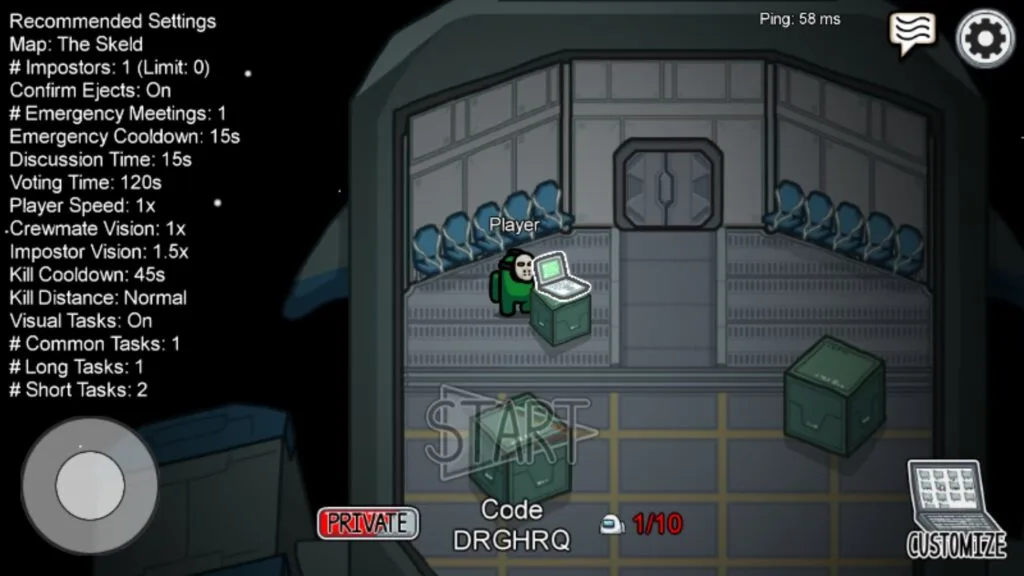 If you're trying to create a private online game for people to join over the internet, follow these steps below.
Click/tap Online at the main menu screen.
Tap the Create Game button beneath where it says host. This server will automatically be private by default, preventing others from joining without a code.
Pick the map, how many imposters you want, the preferred chat language, and max amount of players. Then, confirm your settings by pressing the Confirm button at the bottom right corner.
You'll now be in the ship lobby with a code at the bottom center of your screen. Give this to people you want to join your session. They can join by going to the Online menu, then tapping Enter Code below the Private area. Once they type the code in and press the white arrow next to the code, they will join your lobby.
If you'd prefer to have both friends and random people in your game, you can make the session public by tapping the Private button. You can see this button as the host at the bottom center of the screen, to the left of the code. This button will only appear in online games, not local.
How to Get Skins
If you're wondering how to get a skin for your Among Us character, you'll need to spend some money. Regardless of whether you're playing on mobile or PC, to find the store, you'll need to tap the $ button. This will appear at the main menu or when you're customizing your character at the lobby laptop. By pressing the $ button, the store will open up where you can buy skins, pets, and all sorts of hats too. There's a trick to get a bunch of free Halloween hats in the next question below.
Mobile users playing for free will also have the option to pay to remove all ads. For $1.99, you can tap the "Remove All Ads" button at the top of the store, and then the price amount to pay for it. Depending on your platform and setup, it will likely ask you to confirm your purchase before making it.
People playing on Steam also have access to the bundles listed as DLC that include certain skins and pets together available here. Examples include the Hamster Pet Bundle, Brainslug Pet Bundle, and more.
How to Get Halloween Hats For Free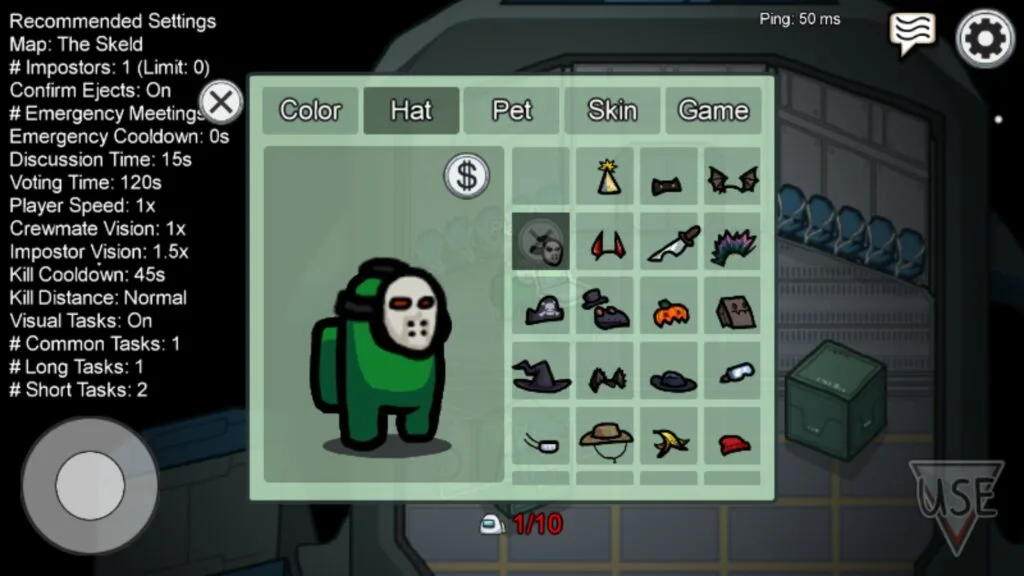 There's a neat trick to get the Among Us Halloween hats from 2019 if you're trying to get ready a little early. While this method may not work immediately and may take a few tries, it works on both PC and mobile phones. I tested this on Android personally and it took a couple of tries before working. Follow the instructions below to get some free Halloween hats:
Change the date on your PC or phone to October 31, 2019.
Start Among Us and host a local lobby or join an online game.
Interact with the laptop on a crate while waiting to get into a match.
Check the hats menu to see if your Halloween hats are now there.
If this failed to work, simply restart Among Us, and try a few more times. Confirmed to work on Android phones on 9/22/2020 using version: v2020.9.9a.
How to Change Settings on Mobile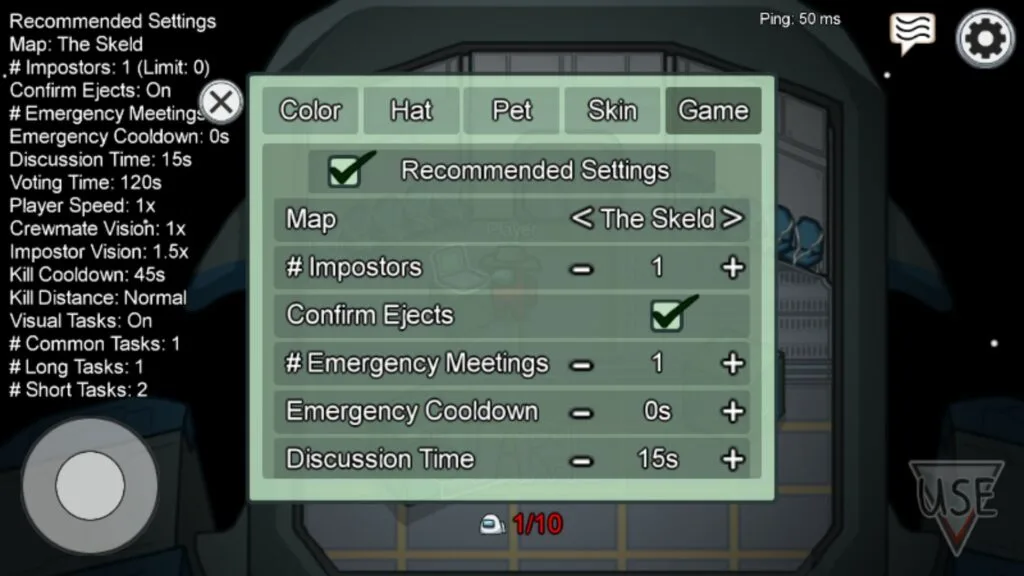 If you're not quite sure how to change your Among Us settings for hosting a server or your phone specifically, here's how. First, to change the settings of a server, you'll need to host a server by going to Local or Online and pressing Host. Once you do so, tap the "Create Game" button to start a lobby. This will pull you into the ship lobby where you can interact with a laptop on a small crate.
Tap the laptop directly or tap the Use button at the bottom right corner when near the laptop. Move along the taps of this new menu to the "Game" tab. This area will have all the choices for what map you want to pick, how many imposters, vision, player speed, etc. If you're not sure what settings to pick, you can always check the Recommended Settings box at the top to reset them.
Changing Your Mobile Settings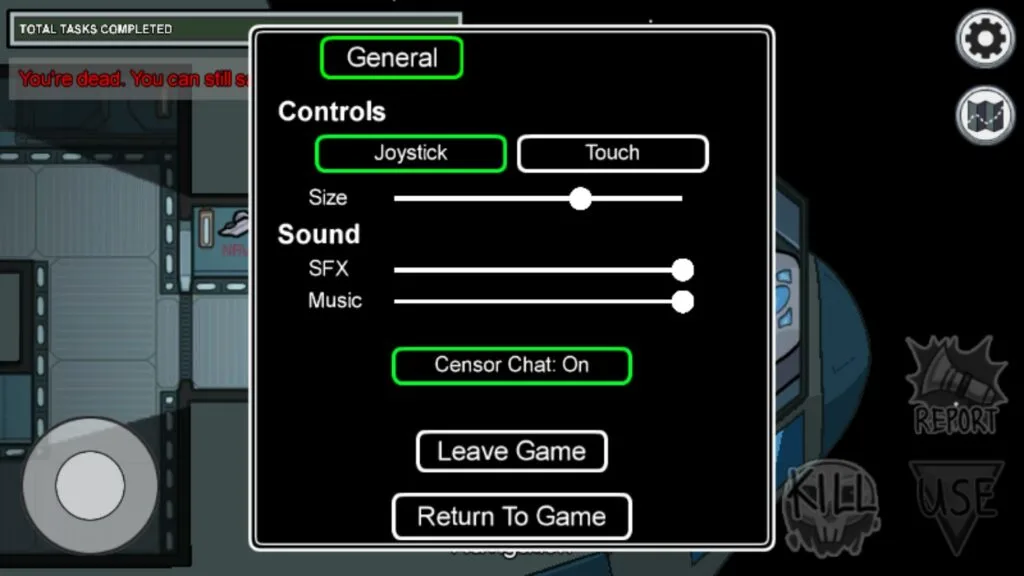 There are two ways to change your settings even though there aren't too many choices for doing so while in the game. First, if you're at the main menu, tap the gear/cog at the bottom of the screen below the "How to Play" button. This will open the settings menu that you see in the above screenshot. You can change your control method, the size of the joystick, sound volume, censor filters, and leave the game if you're in one.
The other way to reach this menu while in a match is to tap the same gear/cogwheel at the top right as shown in the above screenshot. If you're looking for something else or having trouble, feel free to let me know in the comments below the article so I can help you.
How to Use Vents as Imposter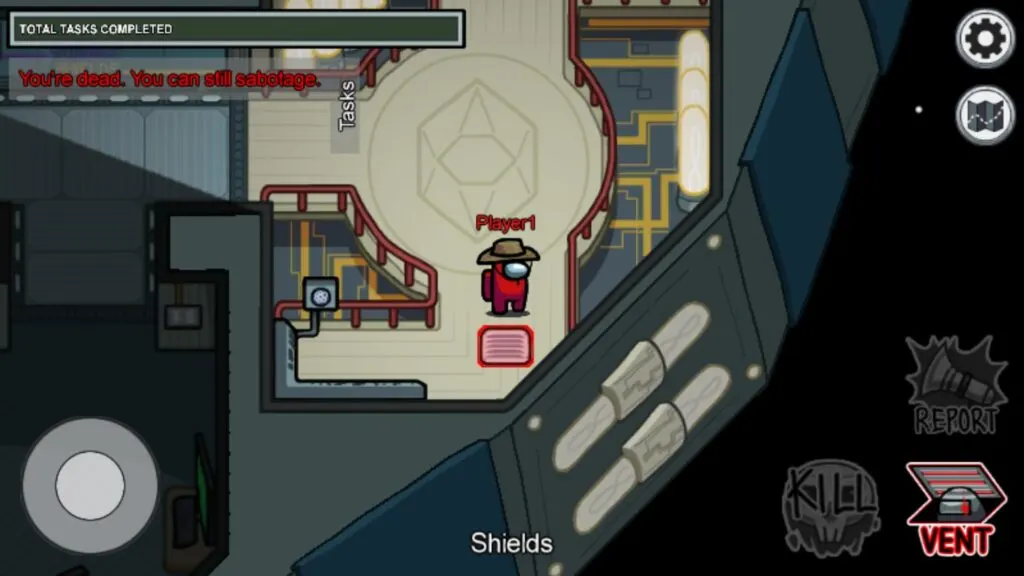 If you're wondering how to use vents while playing as the Imposter in Among Us, here's how. First, find a vent, walk near it, and then you'll see a Vent button at the bottom right corner. Once you tap this button, there will be a short animation around half a second where you jump into it. Then, you'll see gray arrows appear near the vent. You can tap these to move to one of two other vents nearby. You won't jump out of a vent until tapping the Vent button again while inside one. This will also have a similar short animation jumping out.
What to Do After Tasks in Among Us
Once you've completed your tasks as the Crewmate role, your main job is done. Now it's time to stay alive and try to figure out who the Imposter is. If you ever find yourself alone or stuck with only one other person, be careful, because you might be vulnerable of getting killed. An Imposter isn't going to kill someone who is with two other people. A group of three is a whole lot less likely to be killed because there will always be a witness.
If you don't want to just wait around, you can wander the map to try and catch the Imposter offguard when they try to kill someone else. People who aren't in groups are always the most vulnerable. So if a player is doing their tasks alone, they're more likely to get killed. If the Imposter can't get someone alone because a player keeps wandering around, they're at a disadvantage. Plus, you can keep an eye out for dead bodies to report. The longer a body goes unreported, the harder it will be to figure out who did it.
Otherwise, depending on the map, you can watch the security cameras, door logs, etc. These are ways to trip the Imposter up when it comes time to vote them out. Also, don't forget that if the Imposter sabotages a main part of the ship and time runs out, they'll win. So don't let the Imposter win by removing your oxygen supply for example.
When to Vote
Players can vote either when an emergency meeting is called or a dead Crewmate has been reported. This will start the conversation phase where players can talk to each other and try to figure out who the Imposter is. Also, there's an option to skip the vote if you don't want to vote toward ejecting anyone yet. This is near the bottom left corner of the window.
Just remember, whoever gets the overwhelming number of votes will be ejected. So if your one vote is the difference between you and someone else, skipping might be a bad idea. The best thing you can do is make your case about why you're innocent and build trust with other players. But at the same time, not make it look too suspicious, even if you're not the Imposter. If you're not good at convincing others you're a Crewmate, you're an easy target for the Imposter, unfortunately.
When Can You Talk
As mentioned in the When to Vote question above, you can talk when an emergency meeting is called or a dead Crewmate has been reported. Tapping or clicking the speech bubble at the top right corner during the voting phase will open up the chat. Then, you can tap the typing area below the chat log to begin typing.
What Does Sabotaging Do?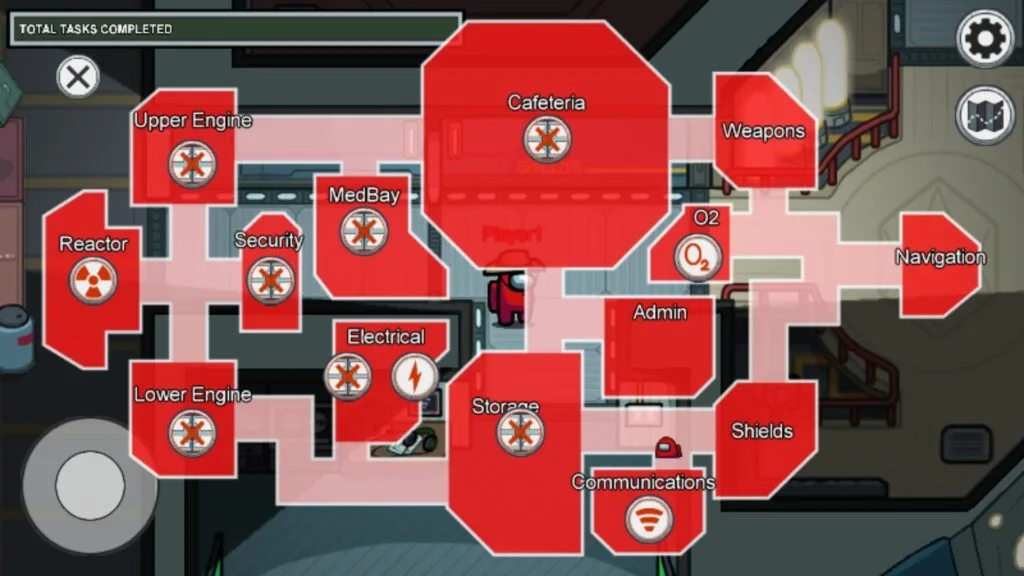 Sabotaging is a unique ability that only the Imposter can do. While you can win by sabotaging certain areas, you can also Sabotage certain rooms by closing the doors in there. This will prevent players from entering and may also give you an opportunity for a kill as the Imposter. For example, closing the doors to a room, killing someone alone in there, and then venting out to another room.
Regardless, when you tap the Sabotage button at the bottom right corner, it will show a map of the ship in red as opposed to the normal blue. Rooms that show two doors with an X crossing them out will close the doors when pressed. This will temporarily prevent you from using game winning sabotages like the Reactor on The Skeld map. However, you'll still be able to sabotage other room doorways.
Each Sabotage Type
| | |
| --- | --- |
| O2 | A countdown will begin and if it reaches zero, the Imposter will win. This requires two players to fix this room. |
| Reactor | A countdown will begin and if it reaches zero, the Imposter will win. Two players need to be here to fix the Reactor. |
| Communications | Sabotaging communications will prevent Crewmates from seeing their task list, task location on the map, and disables other security information. Like security cameras, vitals monitoring, the admin map, and door log. |
| Lights | Reduces vision for Crewmates when sabotaged. |
| Doors | Closes a doorway for 10 seconds and prevents non-door sabotages from being used. However, the Imposter can sabotage as many doors as they'd like at once. |
What Are Common Tasks?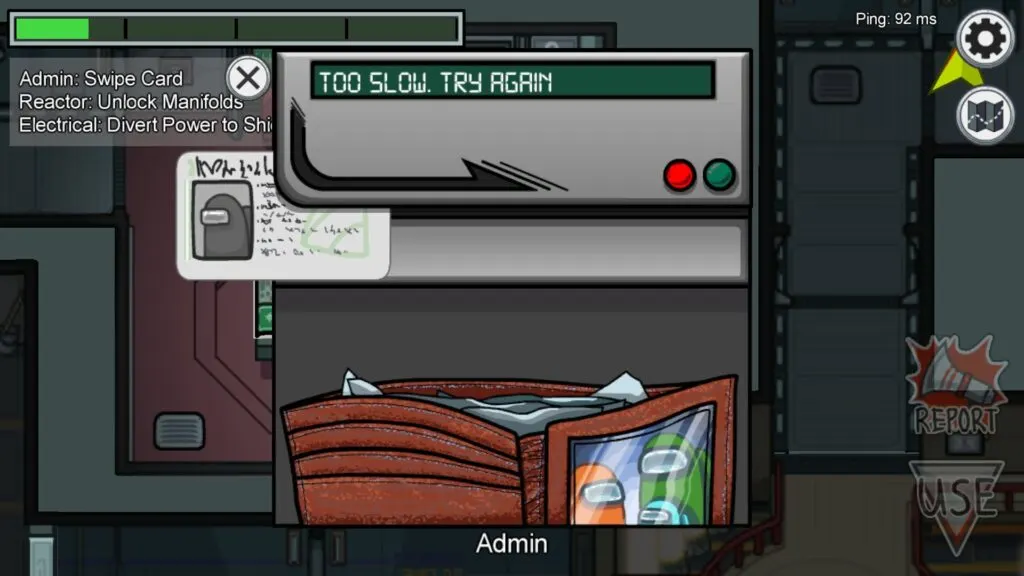 Common tasks in Among Us are jobs that everyone has/can do. This means that if one Crewmate sees the common task, Fix Wiring, every Crewmate can complete that task. So don't be scared if you're working on a common task and you're not the only one doing it. While there aren't many of them, this doesn't always mean the person trying to help you is an Imposter. Common tasks for each map are listed below.
| | | | |
| --- | --- | --- | --- |
| The Skeld | Fix Wiring | Swipe Card | |
| Mira HQ | Fix Wiring | Enter ID Code | |
| Polus | Fix Wiring | Insert Keys | Scan Boarding Pass |
I hope this article answers some of the common questions you may have. If you're still stumped and not sure how to do something or what something means, don't worry, just ask below in the comments. And we'll get back to you with an answer as quickly as possible.
---
Among Us released on PC on June 15, 2018, and shortly afterward became available for iOS and Android where it's cross-platform between every platform. You can buy Among Us on Steam for $4.99 or play for free on mobile platforms with ads after each match.

Jeff is a journalist with over 10 years of experience writing, streaming, and making content about video games. With an associate degree in journalism, he's a sucker for RPGs, survival games, roguelikes, and more.