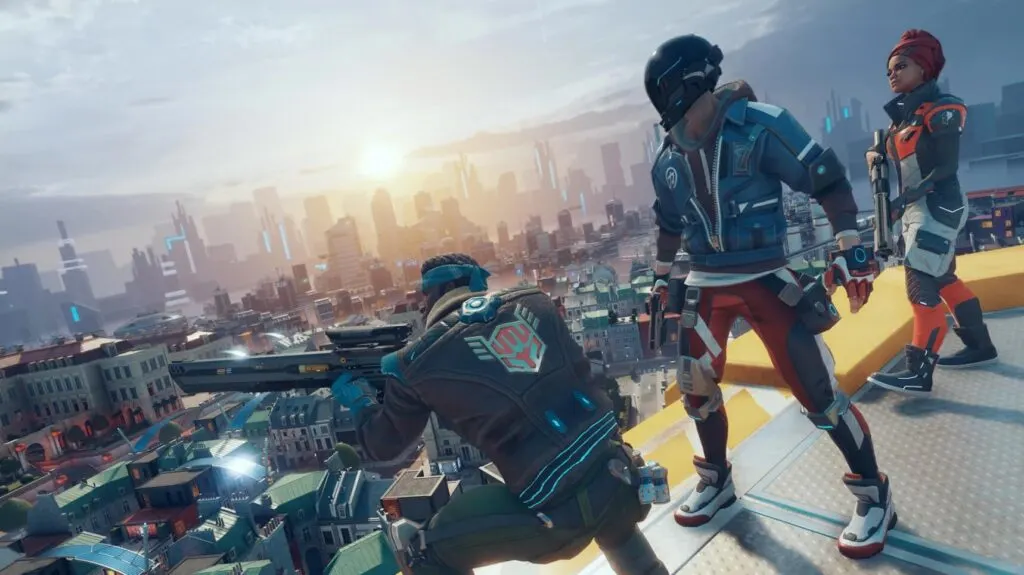 If you're wondering how to enable drops for the Hyper Scape technical beta, here are the details. Before you jump into the battle royale, the beta is almost over as it's running from July 2 to July 7, ending at 2:59 AM Eastern time.
How to Enable Hyper Scape Drops
Enabling drops on your Twitch account is relatively easy, fortunately. First, you need a Twitch account so you can connect your Twitch to Ubisoft. To do this, you can either go to this page directly or find a partnered Hyper Scape streamer on Twitch. Under their stream title, it will say "Enable in-game Drops with Twitch Account." with a link on Twitch Account.
Follow the instructions on this page by clicking the "Get Started" button, where it will ask you to connect your Twitch account to Ubisoft. Once you authorize the connection, you'll now be eligible for a beta key/drop on any Hyper Scape partnered Twitch stream.
Streams that have drops enabled will now have under their stream title, "Drops enabled! Watch for a chance to earn loot. You can only earn loot on one stream at a time. Learn more". If you're watching streams on mobile, the only way to know is if the streamer has a "Drops Enabled" tag underneath their title. Head over to the Twitch directory for Hyper Scape here.
The full list of Drop Enabled streamers is also available here.
Reminder that the technical beta is only available for PC players.
Where to Check For Your Beta Drop
There are three ways to check if you've gotten your Hyper Scape technical beta access yet:
Twitch Notifications: Twitch will send you a notification on their website saying that you've gotten access from watching a streamer playing Hyper Scape.
Ubisoft Website: The Ubisoft website you connected your Twitch account at will have an area to check. This page is known for not updating and showing whether you have a key or not. The page is available here.
Uplay Launcher: Open up the Uplay launcher and it will tell you whether or not you have access immediately. You'll have an invite to download the technical beta.
Which Regions is the Beta Available In?
The beta FAQ explains that the following regions are available:
| | | | |
| --- | --- | --- | --- |
| USA | United Kingdom | Switzerland | Sweden |
| Spain | Portugal | Norway | Netherlands |
| Italy | Ireland | Germany | France |
| Denmark | Canada | Belgium | Austria |
When is Hyper Scape Releasing?
Hyper Scape is releasing first for PC players on July 12, 2020. It will eventually come to PlayStation 4 and Xbox One at a later date, currently unknown. Also, it will be using a free-to-play business model. It's unknown at this time if it will be exclusively available to the Uplay launcher.
Will Hyper Scape Have a Battle Pass?
Similar to other free-to-play battle royale games, Hyper Scape will have a battle pass. The technical beta currently has a free one with up to 10 different tiers. Any battle pass items unlocked during the beta will still transfer over to the full game. All beta battle pass items are also exclusive to this beta.
The battle pass FAQ also notes that all unlocked beta battle pass items will be available across platforms/consoles.
---
If you have any questions related to Hyper Scape or the technical beta, feel free to ask in the comments below. I'll do my best to help you out!

Jeff is a journalist with over 10 years of experience writing, streaming, and making content about video games. With an associate degree in journalism, he's a sucker for RPGs, survival games, roguelikes, and more.