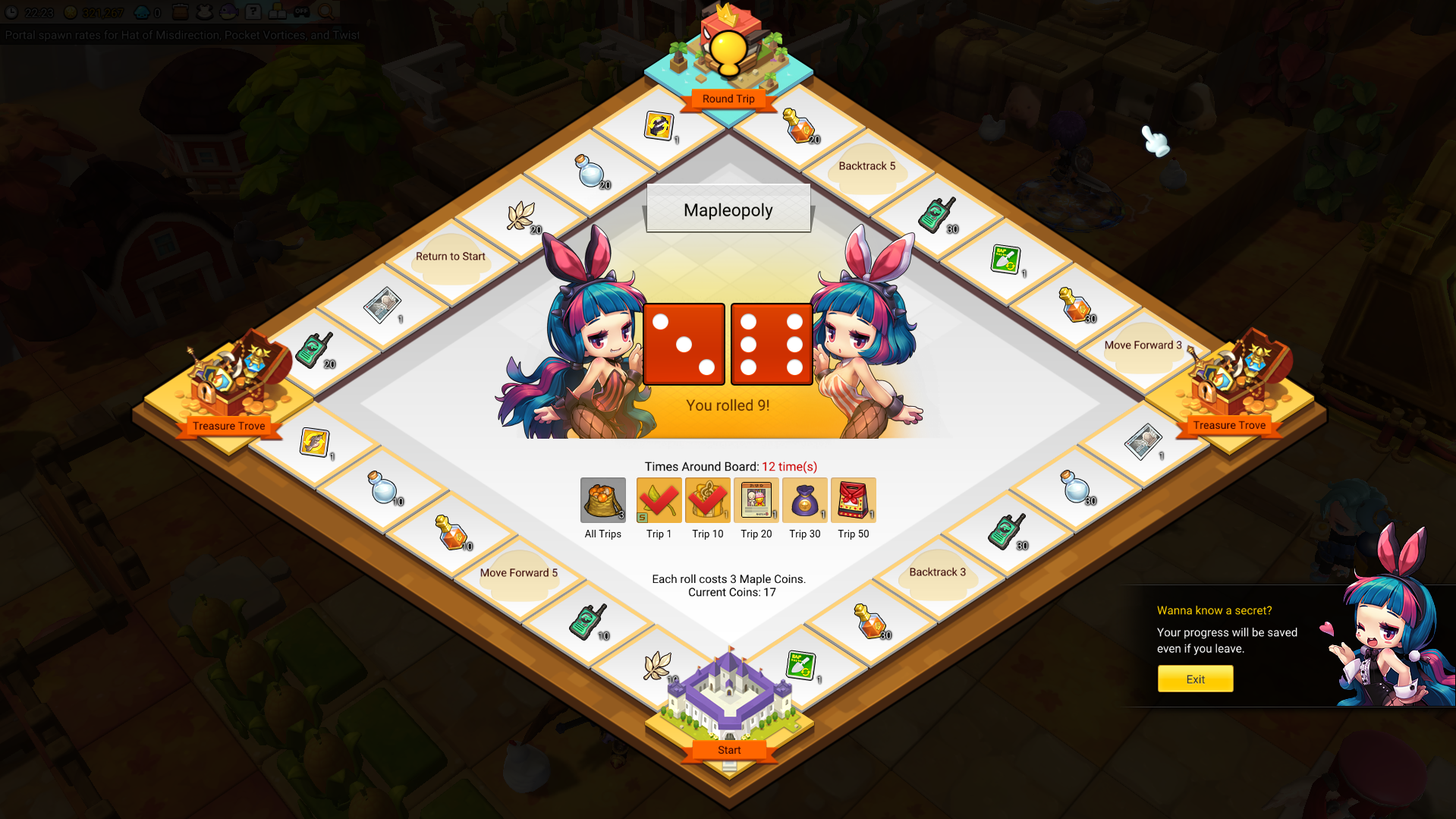 To kick off the global release of MapleStory 2, Nexon launched a small event for players featuring Mapleopoly and Maple Spin. Taking inspiration from the well known board game Monopoly, Nexon's Mapleopoly is a single-player version of it. Players work their way around a board landing on tiles rewarding them with goodies.
Alongside Mapleopoly is also another way to earn some neat goodies and outfits, Maple Spin. Maple Spin is a wheel of fortune where lucky players can also gain rewards such as healing potions, instruments, and outfits. Although, the major prizes players should cross their fingers for are the Blue Slime Outfit and Flying Maple Leaf mount. With MapleStory 2 only just having released, that free Flying Maple Leaf mount is a good start.
To take part in the event, players can head over to Maple Hill where both games are. Players can teleport to Maple Hill in most cases regardless of where they are, as shown in the picture below. A button at the top right of MapleStory 2 teleports you directly there.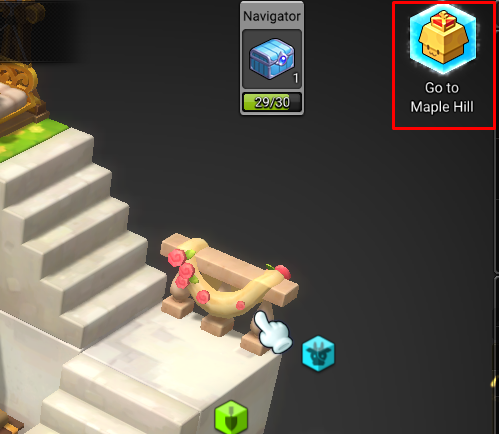 Now how do players get Maple Coins to spend on Mapleopoly and Maple Spin? First, there are two ways to gather Maple Coins in MapleStory 2. Players can fish for Maple Coins in Tria and Henesys with a chance of getting 15. Second, the main way most will get their coins is simply from logging into the game. Everyday you get five Maple Coins for logging in. Continuing to stay logged in, players can receive up to another 20 more coins daily.
After being logged in for 20 minutes, players receive another 5 Maple Coins, then another 5 at 40 minutes, and 10 at 60 minutes. This means players can earn up to 25 Maple Coins each day. As the event is running until November 8, that's still plenty of time to get your Maple Coins and earn some goodies.
The rewards for looping Mapleopoly are listed below courtesy of the MapleStory 2 blog:
Every time you pass Start, you'll receive 3 Maple Mushrooms, which instantly restores 1,200 Health when consumed!
Bonus prizes can be earned after completing a number of laps around the board:

1 Lap: Tender Leaf normal face accessory outfit
10 Laps: Maple Instrument Box
20 Laps: Ducky Dance Emote
30 Laps: 300,000 Meso Pouch
50 Laps: Fluttering Maple Set
Upon visiting Maple Hill and opening a Fortune Cookie, the following can be earned:
10x Heart Fireworks
10x Maple Coins
Auto-Fishing Voucher (1 Hour)
Auto-Performance Voucher (1 Hour)
20x Instant Gathering Vouchers
Cerbe Hat
Lucky Meso Pouch, containing between 50,000 and 10,000,000 mesos
The Maple Spin game rewards the following and more:
Healing Potions
Starry Fireworks
Blue Slime Outfit pieces
Maple Instrument Box
Flying Maple Leaf mount